Exceedingly Rare and Important Pair of Redware Cat Figures att. Solomon Bell, Strasburg, VA
July 20, 2019 Stoneware Auction
Lot #: 102
Price Realized: DNMR
Important and Probably Unique Pair of Glazed Redware Cat Figures, attributed to Solomon Bell, Strasburg, VA, circa 1845-1880, pair of large-sized, hand-modeled cat figures with curled tails, rounded faces, and pointed ears, each seated on an oblong slab base. Incised details to cats' faces and paws. Base with profuse impressed decoration in the form of ovals with inner arch surrounding arched dashes above smaller ovals, interspersed with a series of small circles. These elaborate impressed designs surround an incised stem bearing impressed leaves and several impressed daisy blossoms. Several impressed designs on the base are unique to Bell family production. Surfaces decorated in sponged manganese and covered in a clear lead glaze over a colorful, light-orange ground. The surfaces retain a brilliant, essentially as-made luster. Appealing variations in the glazed surface and its manganese decoration are visible, based on the concentration of the lead glaze; in some areas the manganese sponging is bold and distinct, and in others it has a beautiful flowing quality. The hollow interiors of the cats were purposefully fitted with small pieces of clay prior to firing, creating a tinny rattle when the figures are shaken. This pair is regarded as one of the great masterworks of legendary Shenandoah Valley potter, Solomon Bell (1817-1882). Among his hand-modeled folk sculpture, only one object is considered more important: the iconic lion figure in the collection of the Museum of Early Southern Decorative Arts in Winston-Salem, NC. Characteristic of Bell's best hand-modeled animals, these cats are noteworthy in their large size, distinctive Bell family decorative stamping to the base, and lustrous lead-and-manganese glaze. In American hand-modeled redware production, relatively few cat figures are known, and, to our knowledge, no other pair of hand-modeled animals have survived by this highly influential potter. Combining beauty, presence, and extreme rarity, this pair is easily regarded as the finest lot of American modeled redware to come to auction in years. Its significance as a representative example of Southern folk sculpture cannot be overstated. Provenance: Mr. Boyd Gardiner Headley, Sr. (1898-1960); Mr. Boyd G. Headley, Jr. (1921-2003); Mrs. Glynell L. Headley (1922-2012); Burt Long Antiques (purchased at Headley's Auctions, April 11, 2013); Private Collection. Literature: Illustrated and discussed in the following: William E. Wiltshire, III, Folk Pottery of the Shenandoah Valley, pp. 64-65, pl. 25 (1975); Theodora Rezba, ed., Valley Pioneer Artists and Those Who Continue: The Decorative and Fine Arts of the Lower Shenandoah Valley 1760-1789, p. 25 and entry 115 (1986); Harold Eugene Comstock, The Pottery of the Shenandoah Valley Region, pp. 232-33 & figs. 5.90 and 5.92 (1994); Discussed in Carol Crown and Cheryl Rivers, eds., Folk Art, Volume 23 of The New Encyclopedia of Southern Culture, p. 223 (2013). Exhibited: "Folk Pottery of the Shenandoah Valley", Abby Aldrich Rockefeller Folk Art Collection, Colonial Williamsburg, Williamsburg, VA, May 25, 1975 to October 4, 1975, one cat figure exhibited; "Valley Pioneer Artists and Those Who Continue: The Decorative and Fine Arts of the Lower Shenandoah Valley, 1760-1986", Shenandoah College and Conservatory, Winchester, VA, May 17-30, 1986, one cat figure exhibited; Museum of the Shenandoah Valley, Winchester, VA, exhibited on loan from Mrs. Glynell L. Headley, 2005-2013, both cat figures exhibited. One cat in exceptional condition with a few tiny spots of wear, the underside of base with a small chip along edge. Other cat has a very old, crude repair to ears, probably dating to the early 20th century. One ear's restoration includes a small piece of very old, printed paper to the reverse. Additionally, an approximately 1" x 1" flake to underside of base, extending to bottom edge, and another very minor base nick. H (of each) 6 1/4"; L (of one cat) 5 5/8" ; L (of cat with restored ears) 5 3/4".
---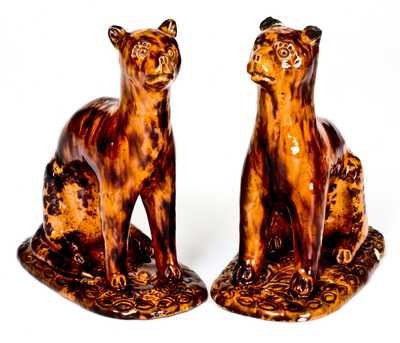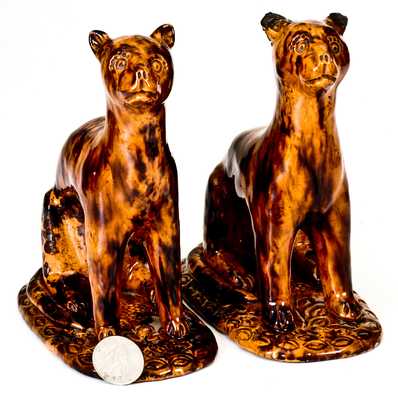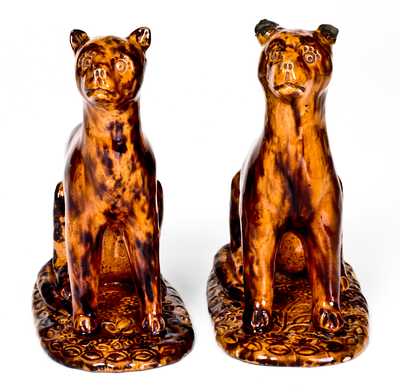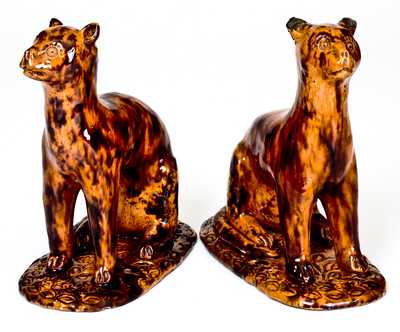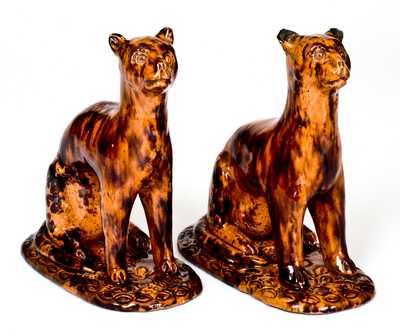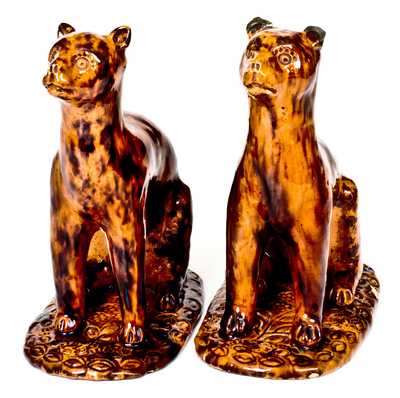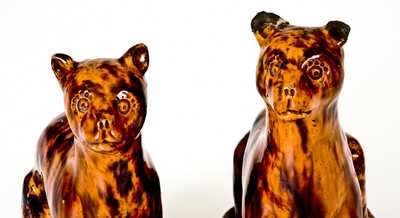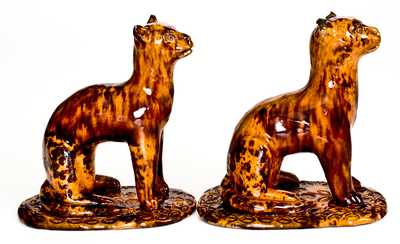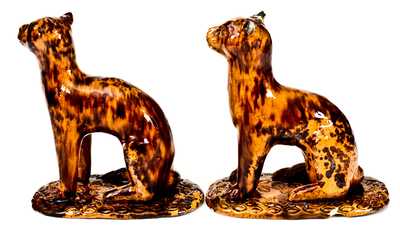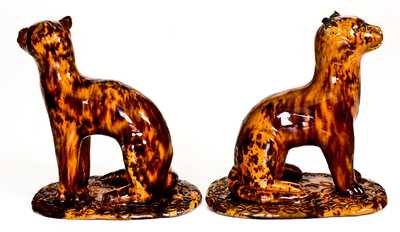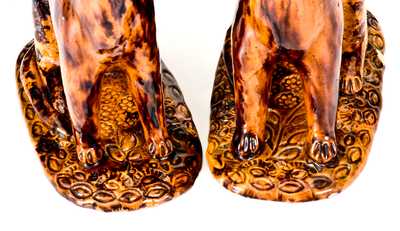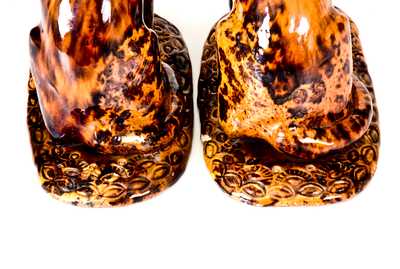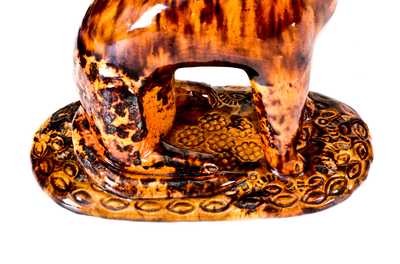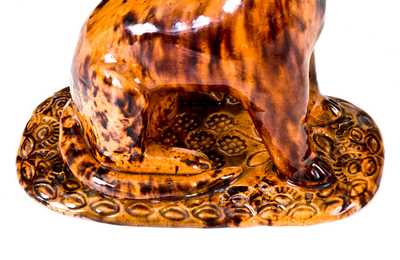 Click images to enlarge.
---
Bidding is now closed.
(Our
next auction
takes place October 26, 2019.)
---