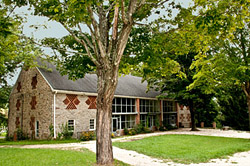 Gorsuch Barn, 1841.
We feel that our gallery is one of the most remarkable auction venues in the country. It is located at 15900 York Road, at the corner of York and Ensor Mill Roads, in Sparks, northern Baltimore County, Maryland. Gorsuch Barn was built in 1841 by Edward Gorsuch, a wealthy landowner in Verona, Maryland--now known as Sparks. Its well-known exterior of "brick louvres set in native stone" has been called the best example in the State of Maryland. In the 1950's, the barn was converted into what was essentially a strip mall in its time, with multiple businesses trading out of the building--and this conversion transformed the interior from the original, open barn space into a first and second floor full of smaller, dry-walled rooms.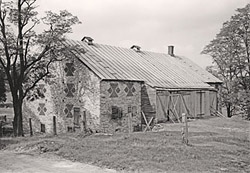 The Gorsuch Barn, as it appeared circa 1936.
Courtesy Library of Congress.
When we took possession of the barn in July 2010, we had no real concept of what remained of the original barn structure inside, behind all of the modern dry wall. A newspaper article from the fifties referenced a huge amount of timber being removed from the building in the process of the renovations, and we (despite being optimistic) believed that most of the 1841 support beams had been gutted. However, after beginning to peel back the layers of modern construction, it became apparent that--remarkably--basically all of the original structure was present! It took a good three months to remove what had been done to the barn since it fell into disrepair in the early twentieth century, but we were able to preserve an architectural treasure. Those who visit what is now our auction gallery are consistently struck by the original wooden beams, the look of the brick vents set into the interior walls, and the striking rough-cut pine ceiling that we had experts install across the length of the barn. Following our restoration, the barn was featured in the high-profile Maryland Public Television documentary, Historic Barns of Maryland, and our very own Luke Zipp appears in that film.