To start the consignment process, send us an email here.
We continue to offer very reasonable rates, as low as 12.5%; learn more about the process below.
We are far and away the world's leading seller of American stoneware and redware pottery, and have been doing so since 1983. We sell stoneware because we love stoneware, and it's all we do! Over the years, our auction house has consistently pushed the market to higher and higher levels, realizing numerous World Auction Records, including the highest price ever paid for a piece of American stoneware, $1.56 million!
All outlets for American stoneware are not the same, and there are important reasons why Crocker Farm has established itself as the standard in the sale of American utilitarian ceramics, and one of the most respected specialty auction houses in the country.
Our unsurpassed knowledge of the art form and constant public outreach on its behalf have completely transformed the field. In many cases, we have the seen values increase many times over based solely on our own research and ability to attribute objects accurately, in ways not achieved by others.
It is important to remember that one of the reasons we are so consistently successful is that our large base of bidders has come to rely on us in a way they cannot trust other venues. This field has traditionally been plagued by both misattributed items and inaccurate assessments of conditions--particularly in the area of repairs. Because, for instance, the difference between a repaired object and one in good condition can be thousands of dollars, our unparalleled knowledge and painstaking condition reports are essential in realizing the prices we do.
We are a constant presence in the major antiques trade papers, and are dedicated to extensive advertising on a regular basis; this includes our own website, which has a very large following and is by far the most prominent on the topic of American stoneware. This means your items are always exposed to the widest customer base possible, and the cumulative effect of this over the decades has been that stoneware is now receiving attention reserved for the highest end of American antiques.
Finally, we have long-standing, strong relationships with the highest end of the Americana market, from collectors to museums to dealers. When you allow us to sell your item for you, you are opening it up to buyers who trust us implicitly and who, in many cases, would otherwise not be bidding.
It is easy and inexpensive to sell your pieces through Crocker Farm. HERE'S HOW:
1
Contact Us. We will be happy to discuss your pottery with you, including how well we feel it will fare in our auction, based on the current market within our select group of high-level bidders.
2
You simply ship (or bring) your items to us and we take care of the rest! (We will walk you through the shipping process.) In some cases (i.e. collections or particularly valuable examples) we can even pick up your items.
3
That's all there is to it! We will expertly photograph, describe and feature your items in our high-profile auction catalog, and continue to offer extremely reasonable rates to do so.
Feel free to see our Frequently Asked Questions or Articles About Us for More Info | A Few Select Success Stories: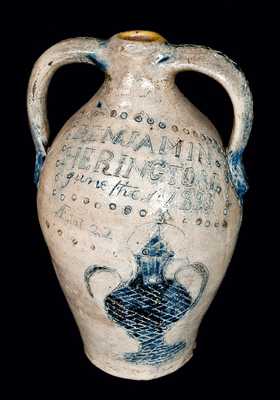 This stoneware jug in our March 2011 sale was inscribed "BENJAMIN HERINGTON / June the 1st, 1823." Employing research techniques not typically seen at other auction houses, we were able to dig up a period newspaper account about Herrington, a young potter who had unfortunately drowned in the Norwich, CT harbor. It realized $138,000.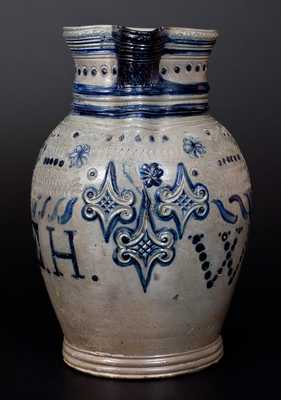 This large, elaborately-decorated stoneware pitcher had been inaccurately attributed to the Remmey potters of Philadelphia. We properly identified it as a product of E.H. Wood in Maysville, Kentucky, realizing the World Auction Record for a piece of Kentucky stoneware at $143,750 in July 2016.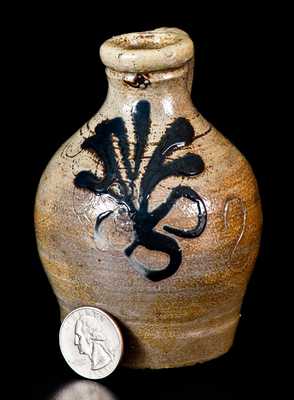 A dealer attempted to sell this jug at a high-profile antiques show for well under $10,000 and no attribution. We were able to attribute it as an important example of 18th century New York City stoneware, and it sold for $36,580 in our March 2017 auction.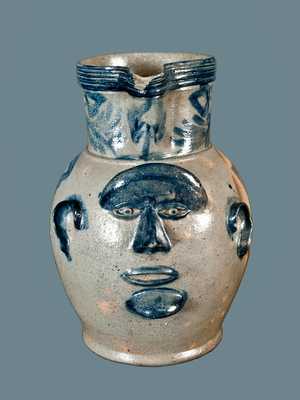 Based on similar known examples, this face pitcher would have been typically attributed to the Remmey potters of Philadelphia, but we were able to properly attribute it to the Bell family of Virginia's Shenandoah Valley, yielding a $63,250 selling price in our March 2012 auction.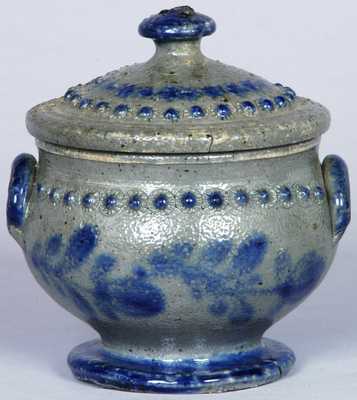 A stoneware sugar bowl, sold in our November 2005 auction, was purchased two years before at another prominent auction for $6,600. We were able to attribute the bowl to the Mennonite potters of Rockingham County, Virginia, yielding a selling price of $22,550.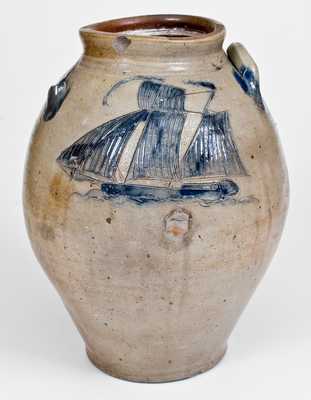 This stoneware jar in our March 2018 auction had been offered with no attribution at a prominent general antiques auction, where it did not sell. We were able to identify as a probable New Jersey example, and it sold for $5,605.