Exceedingly Rare and Important Solomon Bell / Winchester, VA Redware Whippet Figure
July 19, 2014 Stoneware Auction
Lot #: 67
Price Realized: $25,300.00
($22,000 hammer, plus 15% buyer's premium)
PLEASE NOTE: This result is 6 years old, and the American ceramics market frequently changes. Additionally, small nuances of color, condition, shape, etc. can mean huge differences in price. Please Contact Us for a Current, Accurate assessment of your items.
Auction Highlight: Greatest Hits | July 19, 2014 Auction | Shenandoah Pottery | Redware
Very Rare and Important Shenandoah Valley Redware Figure of a Whippet, Signed in Script "Solomon Bell / Winchester," circa 1840, finely-molded figure of a reclining whippet atop an oblong base with incised border, the figure with incised details to muzzle and paws, the surface covered in strong black paint with traces of white to eyes. Base reveals a large number of fettling knife marks, indicating a good amount of hand craftmanship to the sculpture when it was removed from the mold. Underside incised in large script "Solomon Bell / Winchester". This iconic Shenandoah Valley form was produced by several members of the Bell family, most notably Samuel and Solomon in Winchester and Strasburg, VA and their brother, John, in Waynesboro, PA. Other than their hand-modeled lion figures, no other pottery form is considered more distinctly Bell, and few signed examples have survived to this day. An interesting aspect of this figure is that it was produced while Solomon was still quite young. Born in 1817 and seventeen years younger than his potter brother, John, Solomon Bell created this object while still in his early to mid twenties. At this time, he was still working at the shop of his father, Peter, in Winchester. In 1845, Solomon would move to join his brother, Samuel, in Strasburg, where they would successfully run a pottery together for the next several decades. As business partners, Samuel would become primarily involved in marketing wares, while Solomon was relied on as the master potter of the operation. Among the vast surviving body of signed products by Solomon Bell known, his whippets rank among some of his finest and most highly-prized works. This particular whippet figure carries an outstanding provenance. It is believed to be the model for the gilt image of a Bell whippet on the cover of Alvin H. Rice and John Baer Stoudt's 1929 book, The Shenandoah Pottery, a ground-breaking study and catalog of ceramics from the region. This figure was later owned by collector and author, William E. Wiltshire III, who featured it on page 35 of his book. It has been reported that Wiltshire purchased a several-thousand-piece Shenandoah Valley pottery collection to acquire this one whippet, his favorite out of the entire group. The figure subsequently sold in an important sale of Wiltshire's collection in 1978 at Sotheby-Parke Bernet in New York, and was later owned by the prominent Shenandoah Valley decorative arts collector, Henry P. Deyerle, whose collection was sold at Sotheby's in 1995. Our July 19 auction will mark the first time a signed Solomon Bell whippet has come to auction since this example sold at the Deyerle sale in 1995. This famous folk art sculpture bears the distinction of being one of the finest works by Solomon Bell ever to cross the auction block. Provenance: Ex-William Wiltshire III; Sotheby Parke-Bernet Galleries, April 1, 1978; Ex-Henry P. Deyerle; Sotheby's Sale 6716, Important Americana: The Collection of Dr. & Mrs. Henry P. Deyerle, May 26 and 27, 1995; Private Collection. Essentially as-made condition with some in-the-firing lime or stone pings, and a minor chip to edge of base on underside. L 10 1/4".
---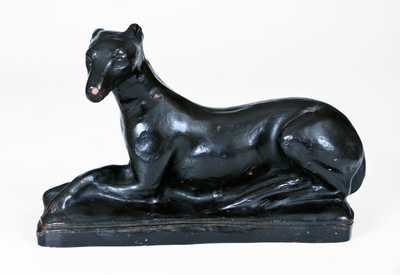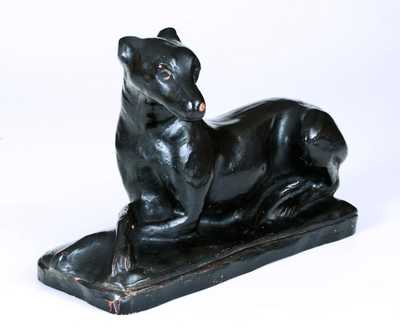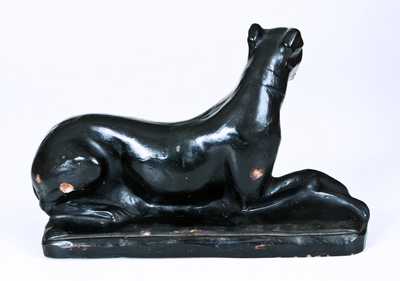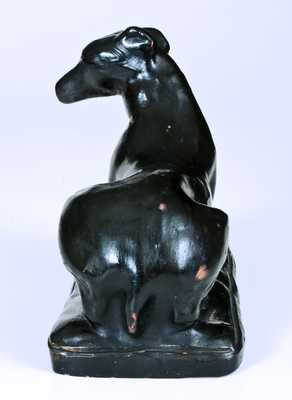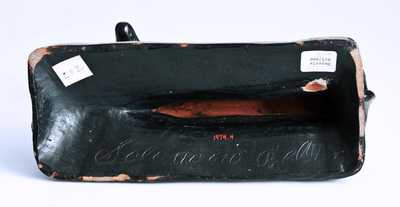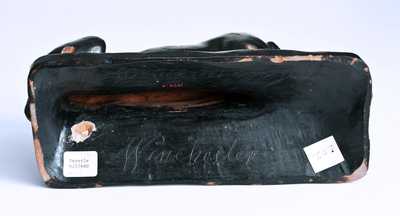 Click images to enlarge.
---
Bidding is now closed.
(Our
next auction
takes place March 21, 2020.)
---