Exceedingly Rare Cornwall, New York Incised Mermaid Stoneware Water Cooler
October 26, 2019 Stoneware Auction
Lot #: 62
Price Realized: $70,800.00
($60,000 hammer, plus 18% buyer's premium)
PLEASE NOTE: The American ceramics market frequently changes, often dramatically. Additionally, small nuances of color, condition, shape, etc. can mean huge differences in price. Please do not hesitate to Contact Us for a Current, Accurate assessment of your items.
Auction Highlight: Greatest Hits | October 26, 2019 Auction | Incised Stoneware | NY State Stoneware
Exceedingly Rare and Important Stoneware Presentation Cooler with Elaborate Incised Mermaid and Seahorse Motifs, Inscribed "Charles S. Brown / Cornwall / August 15 / 1825", Moses Clark Bell, Cornwall, NY, 1825, ovoid, jug-form cooler with two applied handles and a circular bunghole, one side lavishly-decorated with a large, incised and cobalt-highlighted design of a mermaid beside an incised design of a seahorse. Opposite side decorated with an incised and cobalt-highlighted medallion with foliate embellishments surrounding the inscription, "Charles S. Brown / Cornwall / August 15 / 1825." Additional drape or foliate incising, highlight in cobalt slip, adorns the base of each handle. An incised and cobalt-highlighted square surrounds the bunghole. Brushed cobalt highlights accent the handle terminals. Among the most outstanding examples of incised American stoneware still in private hands, this cooler's mermaid motif is noteworthy for its subject matter, size, detail, and artistic merit. This design, akin in artistic quality to an early 19th century folk portrait, establishes the cooler's maker, Moses Clark Bell, as a true master of his craft. This cooler's mermaid, profusely-embellished with impressed scales to the body and tail, is easily regarded as the finest representation of this figural motif in early American ceramics. (Other, much-more-simplistic incised "merman" designs can be seen on a select few pieces of William Lundy stoneware from Troy, NY, circa 1825. A third crudely-incised mermaid can be seen on the back of a Manhattan, NY stoneware flask bearing the initials of John Remmey II or III.) The large, curvaceous sea monster, a classical "seahorse" of half-horse and half-fish form, is likewise in its size, subject matter, and bold folk expression. Such seahorse motifs, exceedingly rare in American stoneware, can also be observed in other forms of 19th century American decorative arts, including weathervanes and scrimshaw. Both maritime themes depicted on this cooler are likely linked to the Bell Pottery's location along the Hudson River as well as the association of the cooler form with dispensing water or other liquid. It is difficult to overstate the importance of this object as a representative of the early American stoneware style, where bulbous forms and hand-incised decorations typified the finest examples. This cooler's mermaid motif is among the most outstanding incised designs known on an American stoneware object. Early American ceramic objects of this (and far lesser) quality have been acquired by museums since the early 20th century, making the availability of this masterpiece on the open market a true rarity in today's day and age. Provenance: Garth's Auction, July 30-31, 2004, lot 45. Excellent, essentially as-made condition with a few in-the-firing flaws, including some shallow in-the-firing chipping at base and a 5/8" iron deposit to shoulder. H 16".
---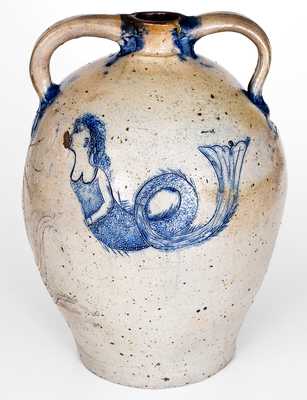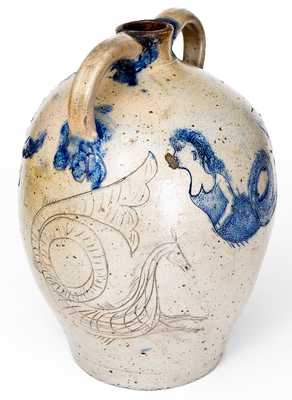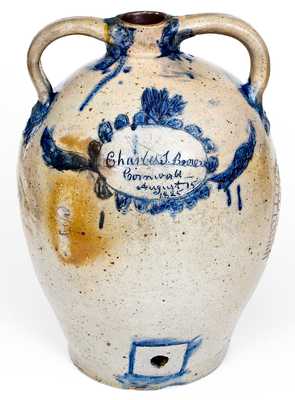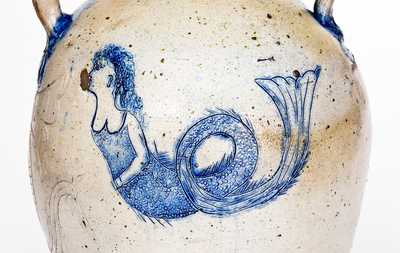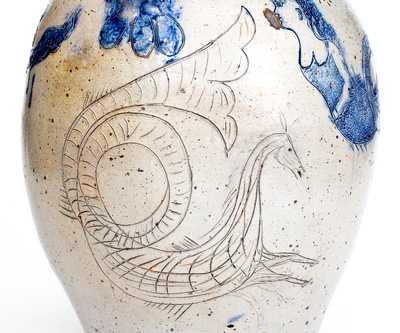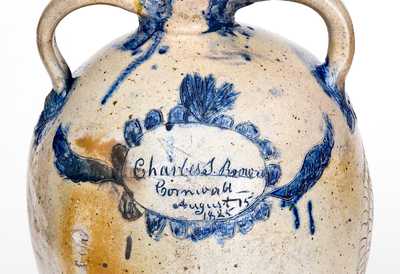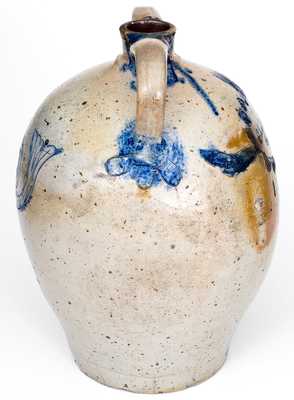 Click images to enlarge.
---
Bidding is now closed.
(Our
next auction
takes place March 21, 2020.)
---