Extremely Rare and Important Stoneware Face Jug, Edgefield, SC, circa 1860
July 18, 2015 Stoneware Auction
Lot #: 39
Price Realized: $92,000.00
($80,000 hammer, plus 15% buyer's premium)
PLEASE NOTE: This result is 5 years old, and the American ceramics market frequently changes. Additionally, small nuances of color, condition, shape, etc. can mean huge differences in price. Please Contact Us for a Current, Accurate assessment of your items.
Auction Highlight: Current Auction | Greatest Hits | July 18, 2015 Auction | Southern Pottery | Face Jugs | Current Auction | Current Auction | Current Auction | Current Auction | Current Auction | Current Auction | Current Auction
Rare and Important Alkaline-Glazed Stoneware Face Jug with Kaolin Eyes and Teeth, Edgefield, South Carolina origin, circa 1860, ovoid jug with narrow neck, pronounced spout with semi-squared molding, and applied strap handle, the surface decorated with an applied human face. Features include applied eye lids with bulging, kaolin eyes, a distinctive horizontal brow, a pinched nose, wide mouth baring incised kaolin teeth, and C-scroll ears, each with an applied tragus at the center. The surface is covered in a olive-green-toned alkaline glaze. Research indicates vessels of this style, form, and glaze, were made by enslaved potters of African descent, either African-American, or newly-captured Africans, who arrived in the Edgefield District of South Carolina in 1858, after voyage on the illegal slave ship, The Wanderer. This outstanding recent discovery belongs to a currently-undocumented school or maker of face vessels in Edgefield, whose work features a number of distinctive characterstics, including a singular, horizontal brow, eyes which lack incised pupils, and a well-formed spout of squarish form. Although the spout on this jug is closely-related to pieces made at Thomas Davies' Palmetto Fire Brick Works, the face is altogether different. Moreover, while a large number of Edgefield-produced face vessels have survived, only a handful by this particular maker or school are known. Among these few is a jug that resides in the collection of the Art Institute of Chicago. Adding interest to this piece is its moving kaolin eyes, which rattle freely inside of their sockets. The Ceramics in America 2006 article, "Making Faces: Archaeological Evidence of African-American Face Jug Production" by Mark M. Newell and Peter Lenzo, discusses this phenomenon and how it may have been achieved: "After the vessel was thoroughly air-dried, preparation for glazing began with the application of wax to the eyes and teeth. This resist technique--the Edgefield potters probably used an application of beeswax--was employed to ensure that the eyes and teeth were left unglazed, and also might have allowed the teeth and eyes to move slightly. The intention, however, is unknown. There is some indication from Edgefield County sources that the effect may have been desirable--that is, the 'best' face jugs had eyes that rolled and teeth that chattered." (Newell and Lenzo, Ceramics in America 2006). The slave-made face vessels of Edgefield, South Carolina are widely-considered to be some of the most expressive and historically-significant ceramic objects ever produced in the American South. Interest has increased dramatically in these objects over the last two decades, as they become recognized as both powerful works of American folk art and vital links to African-American cultural history. The rarity of this jug's specific maker, its finely-potted form, and the remarkable condition in which it survives, all contribute to its importance and desirability. Provenance: A fresh-to-the-market example, recently discovered in the Northeastern U.S. Excellent condition with some minor chips to ears and a glazed-over, in-the-firing line in lower handle terminal. H 5".
---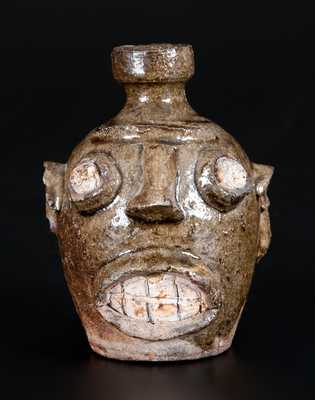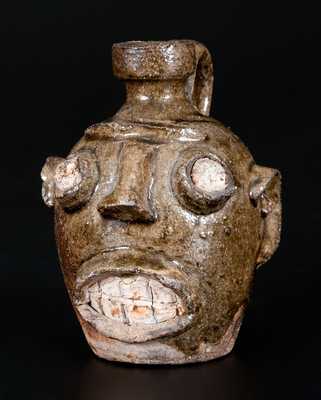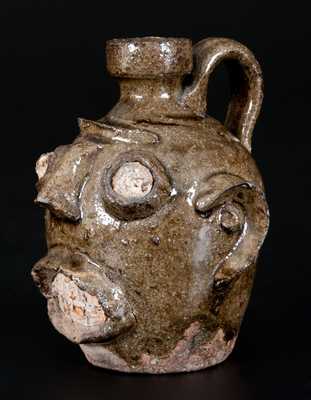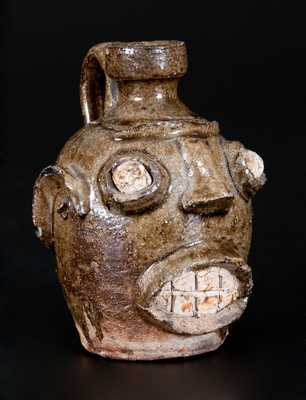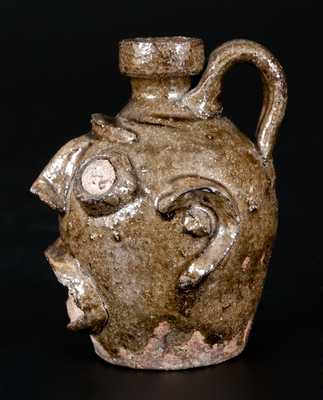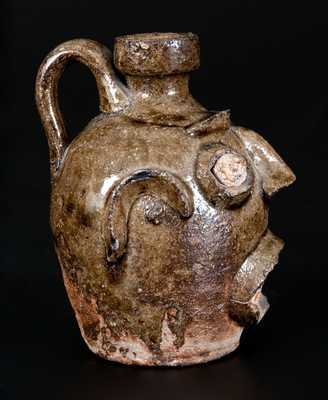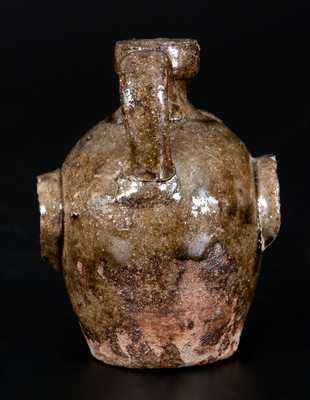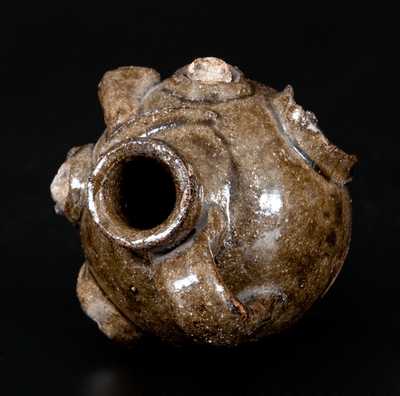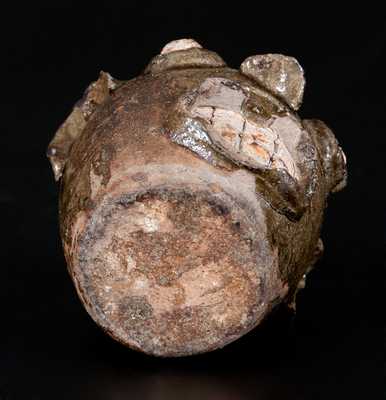 Click images to enlarge.
---
Bidding is now closed.
(Our
next auction
takes place March 21, 2020.)
---