Exceedingly Rare Edgefield District, SC Stoneware Face Jug
March 23, 2019 Stoneware Auction
Lot #: 73
Price Realized: $82,600.00
($70,000 hammer, plus 18% buyer's premium)
PLEASE NOTE: The American ceramics market frequently changes, often dramatically. Additionally, small nuances of color, condition, shape, etc. can mean huge differences in price. Please do not hesitate to Contact Us for a Current, Accurate assessment of your items.
Auction Highlight: Greatest Hits | March 23, 2019 Auction | Southern Pottery | Antique Textiles | Face Jugs
Exceedingly Rare and Important Alkaline-Glazed Stoneware Face Harvest Jug, Edgefield District, SC, circa 1845-1870, ovoid form of arched handle and applied tubular pouring spout on reverse with semi-squared mouth, the front decorated with a hand-modeled and applied clay face. The face features kaolin eyes applied within elliptical eyelids, an open mouth bearing carved kaolin teeth and flattened lips, an applied mustache formed from twisted pieces of clay, a well-sculpted nose with pointed tip and carved nostrils, and large ears with applied tragi. The face's striking, lunate form with flared, high-set cheek bones, was created by gently depressing the surface of the jug while the clay was still soft. An arched ridge scored above the face, an unusual treatment, delineates the figure's forehead. The surface features a colorful green alkaline glaze with sporadic iron spotting. This recently-discovered work is among the finest known face vessels produced in the Edgefield potting tradition, and the best example of this distinctive Southern ceramic form that we have ever offered. The piece's large size, desirable harvest jug form, and expressive face with twisted mustache, create an object of both extreme rarity and strong folk art appeal. Its wonderful fu-manchu-style treatment is nearly unprecedented in Edgefield face jug production, and is stylistically related to that seen on the iconic face jar or umbrella stand, attributed to the Miles Mills Pottery, in the collection of the High Museum in Atlanta, GA. A second, small-sized monkey jug with similar mustache was also sold in The John Gordon Collection of Folk Americana, Christie's, Jan. 15-19, 1999. The example to be auctioned joins a small, highly-prized group of face harvest jugs, all with similar mouths, glazing, and pupil-less eyes, believed to have been made at the same pottery. Among these are two published examples currently held in the collection of the Museum of Fine Arts Boston and the High Museum. When comparing all from this group, the face jug to be auctioned arguably exceeds all other known examples in the expressiveness of the face and sophistication of its sculpting. Southern stoneware objects of this quality rarely become available for public sale. Standing as one of the very best examples of a coveted South Carolina form, the importance of this work is difficult to overstate. Literature: For related examples by the same school or maker, both lacking mustaches, see Baldwin, Great and Noble Jar, p. 81, fig. 3.10 and rear cover. Provenance: A recently-discovered example, found in the estate of Clive W. Bridgham (1951-2018), Barrington, RI, a descendant of Samuel W. Bridgham (1775-1840), the first mayor of Providence, Rhode Island. This jug was found along with a second large-sized Edgefield face jug, sold as lot 28 in Crocker Farm's July 21, 2018 auction. Possible early owners of the jug include any of Bridgham's three sons, Samuel (1842-1915), Joseph (1845-1915), who served during the Civil War in Company K of the Seventh Regiment of the New York State militia, or William (1849-1916). Samuel W. Bridgham's nephew, Capt. Thomas Paine (1786-1859), may have been responsible for bringing both jugs from South Carolina to Rhode Island. An excerpt from the "Manufacturers' and Farmers' Journal," Providence, RI, Nov. 14, 1859, p. 1, reads as follows: "Capt. Thomas Paine, whose death was noticed yesterday, was a gallant officer of the American navy, and a genial and kind hearted man. He was born, we believe, in Massachusetts, but for many years lived in Savannah and in Charleston. He was a nephew of Samuel Bridgham, the first mayor of Providence, and he occasionally visited this city, where many of our readers remember him. We shall doubtless find in the Savannah or Charleston papers a memoir of his life, and a fitting tribute to this worth." The journal's passage not only draws a familial connection between South Carolina, the state in which the jugs were produced, and Rhode Island, the jugs' ultimate resting place; it also indicates a possible means by which the jugs traveled to New England, as Paine "occasionally visited [Providence]," presumably as a ship's captain. Another possible owner was Paine's son, Edward Tatnall Paine, (1824-1908), a prominent Charleston cotton farmer and rice planter. His obituary in The Atlanta Constitution, August 23, 1908, reads, "Captain Edward Tattnall Paine, the oldest lineal descendant of Governor Landgrave Smith, of South Carolina, died at the residence of his son, Thomas B. Paine, at East Lake, Friday night at 12 o'clock. Captain Paine came to Atlanta two weeks ago to pay a visit to his son, and had been here only a few days when he became ill. Captain Paine was 85 years of age and was born in Charleston, S. C. His father was Captain Thomas Paine, of the United States navy and his mother was Mary Lucia Bellinger, a grand-daughter of Governor Landgrave Smith. Before the war he was a cotton factor and a large rice planter, and for many years he was captain of the famous Charleston Light Dragoons. He was one of the few surviving members of the old St. Cecelia Society of Charleston. He was married to Miss Julia Faber Beckley, of Charleston, a grand-daughter of Charles Desel, of the old Huguenot family of that name, one of the oldest families in South Carolina." Edward Tatnall Paine's obituary indicates he was linked to Charleston High Society by marriage and membership in at least two organizations: the Charleston Light Dragoons, an exclusive militia of privileged Charlestonians, which dated back to the 18th century and was ravaged by Grant's troops at Richmond, and the St. Cecelia Society, which began as a private concert organization, but, by 1820, had essentially become a social club for South Carolina's elite. Paine was thus connected to two opposing ends of the social spectrum. On one end, as a grower of cotton and rice, he regularly interacted with African-American slaves, a group popularly linked to both the manufacture and ritualistic use of Edgefield-made face vessels. On the other end, he fraternized with Charleston's wealthiest and most influential through various social institutions, where a piece related to rural African-American culture could be viewed as a curiosity or visually-engaging object. Either association is a possible means by which this piece could have been acquired. Paine's interactions with Northern relatives later in life could easily explain the two jugs' final resting place in Rhode Island. Excellent condition with a shallow 5/8" flake to the reverse edge of one ear and a smaller flake to the edge of the same ear. Two minor chips to opposite ear. H 8 1/2".
---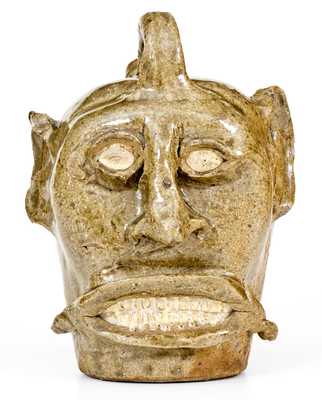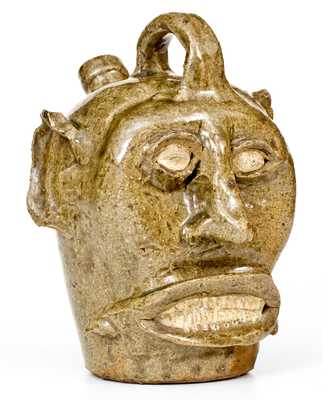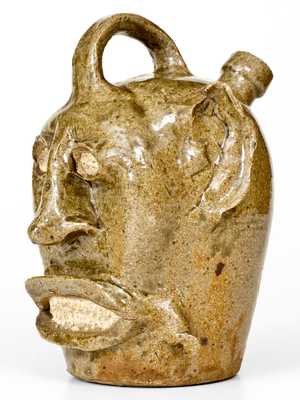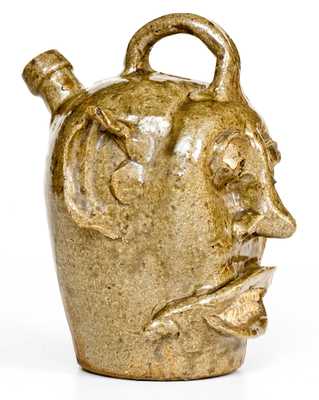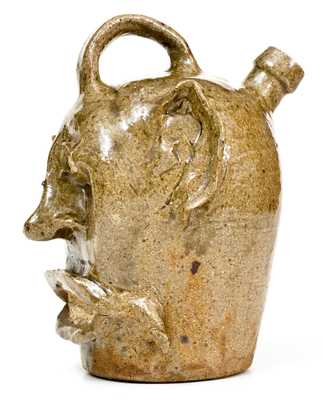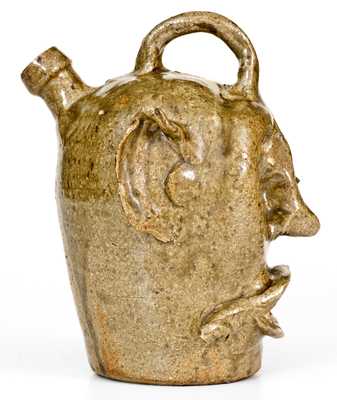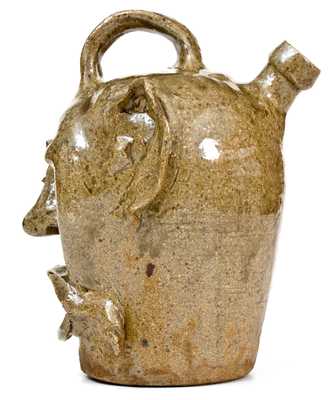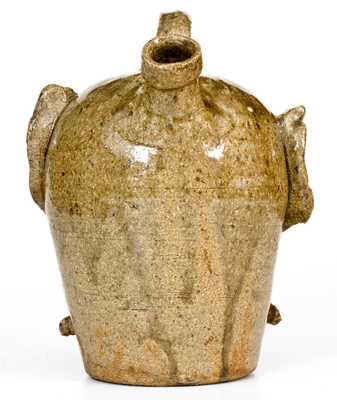 Click images to enlarge.
---
Bidding is now closed.
(Our
next auction
takes place March 21, 2020.)
---