Bidding is now closed.
(Our
next auction
takes place March 21, 2020.)
---
Exceptional Five-Gallon Double-Handled Jug with Elaborate Two-Color Slip Floral Decoration, attributed to Collin Rhodes, Shaw's Creek, Edgefield, SC origin, circa 1845, large-sized, highly-ovoid jug with tooled spout and applied strap handles, the surface covered in a streaky green alkaline glaze and decorated on both sides with a large kaolin and iron-oxide slip floral decoration. Decorations include brushed iron slip interiors and raised, slip-trailed borders and highlights in kaolin slip. This two-color decorative technique, set against a mottled green background creates a wonderful folk expression. Surface includes appealing, heavy glaze drips to side under one handle. Excellent form, size, and decoration. While most surviving Edgefield stoneware products are simply-glazed with a dipped alkaline glaze or feature basic slip motifs, Rhodes differed from most of his contemporaries and found a need for sophisticated decorative treatments. The distinctive floral motif on both sides of this jug can be viewed as an amalgamation of daisy and fanned floral motifs used on stoneware produced at the William Morgan and Henry Myers shops in Baltimore, MD. Stoneware objects produced at Rhodes' Shaw's Creek site are widely- considered to be some of the most boldly-decorated examples of Southern alkaline-glazed ware in existence. One handle reglued. Otherwise excellent, essentially as-made condition. H 16 1/2".
---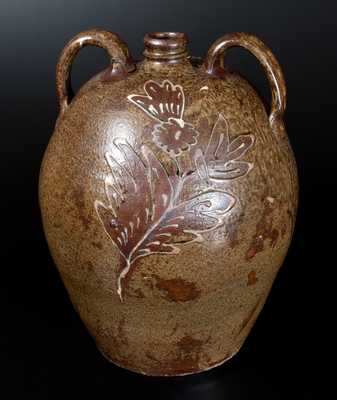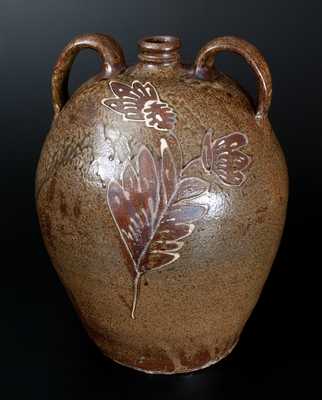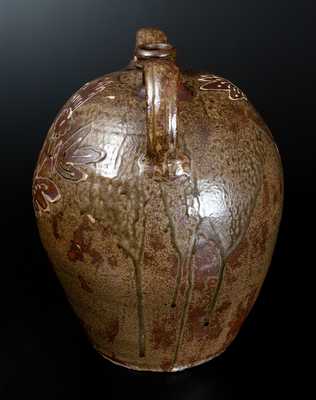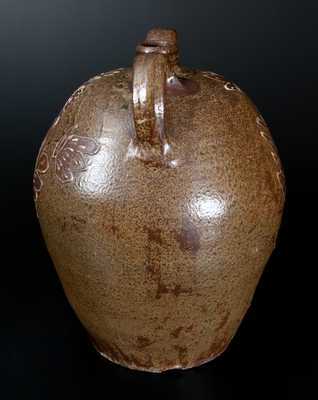 Click images to enlarge.