Bidding is now closed.
(Our
next auction
takes place March 21, 2020.)
---
Extremely Rare and Fine Salt-Glazed Stoneware Pitcher with Elaborate Incised Floral Decoration, Dated 1856, attributed to Henry Harrison Remmey, Philadelphia, PA, ovoid pitcher with flared collar and applied strap handle, decorated around the midsection with a finely-incised flowering vine design brushed over in cobalt slip. Perhaps most impressive about this pitcher is the fineness and crispness of the incising, which is accomplished with a sure hand and includes deeply carved borders with scalloped edges to the leaves, and profuse, delicate veining to the leaves and flowers. Rim decorated with an incised and cobalt-highlighted oval design. The date "1856" is incised at the base of the handle and highlighted in cobalt. Interior with whitish slip coating. Decorations of this type are related to designs used by Henry H. Remmey and his father, Henry Remmey, during their tenure in Baltimore in the 1810s and 1820s. A well-documented, similarly-decorated pitcher, bearing the mark "H. REMMEY / BALTIMORE" is in the collection of the Henry Ford Museum in Dearborn, Michigan. Also of significance are the light tan color of the clay and brilliance of the cobalt on this pitcher, which both suggest Remmey was using his best materials and safest kiln space to create it. Provenance: From a forty-year private collection. Essentially as-made condition with a small chip on reverse at base, which appears to be in the firing. What also appears to be a crack on the front is actually an incised line carved by Remmey prior to the firing. H 9".
---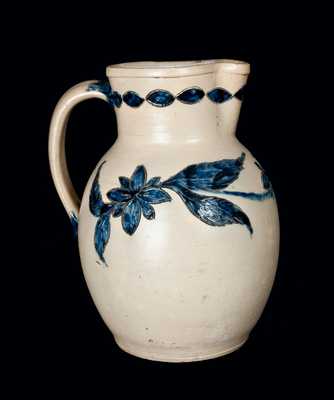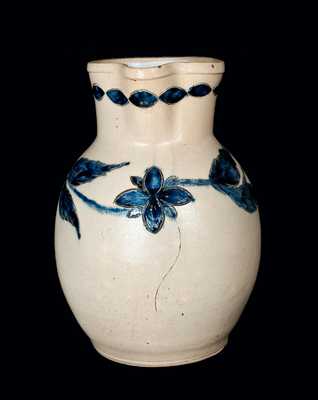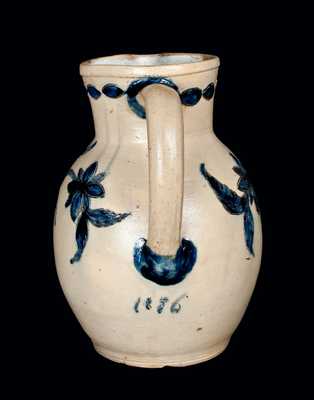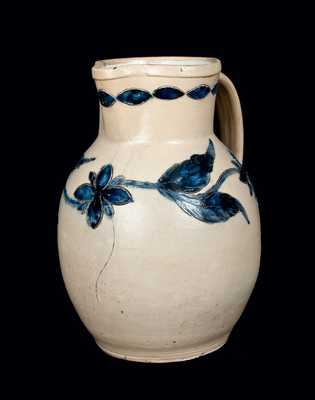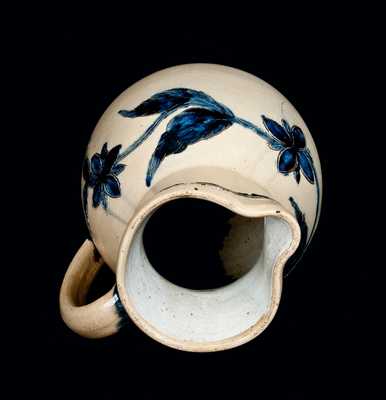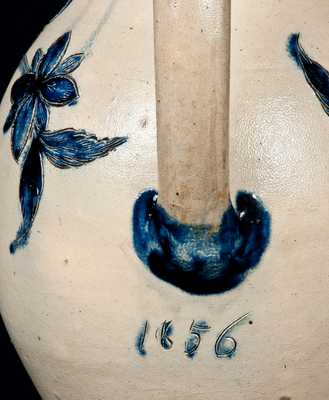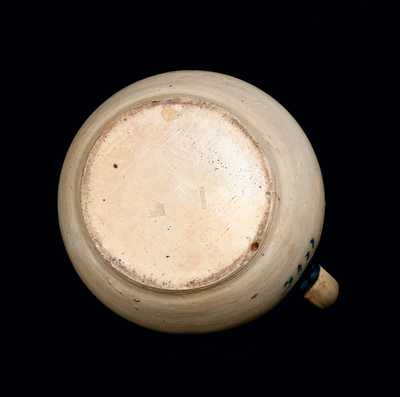 Click images to enlarge.