Exceedingly Rare & Important Remmey, Philadelphia Stoneware Face Jug
WORLD AUCTION RECORD, PHILADELPHIA STONEWARE
March 14, 2015 Stoneware Auction
Lot #: 1
Price Realized: $86,250.00
($75,000 hammer, plus 15% buyer's premium)
PLEASE NOTE: This result is 5 years old, and the American ceramics market frequently changes. Additionally, small nuances of color, condition, shape, etc. can mean huge differences in price. Please Contact Us for a Current, Accurate assessment of your items.
Auction Highlight: Greatest Hits | March 14, 2015 Auction | Philadelphia Stoneware | Remmey Pottery | Face Jugs
Exceedingly Rare and Important Cobalt-Decorated Stoneware Presentation Harvest Jug with Applied Faces, Incised "R.G. Simkin," attributed to Henry Harrison or Richard Clinton Remmey, circa 1855-1865, wheel-thrown harvest jug with footed base, rainbow handle, and applied narrow and wide spouts. Decorated on both sides with an applied and hand-modeled face of a man, including semi-circular forehead, bulging eyes, nose, mouth, protruding chin, and ears. Incised details to sideburns and beard, eyebrows, and teeth. Impressed circular pupils in eyes. Lavish cobalt brushwork throughout applied faces, including highlights to beard, mustache, eyebrows, and eyes on faces. Top of jug decorated with cobalt dashes along the handle, highlights to the handle terminals and the bases of the spouts, as well as abstract brushwork to the surface. Incised with the cobalt-highlighted presentation name, "R.G. Simkin", on the left and right sides of the jug. English-born Richard G. Simkin (c. 1822 - 1868), the jug's recipient, owned several hotels in Philadelphia, including the prominent Wetherill Hotel located on Sansom Street in close proximity to Independence Hall. Period documents often list him as "R. G. Simkin", as inscribed on this vessel. It is possible that this jug was on display at one of his hotel bars. Few American stoneware forms are as evocative and expressive as those referred to as "face vessels". Examples produced in the North, South, and Midwest grace the shelves of some of the finest Americana collections in the country, and few native ceramic objects have traversed the pottery arena into the folk art realm like this captivating form. This harvest or monkey jug exhibits classic Remmey family traits, and was produced in Philadelphia by Henry Harrison Remmey or his son, Richard C. Remmey, likely prior to the latter's ascendance as owner of the family enterprise. Consistent with, though unrelated to, other American face vessel masterworks, such as those by Ohio's John Dollings and the slaves of Edgefield, South Carolina, is its open mouth with bared and gritted teeth. Featuring a piercing countenance on both sides, this extremely rare object is possibly the first Remmey example to come to auction since the important John Gordon Sale at Christie's in 1999, in which a broken and reglued jug was sold. Provenance: A fresh-to-the-market example, purchased by the consignor approximately twenty years ago. Loss to mouth and chin on reverse, which occurred in the firing. A few minor chips. H (to top of handle) 7 1/2".
---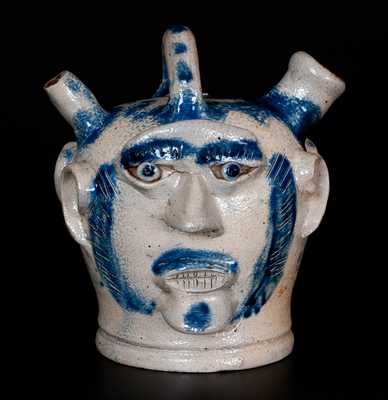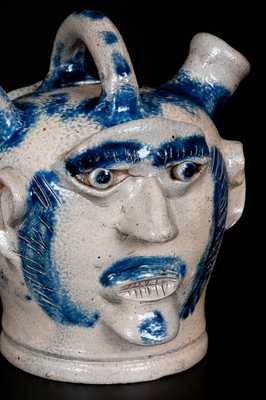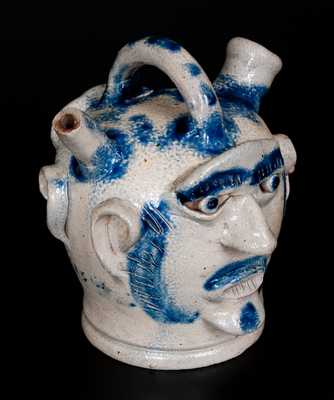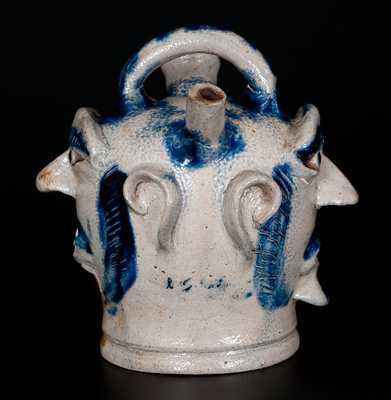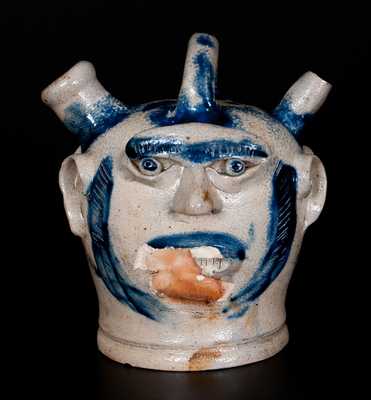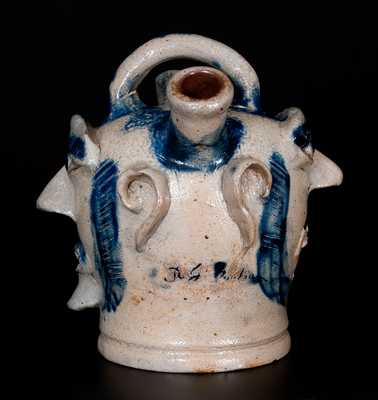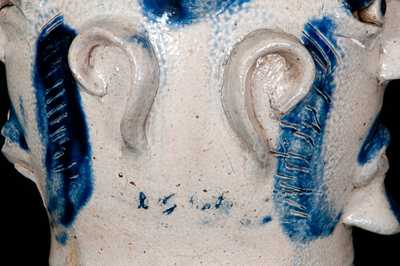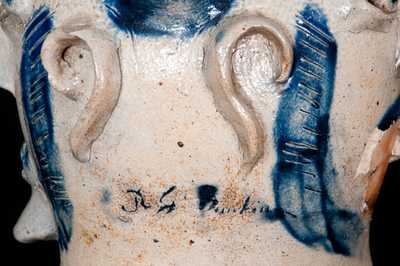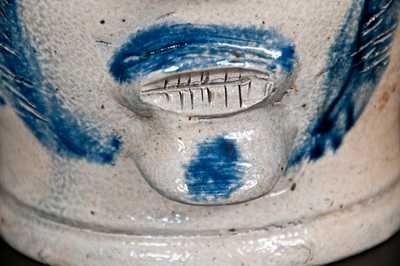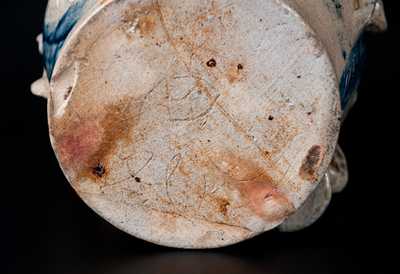 Click images to enlarge.
---
Bidding is now closed.
(Our
next auction
takes place March 21, 2020.)
---