Extremely Rare and Important BROWN POTTERY (Arden, NC) Monumental Stoneware Devil Jug
July 22, 2017 Stoneware Auction
Lot #: 126
Price Realized: $59,000.00
($50,000 hammer, plus 18% buyer's premium)
PLEASE NOTE: This result is 3 years old, and the American ceramics market frequently changes. Additionally, small nuances of color, condition, shape, etc. can mean huge differences in price. Please Contact Us for a Current, Accurate assessment of your items.
Auction Highlight: Greatest Hits | July 22, 2017 Auction | Southern Pottery | Face Jugs
Exceedingly Rare and Important Stoneware Storefront Devil Face Jug, Incised "GRAHAMS FURNITURE / AND / HARDWARE STORE / BAKERSVLLE. (sic) NC", Stamped "Brown Pottery / Arden, N C / Hand-Made", Davis P. Brown (1895-1967), circa 1941, large-sized cylindrical jug, decorated with a hand-modeled and applied clay devil face; features include inward-curving horns, a large incised mustache and goatee, bulging eyes with pierced pupils, raised eyebrows with incised hair, a nose with applied wart, ears with incised interiors, and an open mouth with china teeth. Original surface of jug includes smears of light-brown glaze. Incised below with the large, black-glazed advertising, "GRAHAMS FURNITURE / AND / HARDWARE / STORE / BAKERSVLLE. NC". This jug is considered one of the greatest 20th century American face vessels in existence, distinguished as one of only two Brown Pottery devil jugs made with North Carolina store advertising, and the only example bearing the pottery's signature. It was made for display at Graham's Furniture and Hardware Store upon the business's grand opening in 1941. A correspondence between two Southern ceramics authorities, written on October 5, 2006, discusses a conversation one of them had with the wife of the former owner of the hardware store, Mrs. Graham, in the 1990s. According to Mrs. Graham, the jug "didn't grace the window of the hardware store for very long" because "local folks were either offended of the devil being on the jug or scared of it." The letter continues, "She remembered that for years it sat on a shelf in the back of the store. She is not exactly sure what happened for it to leave the store, but she thinks her husband gave it to one of the employees. The Graham family had no idea at that time that the face jug was in the North Carolina Pottery book and didn't know they had received a little notoriety because of it. I explained to her at the time that it was one of the most recognizable of all face jugs and before I left I gave her my copy of Turners & Burners so she would have it to show her kids and grandkids". Exceptional in its size and expressiveness, this jug is regarded as iconic work of Southern folk art, transcending the pottery medium. Brown family face vessels reside in several of the nation's leading museums, including the Smithsonian Institution and the Abby Aldrich Rockefeller Folk Art Museum. A closely-related example, the second known Brown Pottery devil jug with store advertising, is owned by the Philadelphia Museum of Art. Provenance: Ex-Pria Harmon Collection; Skinner, Inc., March 21st, 1998, The Marna Anderson Collection, Sale #1831, lot #100; Southern Folk Pottery Collectors Society, November 16, 1994, cover lot, lot #114; purchased from Edd & Peggy Elkins, 1994; Canton Auction Company, Canton, North Carolina, 1993; Ex-Doug & Jane Penland Collection; Crafted by Davis P. Brown for Graham's Furniture and Hardware Store of Bakersville, NC, 1941. Literature: Illustrated on p. 385 of Zug, Turners & Burners: The Folk Pottery of North Carolina, North Carolina: University of North Carolina Press, 1986. Charlie Brown, Arden, NC potter and grandson of Davis P. Brown, noted on August, 3, 1990, that the caption in Turners & Burners erroneously attributes his grandfather's masterpiece to Javan Brown; Illustrated in Koverman, Making Faces: Southern Face Vessels from 1840-1990, Columbia: McKissick Museum-- University of South Carolina, 2001 Exhibited: Making Faces: Southern Face Vessels from 1840-1990, McKissick Museum, University of South Carolina Columbia, July 2 to December 17, 2000. Loss to one eyebrow and tip of goatee. Otherwise excellent condition. H 20 1/2".
---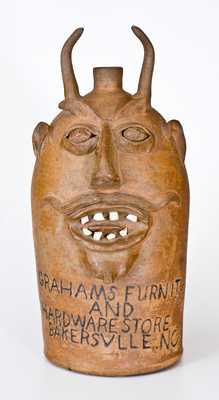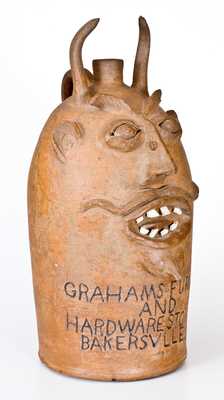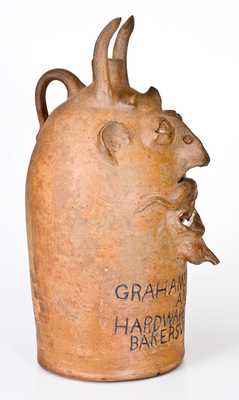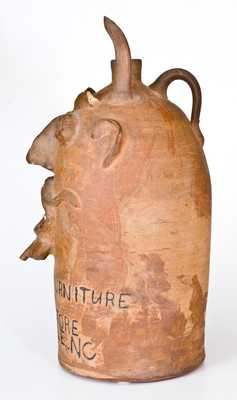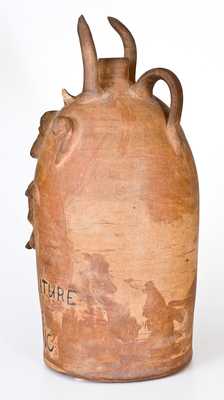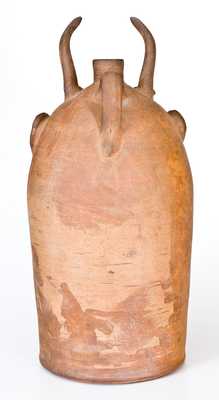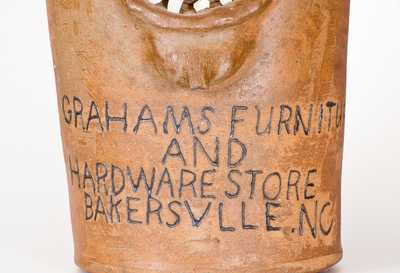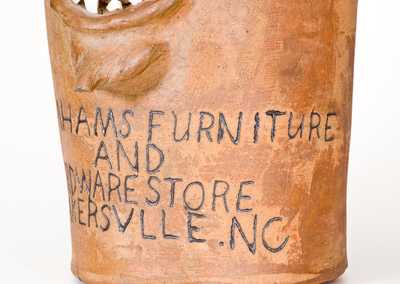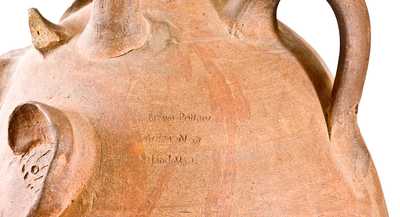 Click images to enlarge.
---
Bidding is now closed.
(Our
next auction
takes place March 21, 2020.)
---