Extremely Rare Brown Family, Atlanta, GA Stoneware Face Jug Inscribed "Gon But Not Forgotten"
March 19, 2016 Stoneware Auction
Lot #: 355
Price Realized: $9,200.00
($8,000 hammer, plus 15% buyer's premium)
PLEASE NOTE: This result is 4 years old, and the American ceramics market frequently changes. Additionally, small nuances of color, condition, shape, etc. can mean huge differences in price. Please Contact Us for a Current, Accurate assessment of your items.
Auction Highlight: March 19, 2016 Auction | Southern Pottery | Face Jugs
Southern Stoneware Face Jug with Salt Glaze over Albany Slip Surface, Incised "Gon But Not forgotten", attributed to the Brown Family, Atlanta, GA, early 20th century, cylindrical jug with tubular spout and small applied handle, the surface decorated with an applied clay face including elliptical eyes with delicately-placed pupils, thin eyebrows, a nose with modeled nostrils, C-shaped ears, and mouth with clay teeth. Incised in script below the mouth "Gon but not forgotten". Surface covered in a salt glaze over Albany slip, producing an appealing greenish "frogskin" coloration. Inscribed face vessels from this time period are exceptionally rare. This example belongs to a small group of face jugs attributed to the Brown family of potters while active in Atlanta, Georgia during the early 20th century. A small number of examples having surfaced in the Atlanta area share commonalities with this jug, including the shape of the jug, the facial features, and, in some cases, the addition of an incised inscription. The term "Gon(sic) But Not forgotten" is possibly a reference to the consumed liquor the jug was made to hold. Another interpretation argues that the jug was made to commemorate a specific individual known by the potter. This jug is the first from this potting school we have offered, and, attesting to the rarity of this object, little research is available on the number and quality of face jugs produced by the Browns in Atlanta. The glaze closely resembles that found on face vessels produced in Rock Mills, Alabama during the same time period, where members of the Brown family were also employed for a period. However, the concentration of discoveries of such jugs in Georgia makes an attribution to this state all-but-conclusive. An important Southern folk sculpture, to be added to a body of one family's work, which requires closer study. Provenance: A fresh-to-the-market example, recently discovered on the Georgia / Alabama border. Minor chips to left eye and right ear. A minor, 1/2" area of glaze wear to top of spout. Some traces of old white paint or calcium. H 7 1/4".
---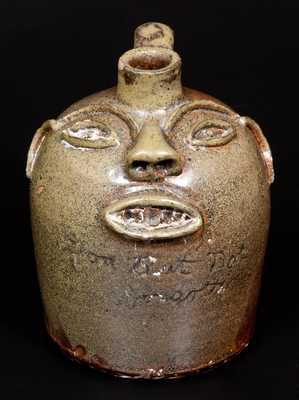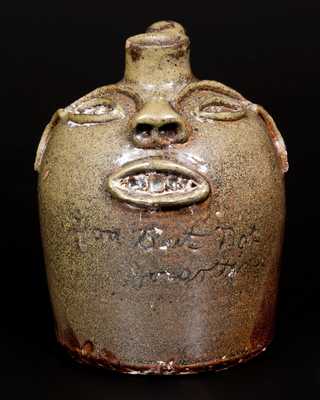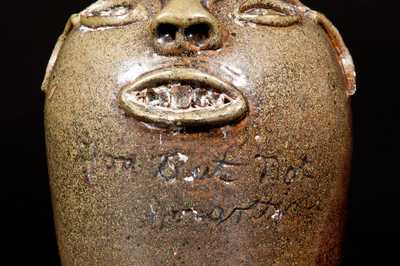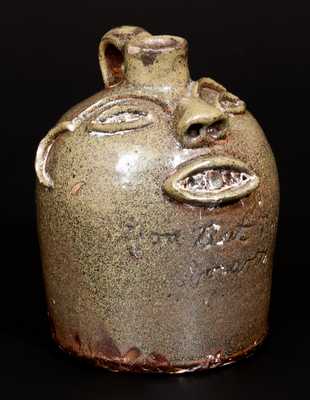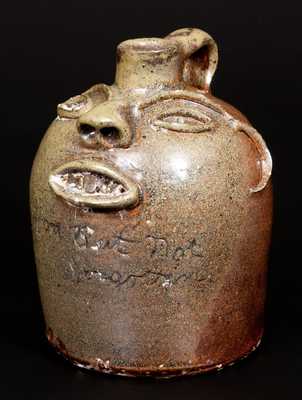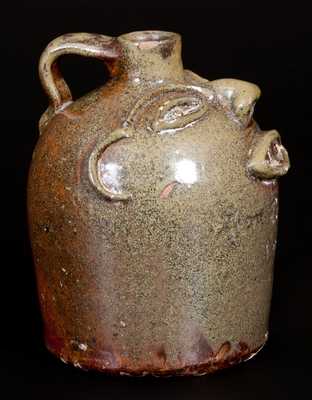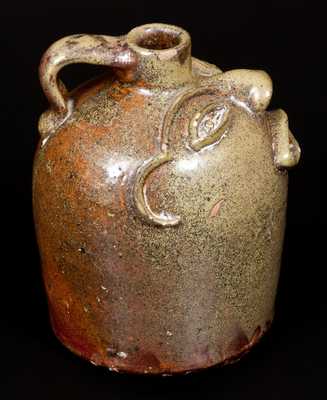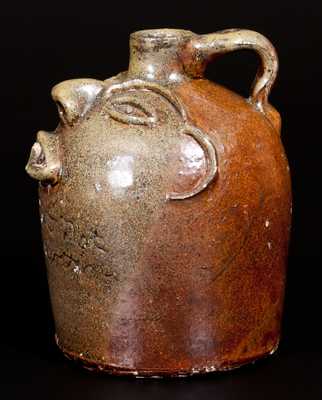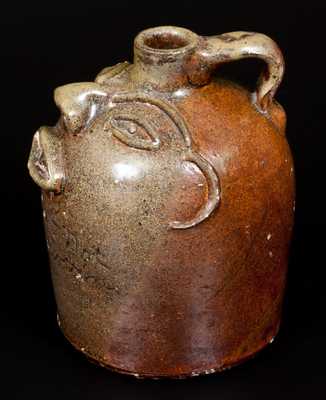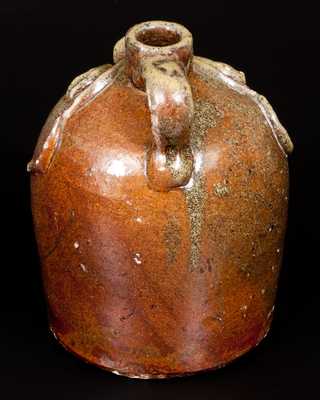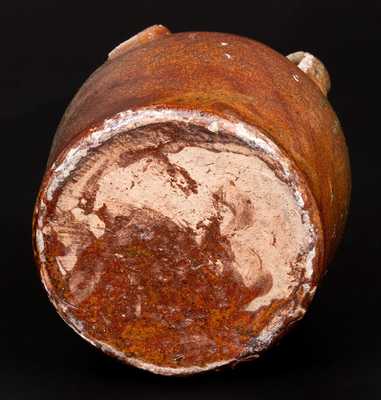 Click images to enlarge.
---
Bidding is now closed.
(Our
next auction
takes place March 21, 2020.)
---