Outstanding Edgefield Stoneware Face Jug with Protruding Tongue, Edgefield, SC origin, circa 1860-80
March 19, 2016 Stoneware Auction
Lot #: 354
Price Realized: $6,325.00
($5,500 hammer, plus 15% buyer's premium)
PLEASE NOTE: This result is 4 years old, and the American ceramics market frequently changes. Additionally, small nuances of color, condition, shape, etc. can mean huge differences in price. Please Contact Us for a Current, Accurate assessment of your items.
Auction Highlight: March 19, 2016 Auction | Southern Pottery | Antique Textiles | Face Jugs
Exceedingly Rare and Important Diminutive Stoneware Face Jug with Protruding Tongue, Edgefield, SC origin, circa 1860-1880, wheel-thrown jug with arching strap handle and semi-rounded pouring spout, decorated with an applied clay face, including bulging kaolin eyes, eyebrows, nose, chin, open mouth with kaolin teeth and protruding tongue, and C-shaped ears, each with distinctive applied tragus. This recently-discovered example is remarkable in its size and expressiveness. Most noteworthy is its playful extended tongue, a trait documented on only a very few Edgefield examples. The jug's diminutive stature, measuring only 3 3/8" to the top of the handle, is also a rarity, as the piece is noticeably smaller than the average Edgefield face vessel. Its eyes include unusually large impressed pupils, formed from a wide, evenly-round stylus. The surface is covered in an appealing light-green alkaline glaze. The kaolin eyes and teeth are left unglazed, presumably through a wax resist technique. Dark coloration to the eyes appears to be early gold and dark green cold paint. The wax application was noticeably omitted from the tongue, as it is heavily-glazed on the top and bottom surfaces. This treatment of glazing the tongue can also be observed in a well-known face jug, currently in the collection of the Chipstone Foundation in Milwaukee, Wisconsin. The jug to be sold in our March auction and the Chipstone example are two of a very few Edgefield face vessels known with a protruding tongue. While the maker of the jug to be auctioned is currently unknown, its ovoid form and distinctive thick, high-arching handle is consistent with Edgefield sites operating during the 1850s through 1880s, most notably the B.F. Landrum and Jesse P. Bodie potteries. An unknown metal object inside of the jug causes it to rattle when shaken. A significant recent find, which adds to our knowledge of this coveted Southern ceramic form. Provenance: A recently-discovered example, consigned from the same source as lot #209 in our October 17, 2015 auction. This jug is part of a consigned collection of face jugs dating from the 1860s to the 1950s, that were amassed during the 1970s. Handle broken into three pieces and reglued. Loss to right ear. A horizontal Y-shaped hairline extending from left side of jug across reverse side of jug. A fainter, shorter hairline on reverse, possibly in surface only. A chip to spout. H 3 3/8".
---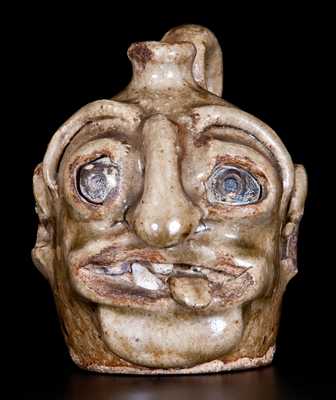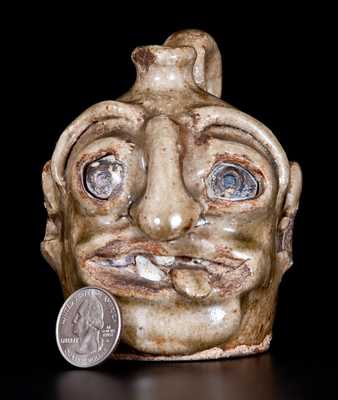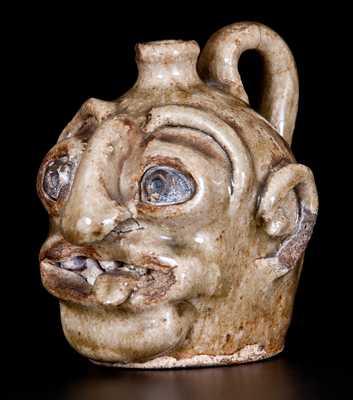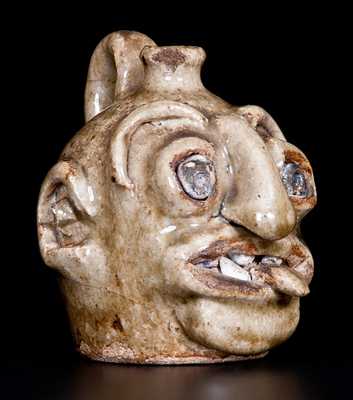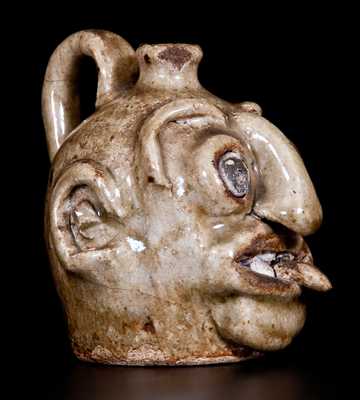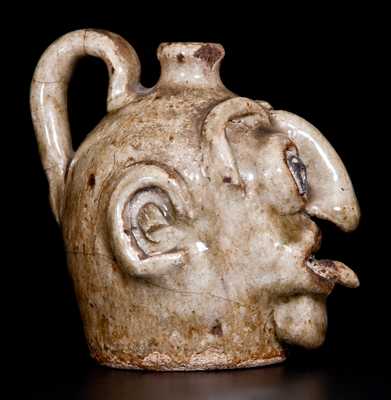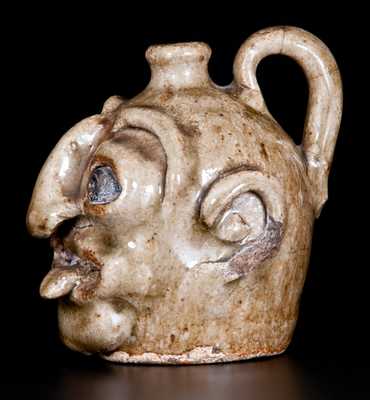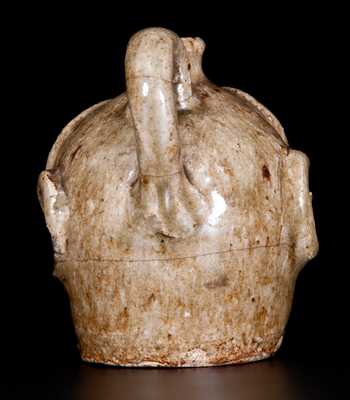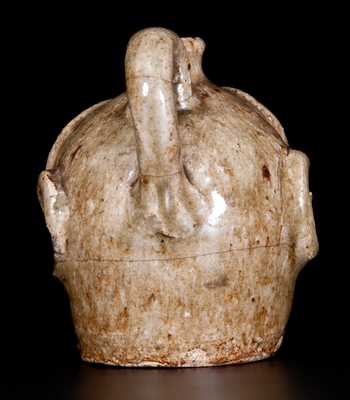 Click images to enlarge.
---
Bidding is now closed.
(Our
next auction
takes place March 21, 2020.)
---