Bidding is now closed.
(Our
next auction
takes place March 21, 2020.)
---
Exceedingly Rare and Important One-Gallon Lidded Stoneware Jar with Cobalt Rabbit Decoration, Stamped "COWDEN & WILCOX / HARRISBURG. PA," circa 1865, cylindrical jar with tall collar and applied lug handles, decorated with a slip-trailed design of a rabbit with large ears, upswept tail, and well-detailed border, reclining on a lawn surrounded by shrubs. Brushed cobalt highlights to maker's mark and handle terminals. Includes salt-glazed lid with tooled edge and mushroom-form finial, presumably original to the jar. The rabbit is one of the rarest native animal designs found on American stoneware. It is most typically found on pieces produced at the Norton and Fenton factory of Bennington, Vermont, circa 1845. Rabbit decorations found on pieces produced at any other pottery are highly unusual. The crisp and artistically-executed design on this jar reveals a probable New York State influence in the shrubwork that surrounds the animal. The use of a slip cup to decorate the jar is unusual, a treatment found on early Harrisburg, PA stoneware products, and some of Cowden & Wilcox's finest designs, including some animals. As noted on this example, the fineness of the rabbit, including its ball-shaped paws, shaded ears, and eyebrow, would be difficult to achieve with the standard use of a brush. It ranks as the finest stoneware product to come to auction in years featuring this iconic creature of the field, a cultural symbol of love, fertility, and spring, often beloved as a child's pet and reviled as a garden pest. Small chips to interior of rim, the largest measuring 3/4". Reverse with sealed J-shaped crack extending from rim to shoulder. A minor U-shaped line at base on side of jar, and a very minor, possibly-in-the-firing base nick. Lid in excellent condition. H (including lid) 10 1/4". ($8000-$12,000)
---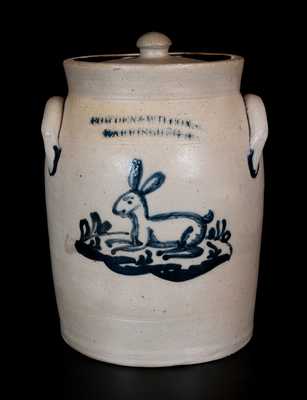 Click images to enlarge.