Bidding is now closed.
(Our
next auction
takes place March 21, 2020.)
---
Exceedingly Rare and Important Four-Gallon Stoneware Jar with Cobalt Starface Decoration, Stamped "COWDEN & WILCOX / HARRISBURG, PA", attributed to Shem Thomas, circa 1865, stylishly-formed, ovoid jar with tooled shoulder, flattened rim, and applied lug handles, decorated with an artistic brushed design of a human face surrounded by an eight-pointed star. The rays of the star are applied in an alternating pattern of wider, darker strokes and thinner, longer strokes, creating a dynamic, almost kaleidoscopic, effect to the design. Cobalt highlights to maker's mark, capacity mark, and handle terminals. The decoration on this jar is highly unusual among signed Cowden & Wilcox products, with only a few examples known. The use of a starface motif on Cowden & Wilcox stoneware was undoubtedly inspired by Shem Thomas, a potter employed in Harrisburg during the 1850s and 1860s. Thomas had previously worked for Thompson Harrington, the famous Lyons, NY stoneware potter, perhaps most well-known among collectors for the boldly-slip-trailed starface designs that occasionally decorate his ware. In the case of this jar, the design has been melded with the Pennsylvania style and is applied with a brush. While Thomas may have brought the starface design with him to Harrisburg, it seems evident that he was not the only potter to employ this motif. A few of the handful of Cowden & Wilcox starface designs indicate a more naive artist copying Thomas's work. In the case of this jar, however, we can be almost certain by the deftness of the design, as well as the close likeness of the face to Harrington examples from New York, that it was decorated by Thomas himself. While others may exist, this jar is the finest Cowden & Wilcox piece with starface motif that we have seen. Its striking decoration is executed in vibrant cobalt against a pleasing, light clay ground; the jar is additionally of an impressive four-gallon capacity with unusual rotund form, potted with an opening significantly narrower than its midsection. Certainly one of the finest examples of Harrisburg stoneware to cross the auction block in the last decade or more. Provenance: A fresh-to-the-market example, purchased privately by the consignor in the 1990s. Excellent, essentially as-made condition with a 5" surface line near base on reverse, not visible on the interior, and some light bubbling to a few areas of cobalt. H 13 1/2".
---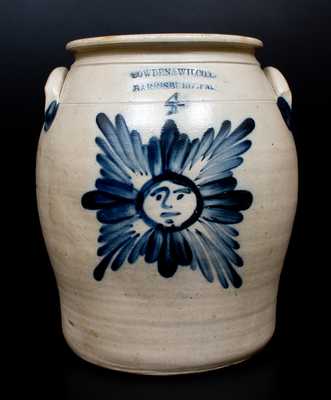 Click images to enlarge.