Bidding is now closed.
(Our
next auction
takes place March 21, 2020.)
---
Exceptional Five-Gallon Stoneware Jar with Profuse Bird-and-Floral Motif, Stamped "COWDEN & WILCOX / HARRISBURG, PA", circa 1865, large-sized, ovoid jar with tooled shoulder, applied lug handles, and semi-squared rim, decorated with a large brushed design of a songbird perched in a branch, completely surrounded by heavily-detailed leaves, two types of flowers, and various radiating strokes and flourishes. Brushed cobalt highlights to maker's mark, capacity mark, and handle terminals. This jar features an unusual decorative technique of profusely-applying cobalt around the hollow outline of a bird, thereby making the negative space of the figure stand out to the viewer. The design, one of a select few of its type known on Harrisburg, PA stoneware, is closely-related to that seen on a three-gallon Cowden & Wilcox jug, sold in Crocker Farm, Inc.'s, July 18, 2015 auction, although the jar's brushwork rivals the jug's in decorative quality and profusion of application. Similar, more-stylized examples of this treatment can also be seen in the "ghost bird" motifs of New York State stoneware. Featuring an impressive 10 1/2" by 10 1/2" design replete with Cowden & Wilcox motifs, this jar ranks among the most artistically-decorated pieces of Harrisburg stoneware to ever come to auction. Excellent condition with a minor 1 1/2" line from rim on side of jar, the reverse side with some light staining and a brownish-colored salt drip. H 15".
---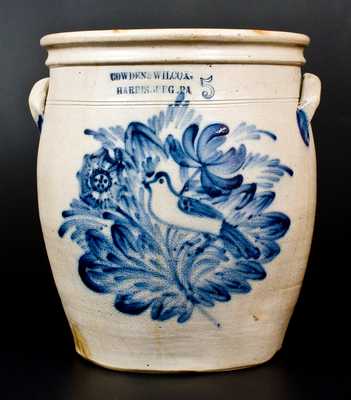 Click images to enlarge.