Extremely Rare Harrisburg, PA Miniature Pitcher and Mug Set, 1862, attrib. F.H. Cowden
July 18, 2015 Stoneware Auction
Lot #: 273
Price Realized: $20,700.00
($18,000 hammer, plus 15% buyer's premium)
PLEASE NOTE: This result is 5 years old, and the American ceramics market frequently changes. Additionally, small nuances of color, condition, shape, etc. can mean huge differences in price. Please Contact Us for a Current, Accurate assessment of your items.
Auction Highlight: Current Auction | Greatest Hits | July 18, 2015 Auction | Central PA Stoneware | Current Auction | Current Auction
Extremely Rare and Important Miniature Presentation Pitcher and Mug Set, attributed to Frederick H. Cowden at the John Cowden Pottery, Harrisburg, PA, Dated 1862, finely-potted pitcher with footed base, flared collar, and applied handle, decorated with a finely-incised and cobalt-highlighted design of two flowering branches, flanking the inscription "Jennie Dull / Harrisburg / Pa"; thin-walled mug with footed base, flared rim, and applied handle, decorated with similar flowering branch motifs and scrolled stems flanking the inscription "Jennie Dull / 1862 / May". Both with Albany-slip-glazed interiors, turned yellowish after contact with the kiln's salt vapors. Jennie Juanita Dull (1856-1926), the pitcher and mug set's owner, was the daughter of James Junkin Dull (1816 - 1902) and Elizabeth McKinley Lusk (1817 - 1888) of Harrisburg, PA. Her father was a well-known contractor, mostly employed in the construction of railroad tunnels. According to an article in the New York Herald-Tribune, January 29, 1896, page 6, "Mr. Dull's premium work is in the famous tunnel under Lake Michigan, a distance of two miles, which supplies Chicago with water. He was the chief contractor in the construction of the railroad tunnels under Baltimore, built the ship canal at Keokuk, a Government enterprise which employed 3,000 men and where the steam excavator was used for the first time, and had charge of the removal of obstructions to navigation in the Mississippi at Rockford. Mr. Dull is part owner of a cattle ranch of 280,000 acres in Texas..." Jennie Dull was only six years old at the time this set was given to her. Given her age, it is remarkable that the pair survived at all, let alone in such remarkable condition. Incised stoneware produced in Harrisburg, PA is nearly non-existent. The recent emergence of a similarly-decorated and incised pepper pot bearing the inscribed signature of potter, Frederick H. Cowden, indicate this set was also made by him. Frederick Cowden, the son of potter, John Wallace Cowden, was active at his father's shop shortly before his enlistment in the Union Army during the Civil War. This exceedingly rare set, bearing the date 1862, was made during this brief period, only one year after John Cowden opened his stoneware manufactory. Frederick Cowden would later assume ownership of his father's shop in 1872, using the well-known marks "F.H. COWDEN / HARRISBURG, PA" and "F.H. COWDEN / HARRISBURG" to sign his wares. Melding both strong visual appeal and extreme rarity, this set survives as one of the most important lots related to the Harrisburg stoneware industry to come to auction in years. When considering the criteria of decoration, form, maker, condition, and size, this lot can be regarded as exceptional in all respects. Both pitcher and mug survive in excellent, essentially as-made condition. H (of pitcher) 2 7/8" ; H (of mug) 2 7/8".
---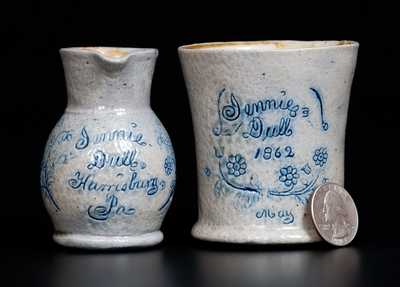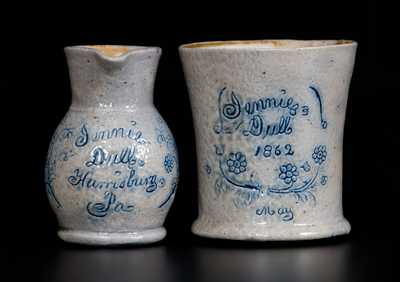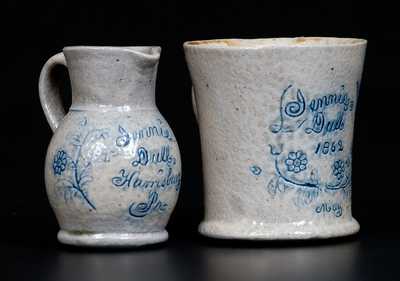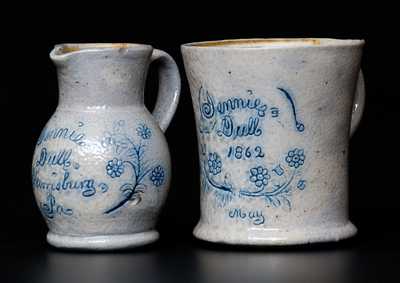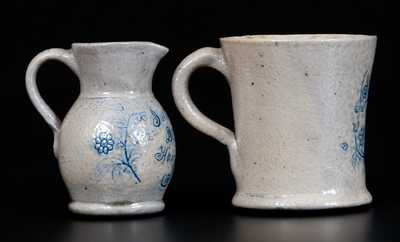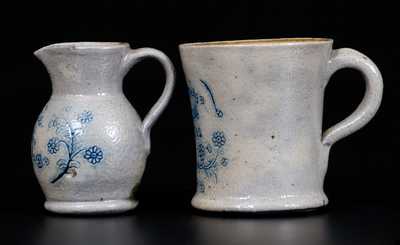 Click images to enlarge.
---
Bidding is now closed.
(Our
next auction
takes place March 21, 2020.)
---