Important and Unique Thirty-Gallon Western PA Stoneware Jug-Form Water Cooler
July 20, 2019 Stoneware Auction
Lot #: 170
Price Realized: $22,420.00
($19,000 hammer, plus 18% buyer's premium)
PLEASE NOTE: The American ceramics market frequently changes, often dramatically. Additionally, small nuances of color, condition, shape, etc. can mean huge differences in price. Please do not hesitate to Contact Us for a Current, Accurate assessment of your items.
Auction Highlight: Greatest Hits | July 20, 2019 Auction | Western PA Stoneware
Important and Unique Thirty-Gallon Cobalt-Decorated Stoneware Presentation Cooler with Stenciled Heron-and-Fern Motifs, Inscribed "MARY H. WAGNER / 1878", Western PA origin, 1878, very-large-sized cooler in the form of a wide-mouthed jug with finely-potted spout, circular bunghole at base, and two open handles at the shoulder. Decorated below the spout with a freehand cobalt design of a flying eagle, holding a banner in its beak, stenciled in large open characters with the name and date, "MARY H. WAGNER / 1878". Decorated below with a highly unusual stenciled design of two facing herons, standing above a series of ferns. This design appears to be created by gluing images- in this case cutouts of herons and actual fronds of a fern- to the surface of the unfired jug and then spattering the surrounding area with cobalt slip. This treatment results in a "negative space" or "hollow" image bordered with cobalt. Related stenciled designs have been observed in the work of Michael and Theophilus Miller of Newport, PA and Somerset Potters Works of Somerset, MA. The heron and fern motifs were almost certainly glued to the surface prior to firing as opposed to held in place, as was typical of most 19th century stenciled American stoneware. Adhering the images to the jug allowed greater ease in the stenciling process, particularly for a delicate subject such as a fern. In addition, one can see that the firing process has created a different color to the surface where the heron and fern images were, when compared to the remainder of the jug's surface. While much of the undecorated jug has a subtle gray-to-light-brown mottling, the herons and ferns are of a noticeably lighter, solid gray color. This difference in color suggests that the covering and burning of the applied paper and plant material led to a difference in how the clay fired in these areas. This decorative treatment continues around most of the surface of the jug. A single heron motif decorates the base of the jug on the left side, flanked by ferns. Two additional herons, also flanked by ferns, appear on the reverse of the jug. Elaborate stenciled ferns appear across the midsection and shoulder of the reverse side and flanking the lower handle terminals. Heavy cobalt spattering accents the bunghole and a single cobalt band decorates the spout. Research suggests this cooler was probably made to sit in a hotel called American House in Salisbury, Somerset County, PA, which was owned and operated by Dennis and Mary H. Wagner. Its imposing size indicates it would have been made for just such a purpose, and aside from the "MARY H. WAGNER" inscription, the presence of an eagle on the should seems to also hold significance to the name of the hotel. This cooler is highly important in its size alone. It is among the largest examples of 19th century cobalt-decorated stoneware in existence, and must be seen in person to truly appreciate it. Its origin, form, and sophisticated decorative treatment combine with this monstrous size to create a visually stunning work of ceramic art. Provenance: A recently-surfaced example. Left handle restored. An in-the-firing chip to underside at edge. Some faint crazing to shoulder area. H 33 1/2".
---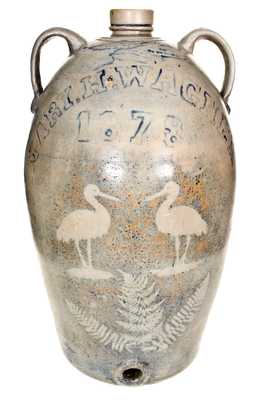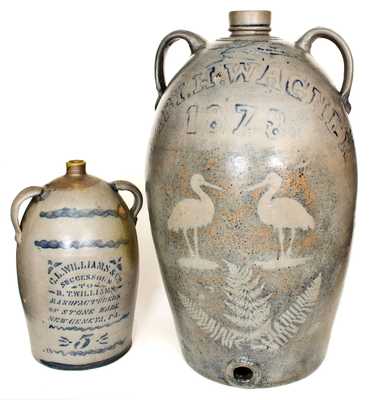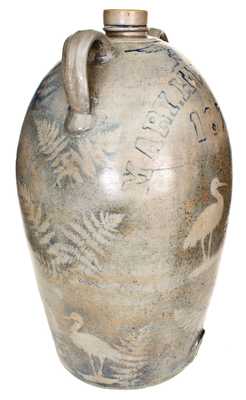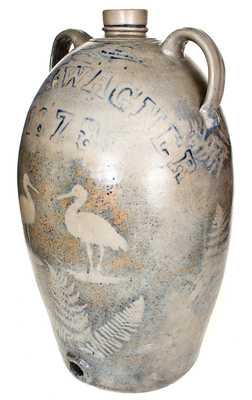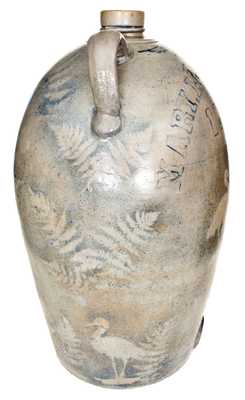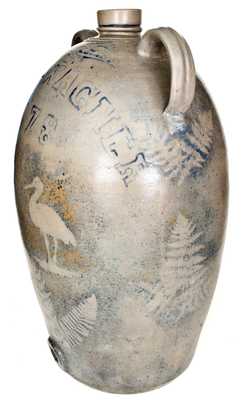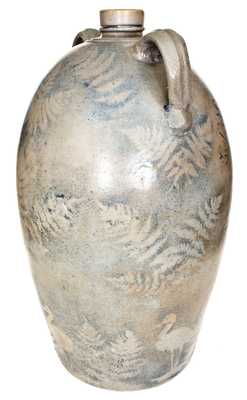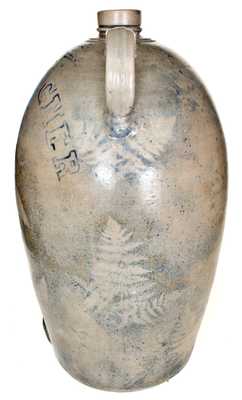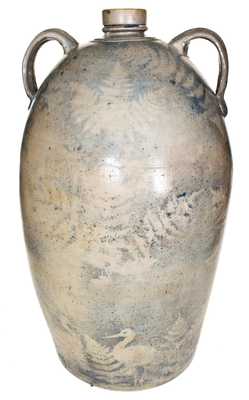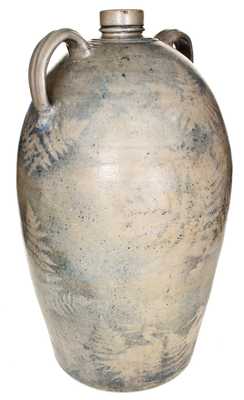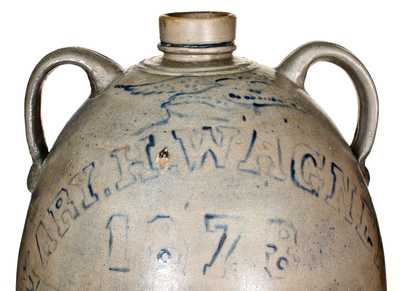 Click images to enlarge.
---
Bidding is now closed.
(Our
next auction
takes place March 21, 2020.)
---