Bidding is now closed.
(Our
next auction
takes place March 21, 2020.)
---
Extremely Rare and Important Three-Gallon Stoneware Water Cooler with Cobalt Lion, Deer, and House Scene, Stamped "J. & E. NORTON / BENNINGTON, VT.," Julius and Edward Norton, Bennington, Vermont, circa 1855, keg-form cooler with circular bung hole and incised and cobalt-highlighted banding, the body profusely decorated with a slip-trailed animal scene. Decoration includes a very large reclining lion with spotted body, upswept tail, and heavy mane, and a reclining doe with spotted body and unusual, upward-pointing muzzle. These two dynamic figural designs are surrounded by various other decorative elements, which encompass the body of the cooler, including three houses, five fences, two trees, rolling hills, shrubs, and a cross. The use of a reclining lion juxtaposed with a doe, together with the unusual addition of a cross, suggest this cooler may be decorated with a Peaceable Kingdom design, referencing the Old Testament prophetic scripture, "The wolf also shall dwell with the lamb, and the leopard shallow lie down with the kid; and the calf and the young lion and the fatling together; And a little boy will lead them" (Isaiah 11:6). The extraordinary design on this cooler can be attributed to John Hilfinger (1826-1888), an itinerant artist born in Wurttemberg, Germany, who was active at several potteries in New York State and New England during the third quarter of the 19th century. Arguably his finest work is found on Norton family stoneware from Bennington, where he was employed from 1855 to 1864. Coolers such as this example, which would be prominently displayed in a house or public setting, served as wonderful opportunities for a decorator to present his skill and promote the pottery business he worked for. The lion motif, one of the Norton family's most iconic and coveted designs, is also one of the pottery's rarest. Few examples of Norton lion-decorated stoneware have sold publicly or privately in the past fifteen years. We have yet to find a public auction record of a stoneware water cooler with lion decoration, made by the Nortons or any American operation, selling in recent decades. When considering the maker, form, and outstanding decoration of this cooler, it could easily be described as one of the finest examples of American stoneware to be auctioned in the past twenty years. Provenance: A fresh-to-the-market example, purchased privately approximately twenty years ago. A thin, inverted Y-shaped crack descending from rim to midsection on left side of cooler's front. A second thin, inverted Y-shaped crack, which becomes very thin, descending through lion's tail. A few other short, faint lines from rim. Restoration to shallow chipping on interior of rim. Minor chips to exterior of rim. A small chip to exterior of bung hole, and very minor wear to interior of bung hole. A few small, in-the-firing contact marks to surface. H 13 1/4".
---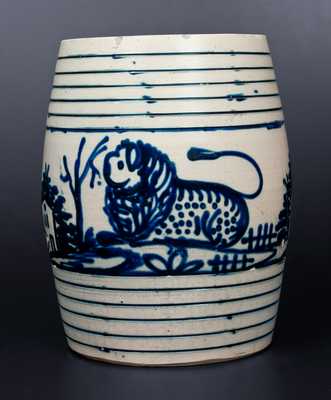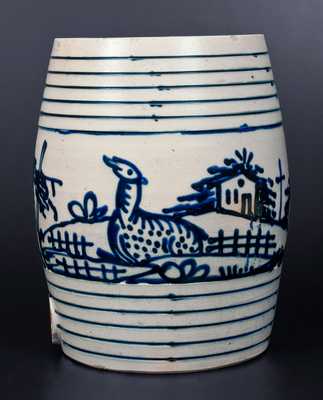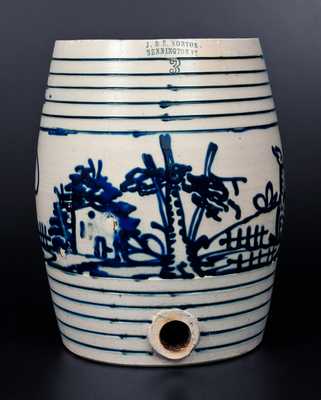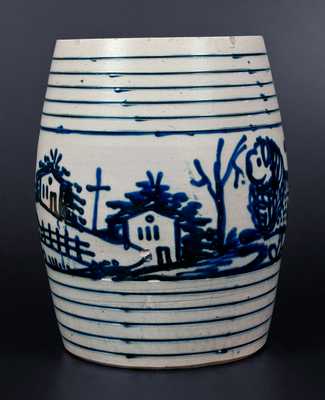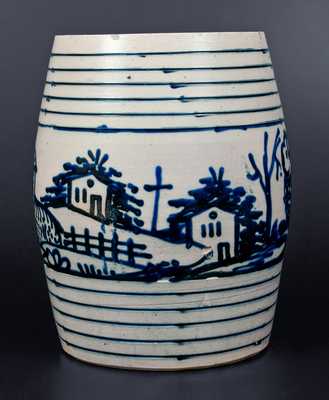 Click images to enlarge.