---
Exceptional Three-Gallon Stoneware Water Cooler with House, Deer, and Pheasant Decorations, Stamped "J. & E. NORTON / BENNINGTON, VT.," circa 1855, semi-ovoid cooler with tooled banding and applied circular bunghole, profusely decorated around the body with a pastoral scene in the round of a Federal mansion flanked by ells and surrounded by a forested background, three pine trees, a reclining stag with spots, a pheasant perched on a stump, and three fences. The addition of a slip-trailed sky above the scene adds to the artistry and rarity of this example. Elaborate slip-trailed highlights surrounding the bunghole. Cobalt highlights to maker's mark and capacity mark at shoulder.

The distinctive slip-trailing on this cooler indicates it was decorated by John Hilfinger (1826-1888), an itinerant artist born in Wurttemberg, Germany, who was active at several potteries in New York State and New England during the third quarter of the 19th century. Arguably his finest work is found on Norton family stoneware from Bennington, where he was employed from 1855 to 1864. Outstanding in decoration, color, and form, this cooler showcases several of Julius and Edward Nortons' most prized designs. It ranks as one of the finest examples of Norton stoneware to come to auction in the past several years. Provenance: A fresh-to-the-market example, recently discovered in a Connecticut estate. 4" hairline from rim on front. 4" X-shaped surface line on side of cooler, not visible on interior. 2" hairline from rim on reverse. A tiny nick to bunghole. Chips to exterior of rim, the majority of which are glazed-over and in-the-firing. Chipping to interior of rim. H 12 7/8".
---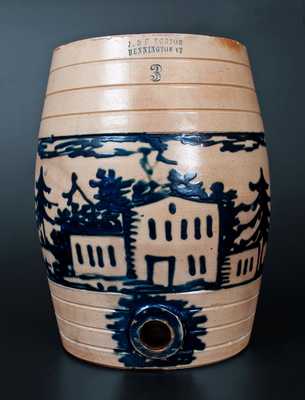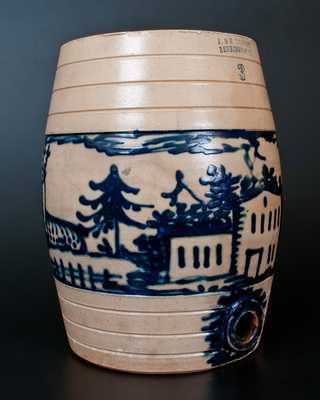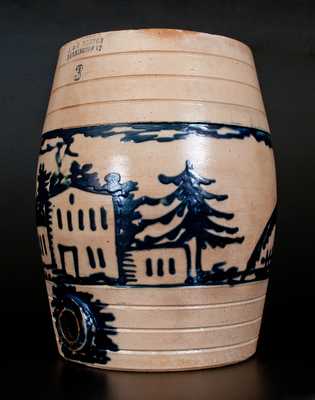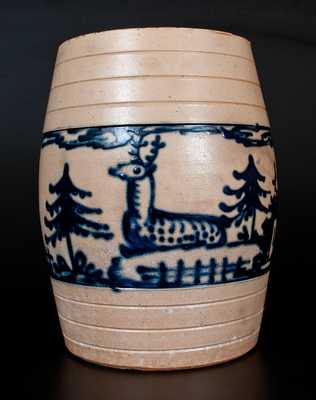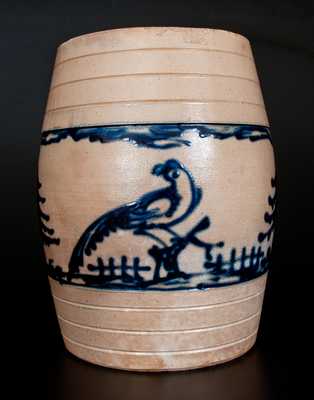 Click images to enlarge.