Monumental CHOLLAR & DARBY / HOMER 1836 Stoneware Water Cooler for Dr. Lewis Riggs
March 23, 2019 Stoneware Auction
Lot #: 5
Price Realized: $11,210.00
($9,500 hammer, plus 18% buyer's premium)
PLEASE NOTE: The American ceramics market frequently changes, often dramatically. Additionally, small nuances of color, condition, shape, etc. can mean huge differences in price. Please do not hesitate to Contact Us for a Current, Accurate assessment of your items.
Auction Highlight: March 23, 2019 Auction | NY State Stoneware
Monumental Eight-Gallon Stoneware Presentation Cooler with Elaborate Cobalt Floral Decoration, Impressed "DOCT. LEWIS RIGGS / HOMER / 1836", and "CHOLLAR & DARBY / HOMER / 1836", Signed "M.W", Madison Woodruff at the Thomas D. Chollar and Joseph Darby Pottery, Homer, NY, 1836, large-sized, highly-ovoid cooler with square bunghole, ribbed handles, and tooled spout, decorated with a series of tulips with spotted interiors, extending from a leafy base. Brushed cobalt highlight around bunghole. Cobalt highlights to lower handle terminals. Impressed on front with the cobalt-highlighted inscription, "DOCT. LEWIS RIGGS / HOMER / 1836". Reverse with impressed and cobalt-highlighted maker's mark, "CHOLLAR & DARBY / HOMER / 1836". Additionally impressed on front and reverse neck with the cobalt-highlighted initials, "M.W", serving as the signature of well-known New York State potter, Madison Woodruff. This cooler is illustrated and discussed in Ketchum's Potters and Potteries of New York State, and described thusly: ". . . there is a large double-handled water cooler marked "DOCT. LEWIS RIGGS HOMER 1836" on one side and "CHOLLAR & DARBY HOMER 1836" on the other. This piece is particularly interesting because it is also stamped "M.W" for Madison Woodruff, the maker and potter who owned the Cortland stoneware works for many years (Ketchum, p. 313). This piece is pictured on the following page. The owner of the cooler, Lewis Riggs, was a very prominent physician in Homer, and a well-documented one, having served in Congress as a Representative in the early 1840's. Because Riggs owned a dry goods store some years prior to when this cooler was made, it is possible that the impressed name is advertising a store owned by the Doctor, as opposed to his medical practice. However, the below biography is very detailed and does not indicate that Riggs was involved in this sort of enterprise in or about 1836; instead, it seems highly likely that this cooler was meant to sit in his office and would have been a very familiar presence to the many patients who visited him on a regular basis. The following biography of Riggs is well worth reading and appears in the 1885 History of Cortland County Dr. Lewis Riggs was born in Norfolk, Conn., on the 16th of January, 1789. ... His taste and talent for mechanical employment led to his apprenticeship to the carpenter's trade to Mr. Samuel N. Gaylord, with whom he came to Cortland in the spring of 1805. In after years, when riding over the country as a practitioner of medicine, he was able to point to not a few houses and barns which he helped to build. ... In the spring of 1809 he decided on the profession of medicine, and commenced his student life in the office of Dr. Samuel Woodward, of Torringford, Conn., a practitioner of high repute ... . In May, 1812, he received a county license to practice, but continued in the office of his preceptor during the summer, but in October of that year he went to Philadelphia to attend a course of medical lectures in the University of Pennsylvania. Here he sat under the instruction of Drs. Rush, Philip Syng Physic, Dorsey and Wistar---the leaders in medical thought at that period. This was the last course of lectures delivered by the venerable Rush at the close of a long and active life as civilian, medical practitioner, author and medical professor. He died April 19th, 1813. Dr. Physic has been called the father of American surgery, as Dr. Rush was confessedly the father of American medicine. To listen to the instruction of these men was a rare opportunity for young Riggs, and was not allowed to pass without being improved, and the lessons made impressions which lasted for a life time. From conversations which the writer had with Dr. Riggs in the latter years of his life, it is certain that Dr. Physic, equally with Dr. Rush, was impressed by the diligence and acuteness of perception of the young student from Connecticut, and as the testimonials which he bore away from these men, and now in the hands of Dr. H. O. Jewett, of Cortland---having the "sign manual" of one of the signers of the Declaration, and of the father of American surgery---abundantly show. [I]n 1818 [he] removed to Homer and opened a drug store, intending to associate trade with practice as less laborious than an entire devotion to general work in the professional field. But he soon found himself engaged in large practice. ... For about ten years he continued the practice of his profession in Homer, but in the summer of 1828 sold his property and "practice" to Dr. Metcalf and removed to Trumansburg, engaging as a partner in a dry good store. We have no explanation of this strange movement for a physician well prepared for professional work, but find it pleasant to make a record of the fact he did not long remain in a business which ill-befitted him and with which he naturally became dissatisfied. Dr. Metcalf, for some reason, did not remain in Homer long and Dr. Riggs was persuaded by his former patrons in that town to return to his legitimate calling. There he applied himself with his characteristic energy to professional work and soon became one of the leading practitioners, and for several years performed a large share of the medical and surgical practice of the town. [Riggs] was nominated in the fall of 1840 by his political party to represent the district in Congress. He was elected and served his constituents as the representative of the Twenty-second District in the Twenty-seventh Congress, 1841-42. This led to his retirement from practice and to his engagement in other enterprises which would relieve him from the labors of professional work. He purchased the flouring mill south of the village and erected a new stone building on its site, superintending its construction and planning many of the details of its machinery. But this did not distract his attention entirely from his interest in medicine, and he frequently responded to professional calls from his old friends and patrons. In the spring of 1847 he had an attack of hemiplegia, which confined him to this bed for several weeks and threatened the termination of his life. From this attack he gradually recovered and in a few months was able to resume his accustomed employments. But he never recovered his former strength and activity. Still his memory, except for certain words and names, and his mental faculties generally seemed but slightly, if at all, impaired. He attended to some calls about the village by those who still insisted on having the opinion and advice of "the old doctor," and also attended at times to consultation visits in the country. ... He died about midnight of the 7th of November, 1870, in the eighty-second year of his age. ... Dr. Riggs possessed a good physique with a large amount of vital stamina and great physical and moral courage. His countenance was strongly marked, his eyes were dark, his brow prominent, his mouth firm and compressed, bordering on the severe. His personal appearance conveyed at once the impression of unusual force of character. He possessed a mind naturally vigorous and well poised; was thorough, bold and independent in his thoughts and actions and firm in his convictions. Featuring exceptional size, a rare presentation inscription, and the signature of a young potter who would rise to future success in nearby Cortland, this cooler is easily-regarded as the finest example of Homer, NY stoneware that we have offered in nearly fifteen years. Literature: Discussed and illustrated in Ketchum, Potters and Potteries of New York State, 1650-1900, Syracuse University Press, 1987, pp. 313-314. Excellent condition with a 2 1/2" crack on underside, continuing 5 1/2" up reverse, a tiny chip to top of spout, a small chip to side of right handle, and some small firing flaws. H 20 1/2".
---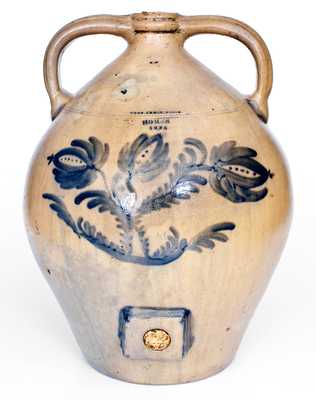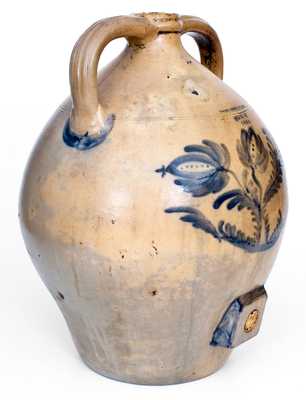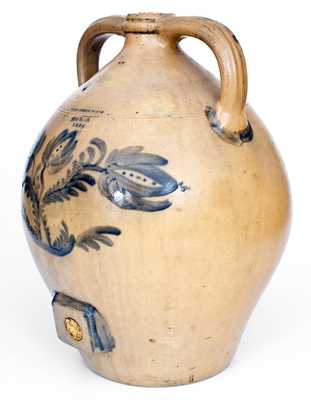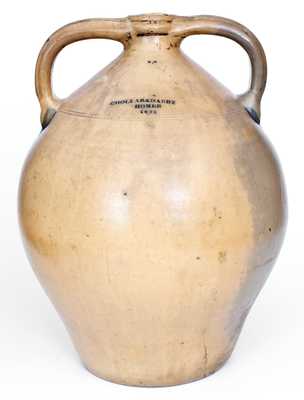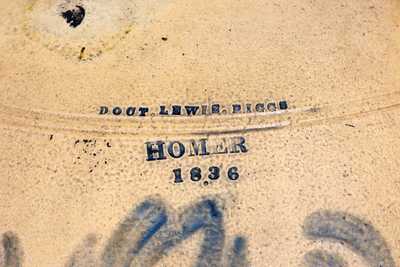 Click images to enlarge.
---
Bidding is now closed.
(Our
next auction
takes place March 21, 2020.)
---