Extremely Rare and Important Gurdon Robins / Fayetteville, NC Jug - First North Carolina Stoneware Pottery
November 3, 2018 Stoneware Auction
Lot #: 5
Price Realized: $41,300.00
($35,000 hammer, plus 18% buyer's premium)
PLEASE NOTE: This result is 2 years old, and the American ceramics market frequently changes. Additionally, small nuances of color, condition, shape, etc. can mean huge differences in price. Please Contact Us for a Current, Accurate assessment of your items.
Auction Highlight: Greatest Hits | November 3, 2018 Auction | Southern Pottery
Exceedingly Rare and Important Three-Gallon Cobalt-Decorated Stoneware Jug, Stamped "Gurdon Robins / Fayetteville," attributed to Edward Webster, Fayetteville, NC, 1820-21, skillfully-potted jug of highly-ovoid form with footed base, tooled shoulder, narrow, heavily-tooled spout, and ribbed handle. Impressed at the shoulder with the elusive maker's mark, "Gurdon Robins / Fayetteville", highlighted in brushed cobalt slip. Additional cobalt-slip highlights to handle terminals. Surface covered throughout with an even salt glaze. Interior appears to be coated with iron-oxide slip, a drip of which appears on the shoulder of the jug. The Robins manufactory holds the important distinction as the earliest stoneware enterprise in North Carolina. Prior to this jug's recent discovery, no examples bearing Robins' sole proprietorship mark were known to us, only one shoulder fragment excavated at the Robins kilns site, bearing a partial "Gurdon Robins / Fayetteville" stamp, and one similar jug, marked "Gurdon Robins & Co. / Fayetteville" for his 1819-1820 partnership with Timothy Savage. Both are illustrated in Quincy J. Scarborough's North Carolina Decorated Stoneware, the images filed with the Museum of Early Southern Decorative Arts, Winston-Salem, NC. According to Quincy J. Scarborough, Jr.'s North Carolina Decorated Stoneware, pieces bearing a Gurdon Robins mark were made by the Hartford, Connecticut-trained potter, Edward Webster, born 1801, who moved to Fayetteville, NC in 1819 to produce stoneware for Robins, a local merchant and pottery owner (Scarborough, pp. 12, 19). Webster was most likely trained by his uncle, McCloud Webster, and cousin, Horace Goodwin, of the prolific firm, "GOODWIN & WEBSTER", which operated at 18 Front Street in Hartford from 1810 to 1840 (Scarborough, p. 19). This jug is perhaps the most impressively potted example of this form known by any Webster school potter from North Carolina, featuring a highly-bulbous body, a narrow, footed base, and an exceptionally-narrow spout with heavily-tooled embellishments. The form itself is actually more ovoid and the spout narrower than those typically produced in Hartford, suggesting that this creation is the work of a young potter flaunting his prowess in a new place. It is difficult to overstate the significance of this jug- possibly previously-known only among archaeological evidence- to the rich potting legacy of the state of North Carolina, which continues fervently to this day. Among the most historically significant examples of North Carolina stoneware to ever come to auction. Provenance: A recently-surfaced example, which descended in a North Carolina family to its current owner. Literature: For an illustration of a related jug, marked "Gurdon Robins & Co. / Fayetteville", see Scarborough, pp. 8-9, figs. 2,3. For an illustration of a marked sherd bearing the same stamp as the jug to be auctioned, see Scarborough, p. 17, fig. 10. Heavy chipping to base. Two minor spout chips. H 16 1/2".
---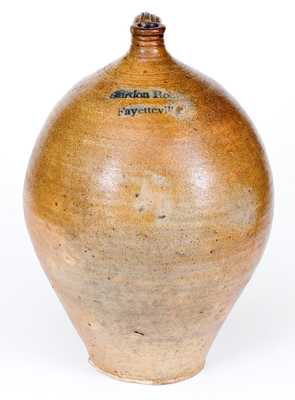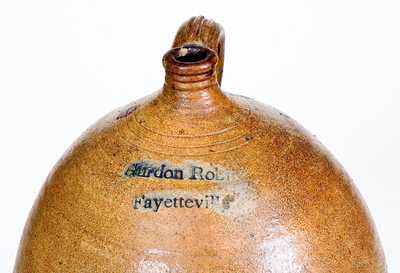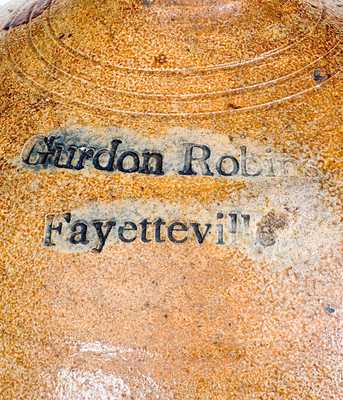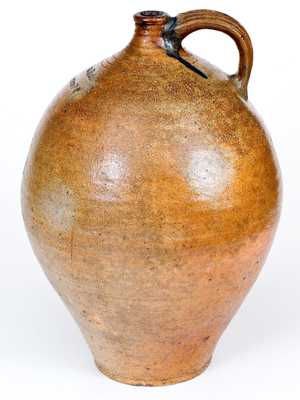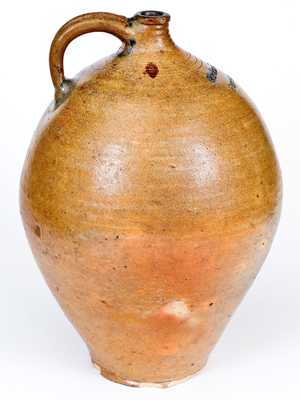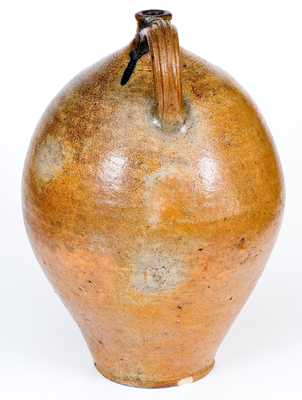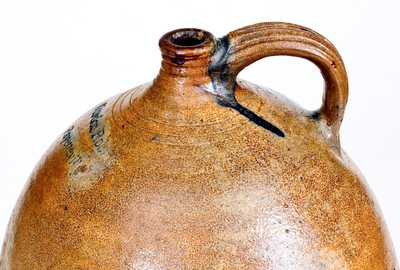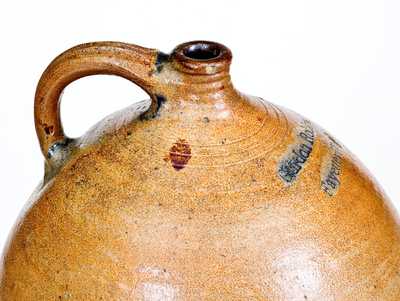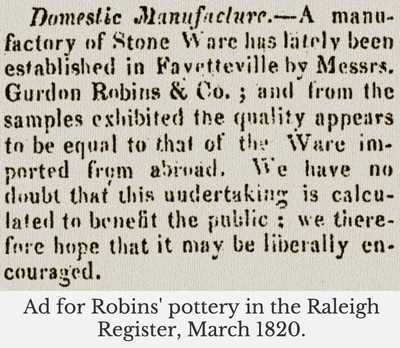 Click images to enlarge.
---
Bidding is now closed.
(Our
next auction
takes place March 21, 2020.)
---