---
Exceptional and Important Four-Gallon Stoneware Jug with Large Cobalt Peacock-on-Branch Decoration, Stamped "COWDEN & WILCOX / HARRISBURG, PA", circa 1865, ovoid jug with tapered spout and applied handle, decorated with a large and elaborate slip-trailed design of a peacock perched on a branch. Cobalt highlights to maker's mark, capacity mark, and handle terminals.

The peacock decoration on this jug is one of the finest bird designs known on an example of Cowden & Wilcox stoneware, and includes a large sweeping crest, long tail with heavily-stylized "bulls-eye" details, and a shaded branch with outcropping to the right of the bird.

The slip-trailing technique on this jug, an unusual and desirable decorative treatment for this maker, is indicative of the influence of New York State potteries, most notably that operated by Thompson Harrington of Lyons. One can even find a strong similarity between Harrington's bird motifs and those found on Cowden & Wilcox stoneware, speaking to the heavy involvement of former Lyons potters in the Harrisburg stoneware industry, and this jug was probably decorated by just such a potter.

The design's high level of artistry is met with a particularly vibrant quality to the cobalt, as well as an impressive large size, measuring 10 3/4" tall. This jug certainly ranks as one of the greatest Harrisburg stoneware objects we have ever offered. Excellent, as-made condition with only in-the-firing flaws. A large in-the-firing discolored area on left side of jug, caused when the jug made contact with another object during the firing, which includes a 3/4" in-the-firing chip. A 3/4" in-the-firing chip to side of jug. A small glazed-over flake to spout. H 15 3/4".
---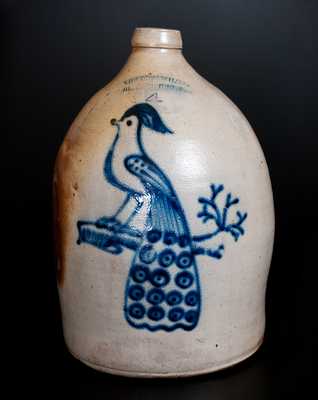 Click images to enlarge.