---
**For some important new information about the cabin group and its derivation from Edward Payson Washbourne's 1858 painting, "The Arkansas Traveler," click here.**

Extremely Rare and Important Large-Sized Stoneware Cabin Group, Midwestern origin, probably Anna Pottery, Wallace and Cornwall Kirkpatrick, Anna, IL, circa 1880-1893, hand-modeled, salt-glazed stoneware sculpture of a family at work at a log cabin homestead. Scene includes a hand-modeled, coated figure on horseback, a hand-modeled fiddler seated on a barrel, and several molded figures, including a women milking a cow, a reclining dog, two women at the cabin's doorway, a child beside a hand-modeled trough, a reclining child, and a child leaning against a barrel. Hand-modeled cabin includes a barrel chimney, an applied raccoon pelt, shingles, a tree on the left side, and a sign above the door, incised "whiskey". Given the attire of the figure on horseback, the scene is possibly a representation of a Civil War soldier returning home from battle. Surface decorated with cobalt and manganese slip, as well as unusual teal-colored slip highlights to tree and stumps. Traces of cold-painted decoration can be found on the figures, the raccoon skin, and the whiskey sign. This exceptional sculpture has many similarities to pieces produced by Wallace and Cornwall Kirkpatrick of Anna, Illinois, and was likely produced by them or by another Midwestern potter in their style. The light kaolin clay, found on some of the Kirkpatricks' finest pig bottles, and use of cobalt and brown slip, are trademarks of the brothers' work. The color and decoration of the group are closely related to those found on a stoneware dog figure, sold by Crocker Farm in November 2010, and believed to have been made by Anna or Texarkana Pottery. The additional application of a greenish glaze is also very similar to the decoration on a rustic snake jug, attributed to Anna or Texarkana Pottery, sold by Crocker Farm in October 2009. The inscription "whiskey" may be a reference to the Temperance Movement, as found on numerous examples by the Kirkpatrick brothers and other Midwestern potters. The cabin form, with its barrel chimney, shingles, and animal pelt, along with human figures and dog in the foreground, is also intriguingly similar to a small number of less-elaborate cabin groups produced by Levi Begerly & Thedy Fleet of the Strasburg, VA pottery, J. Eberly & Company. The Eberly cabins were made to commemorate the thirtieth anniversary of the Civil War Battle of Fisher's Hill in 1894, and have become famous among collectors and ceramic scholars. One is currently on display at the National Museum of American History in Washington, D.C. While purely conjecture, the Eberlys may have based their famous cabin groups on an example they saw in person at the Chicago World's Fair in 1893, on display by Anna Pottery. Both the Eberlys and Wallace Kirkpatrick were vendors there, along with a host of other American potters. By this time, Cornwall had been deceased for three years. Wallace would die three years later, in 1896. This sculpture is one of the most imaginative and decorative examples of American ceramic folk art to surface in decades. Provenance: Recently found in Illinois. Chips to shingles on reverse. Losses to some limbs of tree on left side. Figure of girl behind barrel is missing hand. Figure of a child beside trough has a replaced, painted wooden head. Small chip to one ear of horse, and minor nick to other ear of horse. One of cow's horns is missing. L 10 3/4" ; H 10 1/4" ; W 10 1/2".
---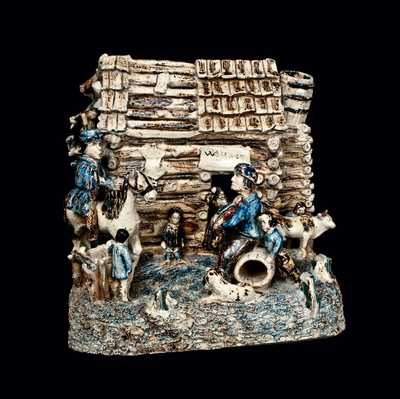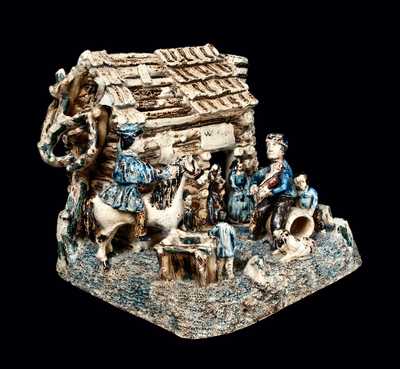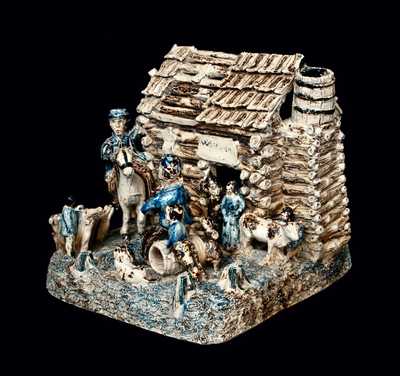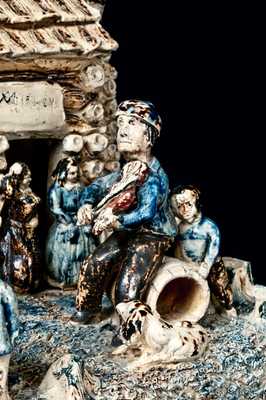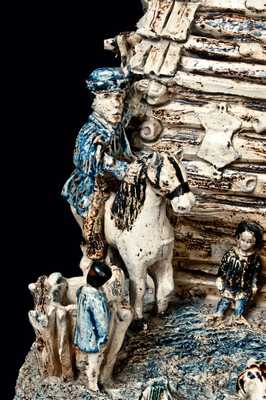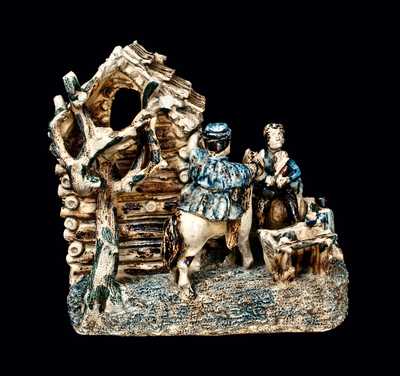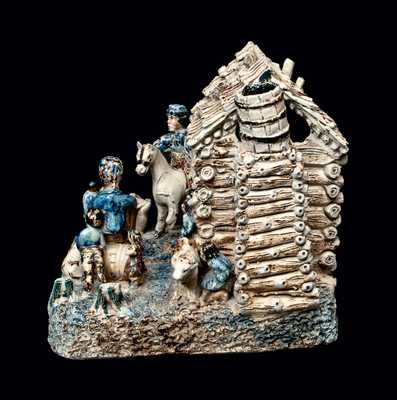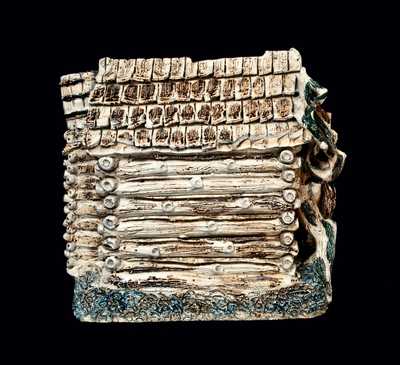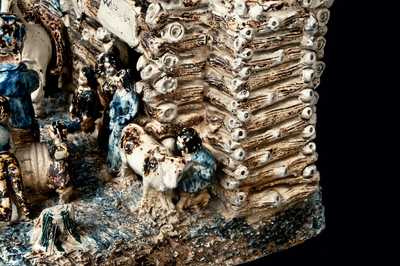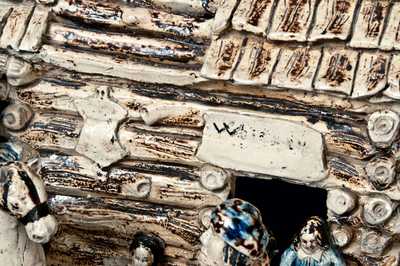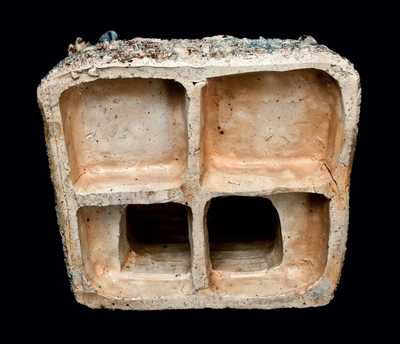 Click images to enlarge.