Bidding is now closed.
(Our
next auction
takes place March 21, 2020.)
---
Important and Possibly Unique Stoneware Temperance Rundlet with Applied Rattlesnake and Profuse Cobalt and Manganese Decoration, Inscribed "A Whiskey Gauger", Signed "by Jacob Bachley", Texarkana, AR origin, circa 1880, wheel-thrown keg with incised surface simulating wooden staves, each end with faux iron bands, the body constricted by a hand-modeled and applied clay rattlesnake. The snake features life-like scaling created with a triangular stylus, a well-defined rattle, and a diamond-shaped head with poison glands and beaded clay eyes. The creature's body includes delicately-brushed, hollow ovals of cobalt slip, interspersed with thick manganese bands. This fine decoration, another attempt at realistically portraying the animal's patterning, rivals the work of the Kirkpatrick brothers of Anna, IL, who painted their snakes more simplistically and on whom this work is loosely based. The snake's beaded clay eyes, also highlighted in dark manganese, peer into a hole at the top of the keg, a physical demonstration in clay of the term, "A Whiskey Gauger", which is incised into the shoulder of the vessel. A whiskey gauger's responsibility in 19th century America was not only to measure a distillery's production, but also to collect excise taxes on the amount of whiskey produced. In 1794, a failure by Pennsylvania distilleries to pay whiskey excise taxes led President Washington to deploy troops in the famous "Whiskey Rebellion". This tax was later repealed, only to reemerge in 1862 through the Internal Revenue Act, which created the position of "whiskey gauger". The depiction of a serpent gauging the amount of whiskey in the keg can be viewed as a negative commentary on alcohol consumption in general, as well as on the specific role of the whiskey gauger, who was loathed both by liquor producers and consumers. The keg includes remarkable detail throughout, down to the manganese painted on the surface, which simulates the natural graining of the oak staves. This graining is even evident on the top surface of the keg. Raised clay bands at the shoulder and base are highlighted in heavy manganese, reminiscent of rusted iron, and include faux nails which hold them in place. An original pouring hole is bored at the keg's base. The lower band of the keg is incised with the signature, "by Jacob Bachley". This name adds great importance to an otherwise outstanding ceramic work. It transforms the piece into a rosetta stone of sorts, as it reveals the identity of the infamous Texarkana "Pottery Man," who produced pig bottles and snake jugs in the Anna style. A small number of pieces bearing the inscription "by Texarkana Pottery" and one bearing the signature "by Jacob" are documented, but previous attempts by those interested in Anna Pottery to conclusively identify the origin of these examples have been met with failure. Indeed, a recently self-published book on the Anna potters, The Family, Kilns & Stoneware of Kirkpatrick by Greg Mathis, states that "any specific detail about the ... Texarkana Pottery is virtually nonexistent in federal and state census ... sources. This intensifies the ... mystery, where some hold the not farfetched notion that Texarkana Pottery's existence is a mere hoax played by the Anna Pottery." However, Bachley does appear as a potter in the 1880 federal census of Texarkana, Arkansas, and with this listing in mind, as part of our ongoing research into American ceramics, we have compiled a great deal of information on this potter over the last several years. In the vein of other visionary artists, George Ohr in particular, Jacob Bachley was regarded by people in his day as "a genius" and "an eccentric and historic character." Displaying his wares at various expositions in Arkansas and beyond, he made a name for himself so great that his work was acquired by individuals like the railroad magnate Jay Gould and the affluent Henry G. Marquand, one of the founders of the Metropolitan Museum of Art--both New Yorkers. Bachley's untimely death in 1885 helped conspire with the passage of time to blot his name out of our nation's ceramic history, yet based on examples now attributable to him and documentary evidence from the time period, he seems to have taken the work of the Kirkpatricks in Anna and built on it as he edged closer to art pottery. In contrast to similar Anna examples, pigs and flasks made by Bachley are given a Southern flavor with maps referring to local landmarks, such as Hot Springs, Arkansas; in the case of this keg, the snake is given a Southern or Western flair with the addition of a rattle on the end of its tail. To our knowledge, no other piece of stoneware is known bearing a complete signature of Bachley. Hence, this piece serves as a basis for future attribution of pieces modeled after the work of the Kirkpatricks, which exhibit a distinctive cream-colored clay body, a specific penmanship, and prolific use of cobalt and manganese slip. The importance of this piece lies in its painstaking craftsmanship, clever imagery, and elusive signature, which reasserts the legacy of a Southern master potter that time forgot. From perspectives of American folk art as well as ceramic history, this object ranks among the greatest works we have ever handled. Provenance: A recently-surfaced object, featured on the 2015 Little Rock, Arkansas, edition of The Antiques Roadshow. This keg descended in an Arkansas family from the time it was originally acquired--presumably directly from Bachley--coming to the consignor from his great-grandmother, and, until recently, was used as a doorstop. Excellent condition with a small rim chip and two minor rim nicks. H 9 1/2".
---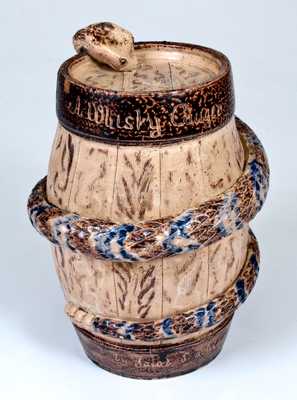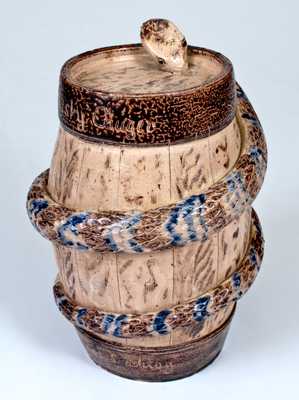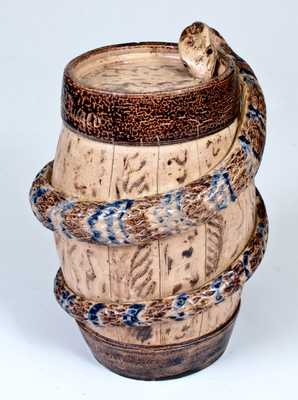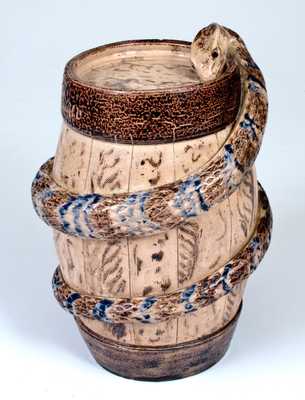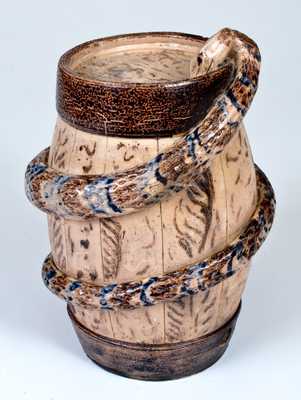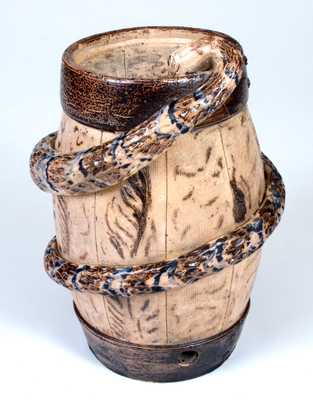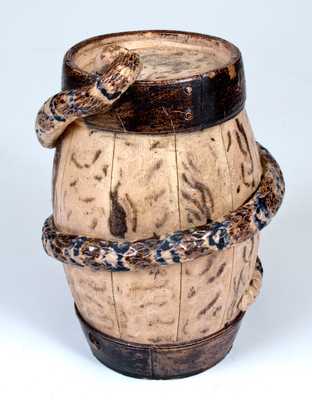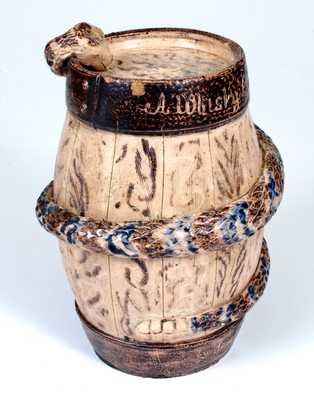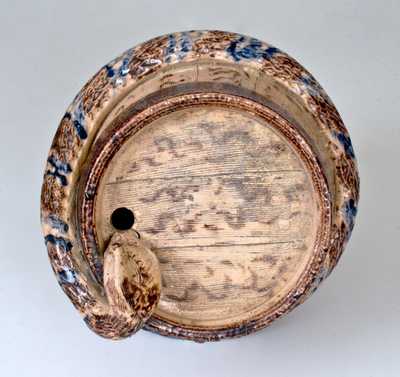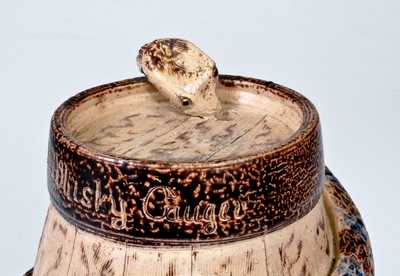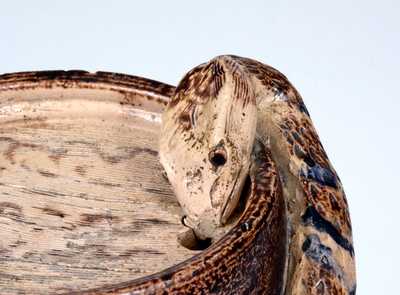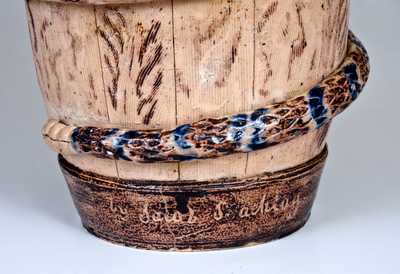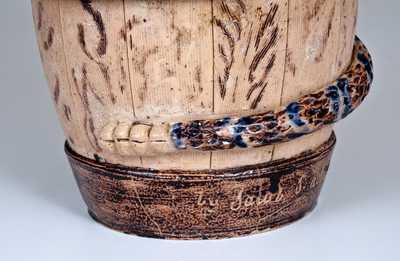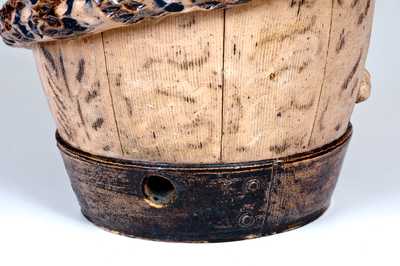 Click images to enlarge.