Exceptional Anna Pottery Indian Head Stoneware Peace Pipe w/ 1873 Presentation Inscription
March 19, 2016 Stoneware Auction
Lot #: 327
Price Realized: $12,650.00
($11,000 hammer, plus 15% buyer's premium)
PLEASE NOTE: This result is 4 years old, and the American ceramics market frequently changes. Additionally, small nuances of color, condition, shape, etc. can mean huge differences in price. Please Contact Us for a Current, Accurate assessment of your items.
Auction Highlight: March 19, 2016 Auction | Anna Pottery | Face Jugs
Exceedingly Rare and Important Anna Pottery Stoneware American Indian Face Pipe, Wallace Kirkpatrick, Anna, IL, Dated 1873, large-sized, wheel-thrown pipe with applied and sculpted clay face of an American Indian in headdress. Face is rendered with remarkable modeling detail characteristic of the Kirkpatrick brothers' best work. Details include an open mouth with incised teeth, well-defined cheek structure, wrinkles, raised and incised eyebrows, pierced nose and ears, and incised hair. Headdress features an elaborate band of incised crosshatching surmounted by incised triangles and additional crosshatched details. Rim of pipe bowl incised "Indian & Other Relics mad(sic) to Order". Surface of pipe covered in a reddish-brown Albany slip glaze, the face and headdress with original polychrome painted decoration including heart-shaped details to the headdress. Stem of pipe modeled in the form of a multi-paneled acanthus leaf with cross-hatched mouth, incised with the following inscription: "This / Relic of / Antiquity was / found in the Lava beds / of California By / Kirkpatrick of Anna Pottery / for J. Silliman Higgins / Goshen Inda. May 30 1873". The scent and ash remnants on the interior of the bowl indicates this object was actually used. The artistically-rendered pipe, which shows evidence of use, is arguably the finest example of the form known from America's utilitarian potting industry. This pipe is one of two Anna examples known, which reference the Modoc War between the Native American Modoc Tribe and U.S. Army. This conflict took place in the lava beds of California in 1872-1873, and resulted in the murders of U.S. General Edward Canby and Reverend Eleazer Thomas, and the executions of Modoc chief, Kintpuash, also known as "Captain Jack", and three of his warriors. It has been theorized that the figures on the two known pipes represent Captain Jack. Of the two known pipes, this example features a much more elaborate inscription and includes an appealing, colorful painted surface. The inscription stating that the pipe was actually found in the lava beds of California is in the typical humorous style found on so many Kirkpatrick brothers' products. The notation across the top of the headdress, "Indian & Other Relics mad to Order", is an intriguing one, suggestive of the rise of the Native-American art and artifacts market. The Kirkpatricks may have been inspired to create these pipes after reading about the Modoc War in Harper's Weekly, a magazine the brothers were particularly fond of, and one which covered the conflict in April and May of 1873. Wallace Kirkpatrick was personally familiar with the State of California based on his experiences there in the 1850s during the Gold Rush. The distinctive penmanship on the pipe indicates that he was its maker. This exciting work certainly ranks as one of the great Anna Pottery discoveries of the past several years. Provenance: A fresh-to-the-market example, recently discovered in Kentucky. Stem of pipe broken and reglued. Some typical minor paint wear. H (of bowl) 4 3/4" ; H (including stem) 5 1/2" ; L 6 1/8".
---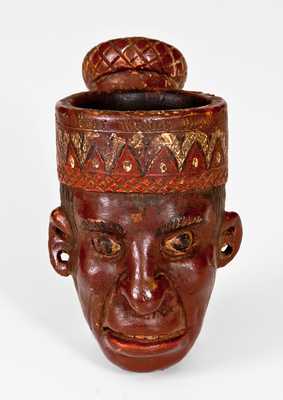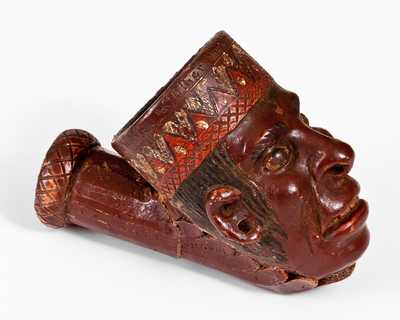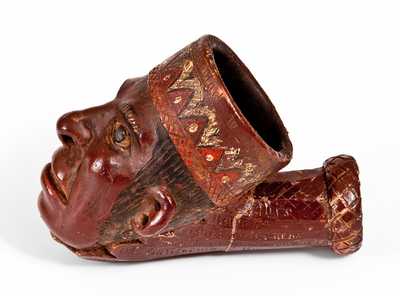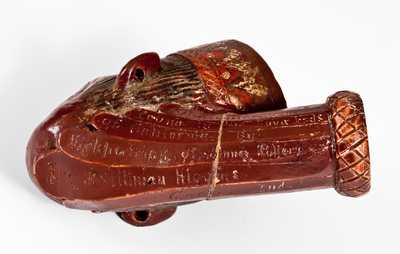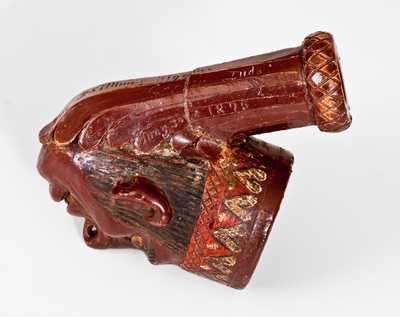 Click images to enlarge.
---
Bidding is now closed.
(Our
next auction
takes place March 21, 2020.)
---