Exceptional Anna Pottery Stoneware Figural Railroad Conductor Pitcher
March 24, 2018 Stoneware Auction
Lot #: 1
Price Realized: $34,220.00
($29,000 hammer, plus 18% buyer's premium)
PLEASE NOTE: This result is 2 years old, and the American ceramics market frequently changes. Additionally, small nuances of color, condition, shape, etc. can mean huge differences in price. Please Contact Us for a Current, Accurate assessment of your items.
Auction Highlight: Greatest Hits | March 24, 2018 Auction | Anna Pottery | Face Jugs
Exceedingly Rare and Important Stoneware Pitcher with Hand-Modeled Figure of a Railroad Conductor, Inscribed "Uncle Dan / full on ten Cents", Signed "Anna Pottery / Anna Ills / 1884", Wallace and Cornwall Kirkpatrick, Anna, IL, 1884, wheel-thrown pitcher with tapered tankard form, flared rim, large spout, and applied strap handle with thumbrest, the front decorated with an applied and sculpted figure of a portly railroad conductor with incised, impressed, and cobalt-highlighted details throughout. Hand-incised cross-hatching, also highlighted in cobalt slip, creates a striking border, delineating the conductor's form from the curved body of the pitcher. Incised and cobalt-highlighted vining to base. Shoulder with incised and cobalt-highlighted inscription, "Uncle Dan / full on ten Cents". Opposite side with incised and cobalt-highlighted banner, inscribed "Anna Pottery / Anna Ills 1884", with incised and cobalt-highlighted image of a grinning conductor's head peering from above. An exciting recent discovery, this pitcher is one of only two Anna conductor pitchers that we are aware of. Its wonderful relief figure was created by outwardly pressing and shaping the wall of the pitcher from the interior, then applying additional clay details. This work typifies the Kirkpatricks' uncanny ability at rendering life in clay, revealing skills that straddled the line between folk art and fine art. The conductor maintains a confident, but leisurely, attitude with smiling face, paunched belly, and hands tucked in his pockets. Fine details appear throughout the figure, including a conductor's hat with impressed circle-and-star designs, wavy hair, dotted eyebrows, sideburns, a goatee, lapelled coat with impressed buttons, a watch chain emerging from his pants pocket, and wrinkles throughout his clothing. The pitcher's tapered, tankard form with spurred handle is extremely rare in Kirkpatrick stoneware production. Two distinctive treatments on the pitcher, the incised vining around the pitcher's base and the incised grinning face above the pitcher's signature, can be noted on some of the Kirkpatricks' most iconic, specially-produced items, including temperance jugs, fair jugs, vases, and a commemorative umbrella stand. Uncle Dan is presumably Daniel Patch, a conductor with a storied history on the Chicago & Alton Railroad. The presentation inscription, "Uncle Dan / full on ten Cents", may refer to the standard cost of fare on his railroad route. Another Anna conductor pitcher sold in our October 2014 auction was apparently produced for Marvin Heath, a notable railroad man working on the Springfield & Illinois Southeastern Railroad. "Uncle Dan" Patch, as he was known, was one of the more prominent conductors in the area and there is little doubt that this pitcher was made as a gift to him. An 1886 story in a Springfield newspaper recounts a touching story about a group of children whose mother had recently passed away, became separated from their father while traveling the rail, and asked for help: "[One of the conductors] was touched by the lad's simple narrative, and declared that he would take the children and their dead mother to the junction. Not only this, but he took up a collection of $16 from the passengers and gave it to the boy. At the junction he waited until the C. & A. from the south arrived and to Conductor Patch explained the situation. 'Uncle Dan,' whose heart is as big as his frame is tall and rugged, offered to bring them through, and at once began taking up a collection. He was still more successful ... and realized $47." Indeed, Patch's "tall frame" played an integral part in what was one of the great stories of his life: "Mr. Daniel Patch, one of the oldest passenger train conductors in the state ..., was in [Springfield], Sunday [September 18, 1887], on a pilgrimage to the tomb of Abraham Lincoln, with whom he was personally acquainted. In the days of the Lincoln and Douglas debates, Mr. Patch used frequently to have both of the distinguished statesmen as passengers on his train. On one of these occasions Douglas made a wager with Lincoln that the conductor was taller than he (Lincoln) was. Without further words Mr. Lincoln stood up and called [Uncle Dan] to come back. Mr. Patch returned and, back to back, the conductor and future President stood, while Mr. Douglas, perched on a car seat, ascertained which was the taller. The astonished passengers gazed in wonder at the strange scene. It took Mr. Douglas an instant to see that the conductor was two inches the taller, and that he had won the wager. In after years, when Mr. Lincoln became famous as the war President, he used to see the tall conductor occasionally, but never without referring, with some pleasantry, to the time when they measured lengths on the railway train." Charming in the story it tells and significant from both artistic and historical perspectives, this pitcher is regarded as one of the greatest Anna Pottery discoveries of the last decade. Provenance: A fresh-to-the-market lot, this pitcher sat on a Indiana family's shelf for years. New Anna Pottery discoveries of this quality are unusual. Very nice condition. A glazed-over, in-the-making loss to one foot, which is lightly-accented with cobalt, and may have occurred prior to the firing. A faint, approximately 5" hairline extending from shoulder of figure to side of pitcher. H (to top of handle) 9 3/4".
---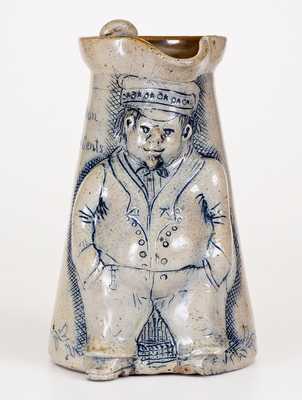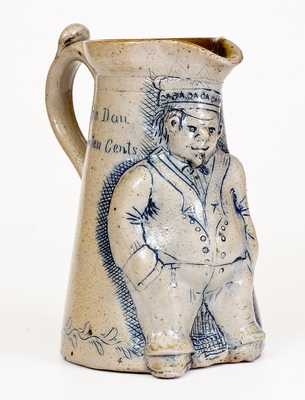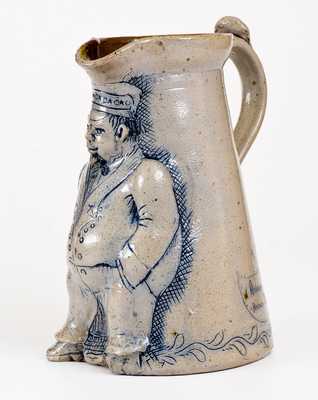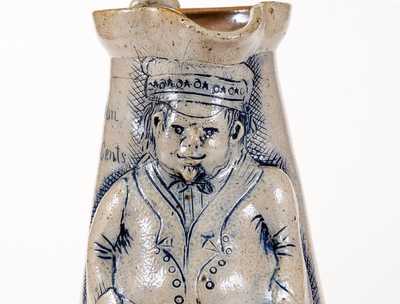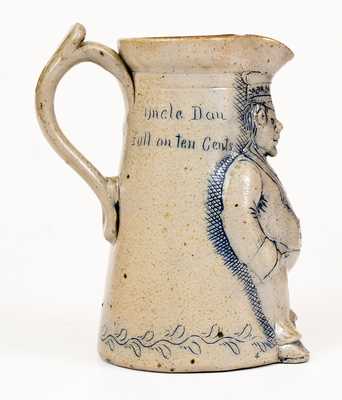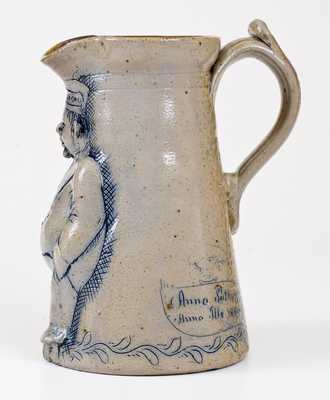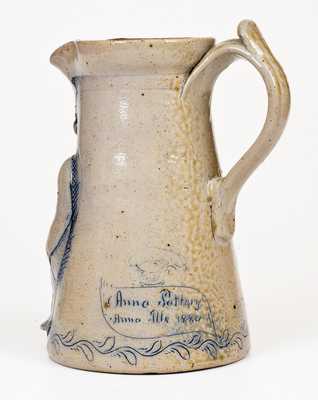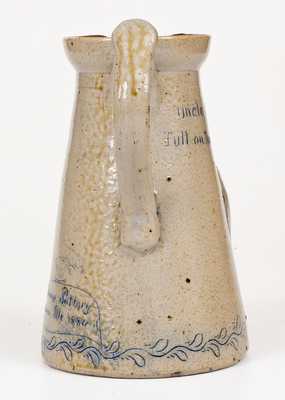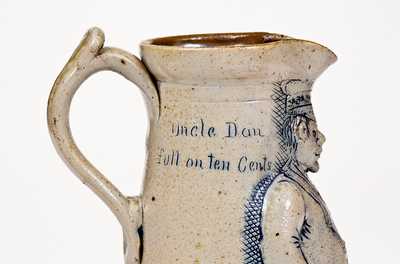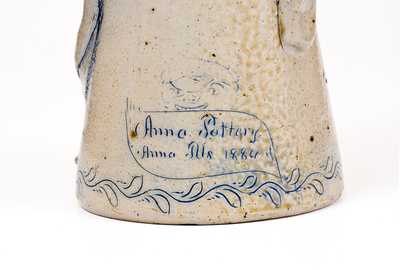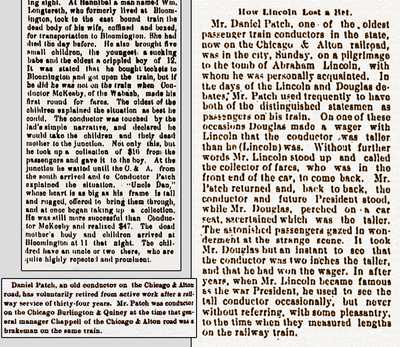 Click images to enlarge.
---
Bidding is now closed.
(Our
next auction
takes place March 21, 2020.)
---