Exceptional Monumental Anna Pottery Stoneware Fair Jug
July 21, 2018 Stoneware Auction
Lot #: 75
Price Realized: $82,600.00
($70,000 hammer, plus 18% buyer's premium)
PLEASE NOTE: This result is 2 years old, and the American ceramics market frequently changes. Additionally, small nuances of color, condition, shape, etc. can mean huge differences in price. Please Contact Us for a Current, Accurate assessment of your items.
Auction Highlight: Greatest Hits | July 21, 2018 Auction | Anna Pottery
Extremely Rare and Important Large-Sized Stoneware Fair Jug with Profuse Incised Inscriptions, Inscribed "Union County Agricultural Board / Twentyninth Annual Fair / Held at / Jonesboro Illinois. / on / Tuesday. Wednesday. Thursday And. Friday. September 16-19th 1884", Signed "C. & W. Kirkpatrick Established Anna Pottery 1859", Cornwall and Wallace Kirkpatrick, Anna, Illinois, 1884, approximately six-gallon, cylindrical jug with squared spout and thick, pulled handle with applied faux screw head at lower terminal. Surface of jug, handle, and spout profusely-decorated with incised and cobalt-highlighted inscriptions, advertising, and decoration. Serving essentially as a utiltarian stoneware "time capsule" of Union County, Illinois life in the year 1884, this painstakingly-decorated jug commemorates the Twenty-Ninth Annual Union County, Illinois Fair, held that year in Jonesboro, Illinois. Among the numerous inscriptions related to the fair, local businesses, and culture, are the following: a list of various categories of subjects judged at the fair, along with their committee members, including Class A. Horses., Class B. Mule, Jacks and Jennets., Class C. Cattle., Class D. Hogs., Class G. Grains., Class E, Sheep and Goats, Class F. Poultry., Class H. Farm Products, Class I. Fruits., Class J. Mechanical Manufactures, Class K. Ladies Department, Class L. Fancy articles, Class M. Paintings. Curiosities. Minerals & c, Class N. Preservers Etc., Class O. Miscellaneous., and Class P Ladies Equestrians; "Amusements" at the fair listed as "Human Race", "Ox Race", and "Bull Race"; a list of "Officers" of the fair; lists of Union County, Illinois "Officers" and "Police Magistrates"; a list of "Churches in Jonesboro"; and various advertisements for Union County businesses, including the newspaper "The Talk". The shoulder of the jug features incised business cards for "J.H. Samson. / Real Estate Agent / and Conveyancer / Office / in Court House / Jonesboro Illinois" and "L.C. Oliver & Co / Dry Goods, Notions and / Groceries. Dishon Corner / Jonesboro Illinois", as well as a pyramid-shaped advertisement for "Otriches / Egyptian Oil / Cure Rheumatism Anna Ill", featuring incised designs of the Great Pyramids of Giza and the Sphinx. The jug's thick handle features an incised flowering vine design related to other important Anna works, along with the incised newspaper advertisement, "Jonesboro Gazette / Established / 35 Years / T.F. Bouton". The sides of the handle reference Presidential and State Elections of 1884, with the words "Blaine & Logan for Prest & V.P. / Richard J. Oglesby for Governor / John C. Smith for Liet Governor" on one side and "Cleavland(sic) & Hendricks / Carter Harrison for Governor" on the opposite side. This jug typifies the Kirkpatricks' style of obsessively blanketing the surface of their pots with decoration, whether it be applied snakes on a temperance jug, or incised inscriptions as seen here. As with all of the Kirkpatricks' best pieces, time is of little concern to the potter in producing this object. Impressing upon the viewer of the work, however, was of the utmost importance. This jug was presumably displayed at the 1884 Union County, Illinois Fair, where hundreds of onlookers could marvel at the Kirkpatrick Brothers' talents. Interestingly, it documents Cornwall Kirkpatrick's involvement in the proceedings of the fair itself, listing him as a superintendent of "Class M. Paintings. Curiosities. Minerals. & C". A monumental work, which seamlessly combines utility, art, and history, this jug is one of the most visually-striking Anna Pottery products to come to auction in years. Provenance: Rock Island Auction, The Richard Ellis Collection, Sept. 11, 2011, Lot 3535. Excellent condition with three tiny spout chips and a tiny in-the-firing spout chip, which is glazed over, as well some in-the-firing flaws to surface and salt drips. H 19 1/2".
---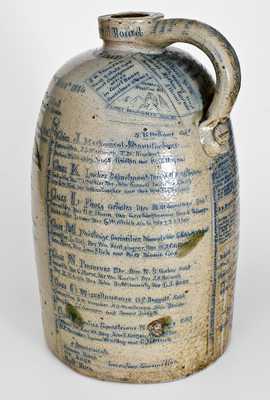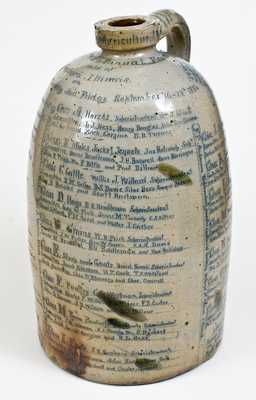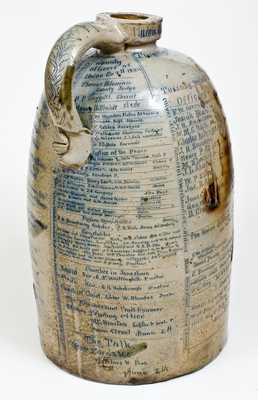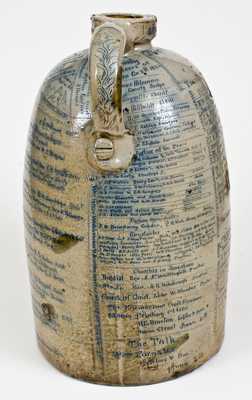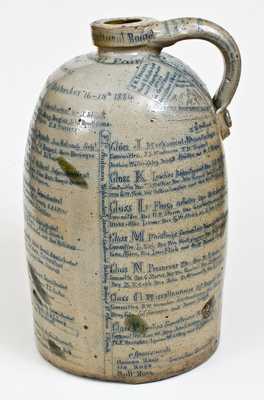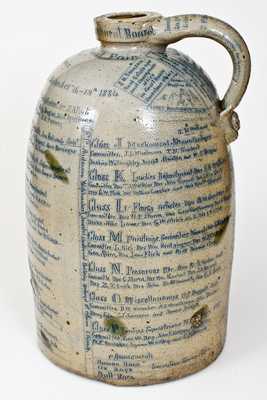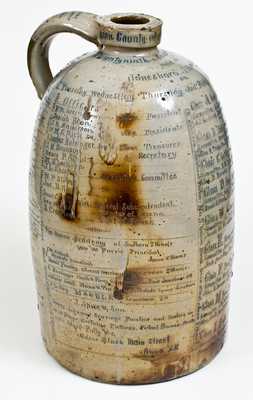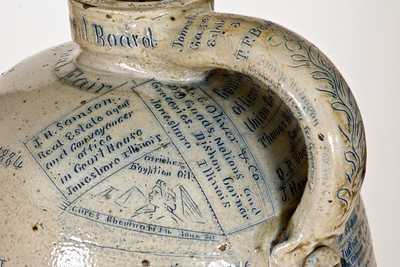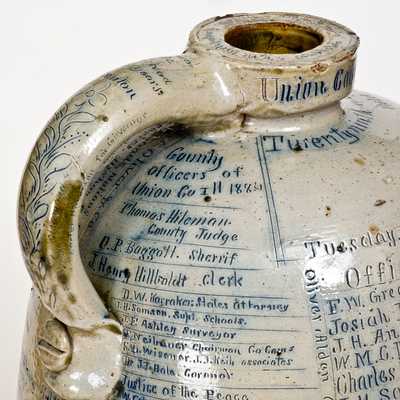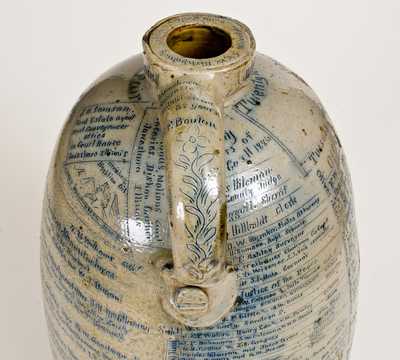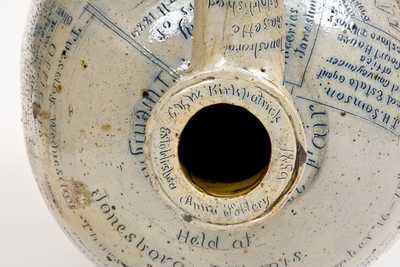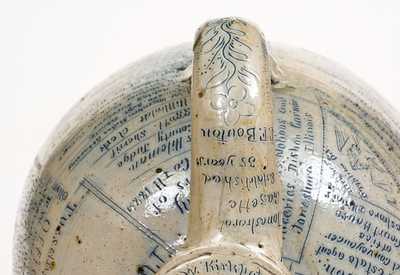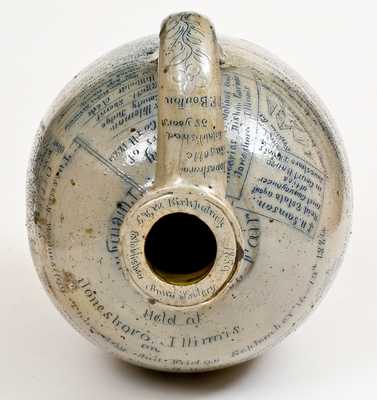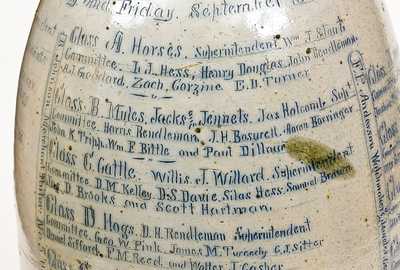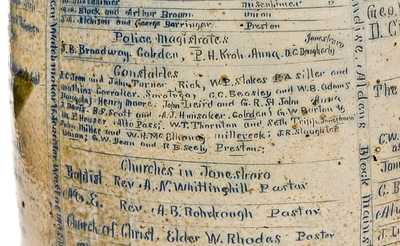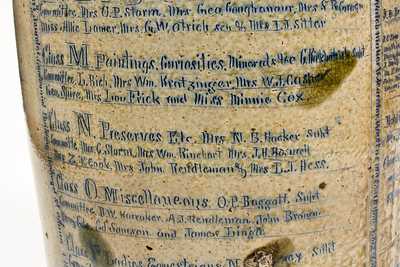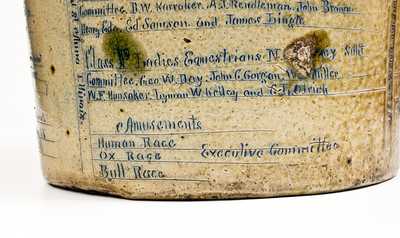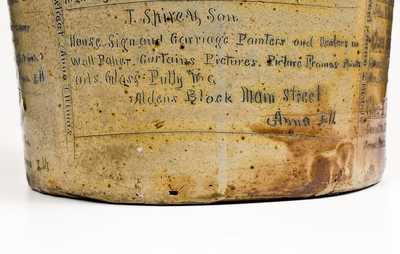 Click images to enlarge.
---
Bidding is now closed.
(Our
next auction
takes place March 21, 2020.)
---