Exceedingly Rare and Important Anna Pottery Snake Jug w/ Civil War & Slavery Motifs
March 1, 2014 Stoneware Auction
Lot #: 19
Price Realized: $69,000.00
($60,000 hammer, plus 15% buyer's premium)
PLEASE NOTE: This result is 6 years old, and the American ceramics market frequently changes. Additionally, small nuances of color, condition, shape, etc. can mean huge differences in price. Please Contact Us for a Current, Accurate assessment of your items.
Auction Highlight: Greatest Hits | March 1, 2014 Auction | Anna Pottery
Exceedingly Rare and Important Salt-Glazed Stoneware Temperance Jug with Civil War, Slavery, and American Motifs, Inscribed on Underside "From / Kirkpatrick / Anna Pottery / Anna / Union Co. / Ills.," circa 1862, bulbous jug with tall neck and squared spout, the surface profusely-decorated with hand-modeled and molded figural designs and original polychrome paint. Jug includes a well-detailed bust of a Union Civil War soldier with goatee and kepi, emerging from the jug's shoulder, while being bitten by a snapping turtle. A second rear end of a man protrudes from the jug's opposite shoulder, superscored by the incised slogan "John L Patterson Going In". Various references of men "going in" can be found on Anna Pottery temperance jugs, and are believed to be evocative of the evils of alcohol, which will essentially "trap" one inside the jug. A hand-modeled handle in the form of a snake extends through the neck of the jug, devouring a bearded figure on the front. This figure is executed with superb detail and depicts a gaunt man with dark hair and open mouth, including teeth and protruding tongue. Two additional small snakes encompass the figure's arms, which grasp the snake's head above. While this jug shows similar temperance themes to several other Anna examples known, another element emerges with its obvious references to the American Civil War. The depths of this imagery may never be fully extrapolated from the jug. However, it is possible that the central figure on this jug may represent Abraham Lincoln, with his country split in two between Union and Confederate sides. To further support this theory, the jug is decorated on one side with a molded and applied African-American man's face with incised details and hollowed nose, arguably representative of a Confederate side supportive of slavery. Free-swinging stoneware chainlinks connected at the spout, possibly unique to this temperance jug, are an addition that may have been functional, while also suggestive of the bonds of slavery. The opposing side of the jug features a large molded and applied spread-winged Federal eagle devouring a rabbit, which may be evocative of the Union. The center base of the jug features a molded and applied bust of a man drinking from a mug and smoking a pipe, a motif whose purpose is currently unknown. This design may simply be representative of embibers of alcohol and tobacco, which would typically drink from such a jug. The molded African-American head, the eagle, and this unusual drinking figure, have not been observed on any other Anna pieces, and may be unique to this example. The reverse left side of the jug includes a molded classical figure of a woman playing a lyre, a motif found on other Anna jugs of this period. The remainder of the jug includes two applied snakes, one of which slithers in and out of the jug's body, a third snake coiled around the handle, and a hand-modeled frog applied to the shoulder. Jug is incised on the underside with the signature "From / Kirkpatrick / Anna Pottery / Anna / Union Co. / Ills.". The overall style of the jug links it to an important Anna Pottery jug with applied Civil War soldiers, made to commemorate a saloon brawl in Anna in 1862. The related Civil War jug was once part of the collection of the prominent New York City collector, Barry Cohen, and is the earliest dated Anna Pottery snake jug known, bearing the incised inscription on the underside "Kirkpatrick/ Anna Pottery / Anna Union Co / Illinois / January 17th, 1862 /Camp Dubois." The similarities of the two jugs include their Civil War soldiers, molded classical woman motifs, and distinctly similar signatures on the underside. Both also feature early-style snakes, which appear less realistic and dangerous than those found on later Kirkpatrick renderings. Instead, the snakes' heads are narrow and somewhat whimsical-looking, lacking the severe, poison-glanded forms on their creations of the 1870s and 1880s. Clearly, the Kirkpatricks' obsession with snakes had only just begun. Another interesting feature of the jug is its hand-modeled frog figure, implying the jug was made before the Kirkpatricks were producing their popular molded frogs found on later inkwells, jugs, and other forms. This iconic vessel stands as one of a very few Anna Pottery temperance jugs with significance to the American Civil War. It is also a rare survivor from the Kirkpatricks first years of producing snake-decorated vessels, for which they have become so well-known. This jug ranks as the finest example of Anna Pottery to be offered anywhere in recent years. Provenance: A fresh-to-the-market, previously-undocumented example, purchased by the consignor in Pennsylvania in the 1980s. Clasp broken near base, which assumedly once connected to the chainlinks on the left side of spout. Left leg of central figure reglued. Right leg with crude, old putty restoration. Additional putty restoration to small snake coiled around figure's left arm (with unrestored losses to same snake), head of turtle, and parts of smaller snake's body at base. Small snake coiled around large snake handle is missing tail. Anna Pottery temperance jug are typically found with in-the-firing damage to the applied decoration. It is possible that most or all of this damage occurred during the firing. H 10 1/4".
---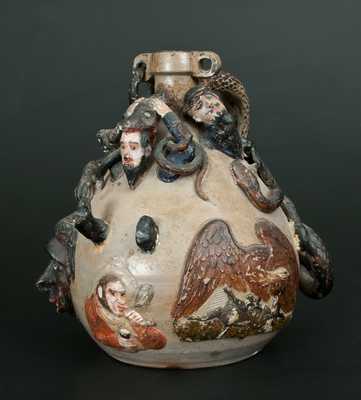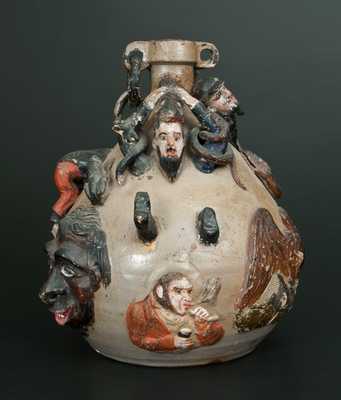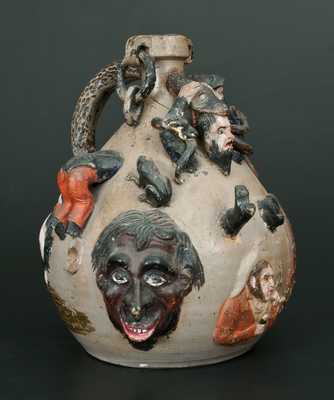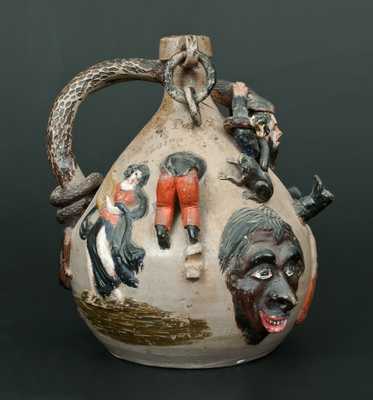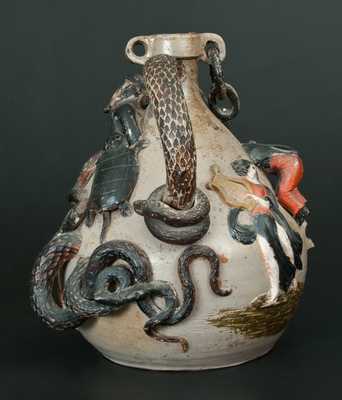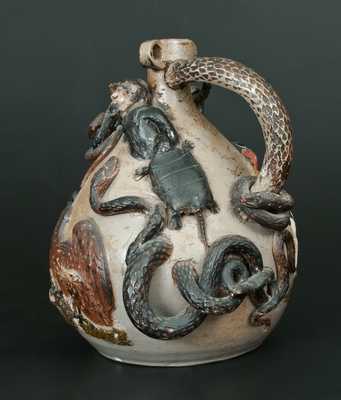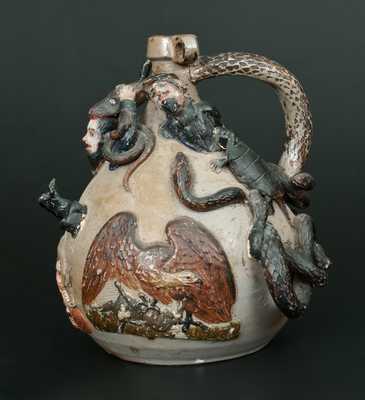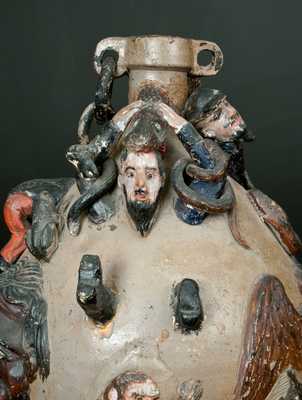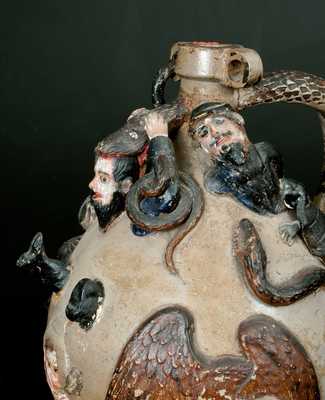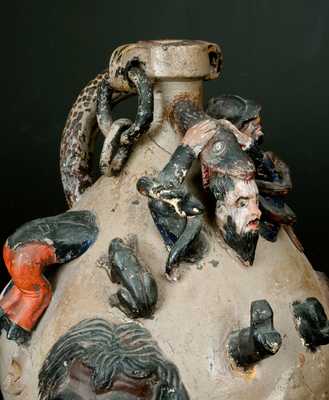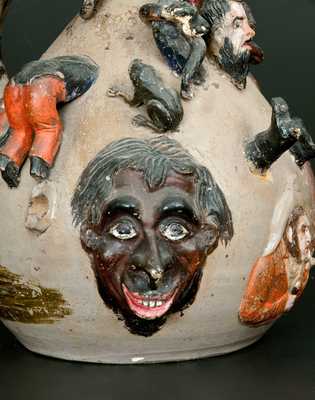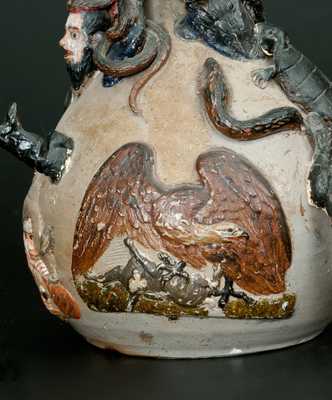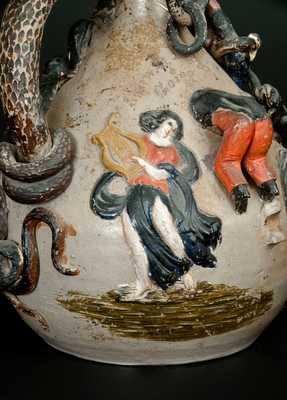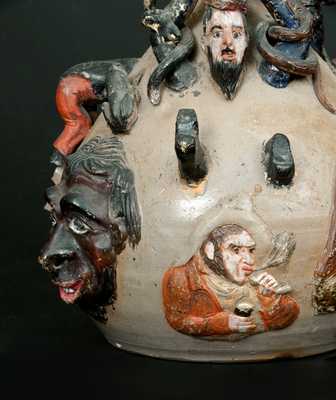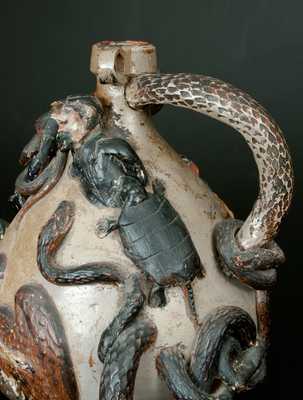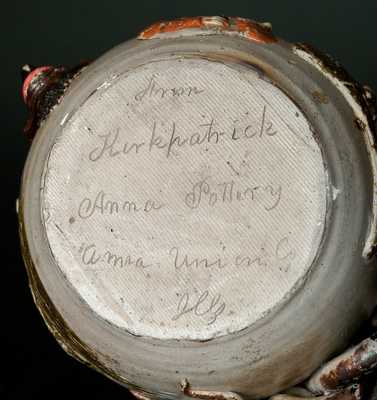 Click images to enlarge.
---
Bidding is now closed.
(Our
next auction
takes place March 21, 2020.)
---