Bidding is now closed.
(Our
next auction
takes place March 21, 2020.)
---
Exceedingly Rare and Important Small-Sized Stoneware Jar with Iron-Oxide Decoration and Incised Federal Eagle Motif, Inscribed "LIBERTY", Baltimore, MD origin, circa 1795-1815, cylindrical jar with tooled shoulder and semi-rounded rim, decorated with a detailed incised design of a Federal eagle with shield across its chest, holding an American flag and an olive branch in its talons, as well as a long banner in its beak, inscribed, "LIBERTY." Jar is decorated in the English style with a dipped iron-oxide slip extending to the shoulder area. This style of decoration dates the jar to Baltimore's earliest years of stoneware production, prior to the employment of cobalt-oxide decoration. Dipped iron-oxide treatment, among Southern-made stonewares, is perhaps most well-known in the work of John Swann of nearby Alexandria, VA. Possible makers of this jar include Peter Perine or Thomas Morgan, both responsible for bringing the stoneware craft from Harford County, Maryland to Baltimore. Until now, a few important stoneware jars with incised or brushed-cobalt eagle motifs, which were made in Virginia's James River Valley during the late 1810's or 1820's, were considered the earliest representations of this purely-American image found on Southern-made stoneware. This jar's use of iron slip, however, strongly indicates an earlier period of manufacture. Its eagle design, including the wonderful inscription, "LIBERTY", within the banner and an American flag in the bird's talons, is among the most highly-developed seen on a ceramic object produced in the American South. Surface wear to left side of jar's front and left side of jar. Otherwise excellent condition with minor base wear. Provenance: Recently discovered in Virginia. H 7 1/2".
---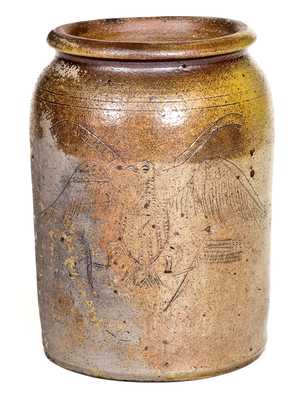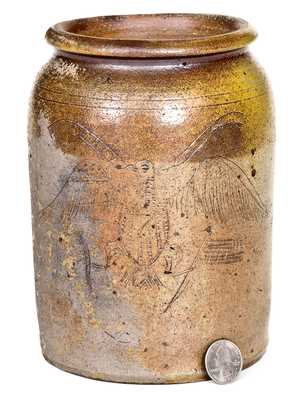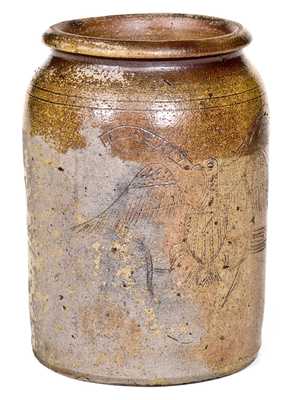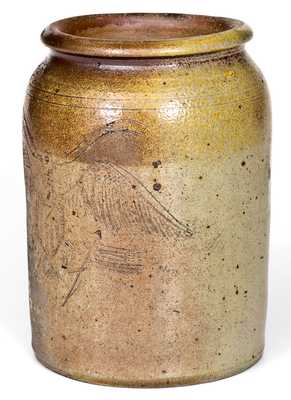 Click images to enlarge.