Rare "October. 13th. 1843" Stoneware Jar, attrib. Dave at Rev. John Landrum Pottery, Edgefield, SC
July 20, 2019 Stoneware Auction
Lot #: 93
Price Realized: $12,980.00
($11,000 hammer, plus 18% buyer's premium)
PLEASE NOTE: The American ceramics market frequently changes, often dramatically. Additionally, small nuances of color, condition, shape, etc. can mean huge differences in price. Please do not hesitate to Contact Us for a Current, Accurate assessment of your items.
Auction Highlight: July 20, 2019 Auction | Southern Pottery
Very Rare and Important Six-Gallon Alkaline-Glazed Stoneware Jar, Inscribed "October 13th. 1843", attributed to Dave at the Reverend John Landrum Pottery, Horse Creek Valley, Edgefield District, SC, 1843, highly-ovoid jar with thin, rounded rim and applied lug handles, the surface covered in a runny, light-olive alkaline glaze. The double-dipping of the jar during the glazing process has created an appealing two-tone effect, with heavy drips cascading over a gray-green ground at the base. The incised date, "October. 13th. 1843" appears at the shoulder on the front, beside two incised slash marks, a distinctive Dave marking. Six incised punctates, denoting the jar's capacity, appear on the reverse. This jar is considered important in its early-period date. While the vast majority of dated Dave vessels are known with dates between 1849 and 1865, while Dave was working at Lewis Miles's Stoney Bluff Manufactory, few have been found with dates prior to this period, while Dave was working at Pottersville and at the Landrums' Horse Creek Valley potteries. The date on this jar indicates it was made at the Reverend John Landrum pottery in Horse Creek Valley. To our knowledge, it is the latest-dated Dave jar made prior to his 1844-1848 "Silent Period", and only two dated pieces from the entire year of 1843 have been documented. Exhibited: David Drake Potter and Poet, September 24 to December 18, 2016, Vero Beach Museum of Art, Vero Beach, Florida. Very nice condition with two chips to right handle, measuring 1 3/8" and 1 1/4", a small chip to left handle, and a shallow flake to underside, possibly in-the-firing. H 16".
---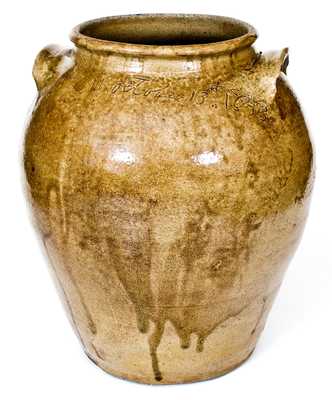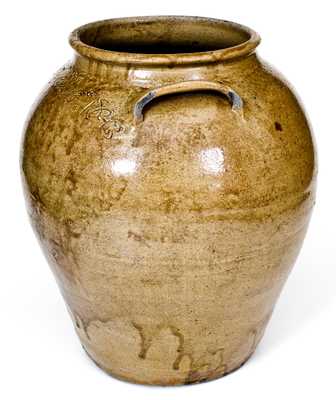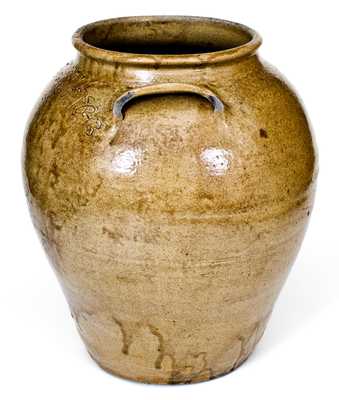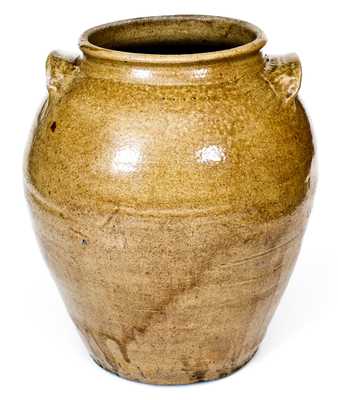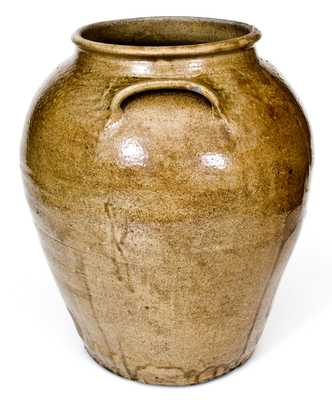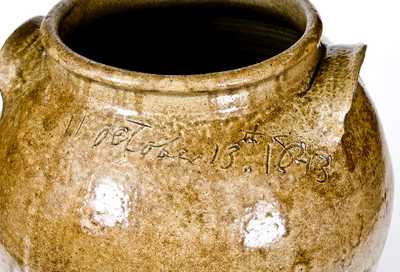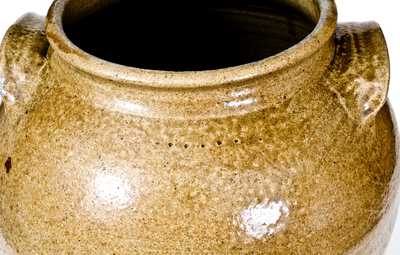 Click images to enlarge.
---
Bidding is now closed.
(Our
next auction
takes place March 21, 2020.)
---