Very Rare and Important Early Dated Jug by the Enslaved Potter, Dave (Edgefield District, SC)
July 20, 2019 Stoneware Auction
Lot #: 92
Price Realized: DNMR
Exceedingly Rare and Important Two-Gallon Alkaline-Glazed Stoneware Jug, Incised "April 18th 1831", Impressed "I" at Base, Dave at Harvey and Reuben Drake's Pottersville Pottery, Edgefield District, SC, 1831, highly-ovoid jug with delicately-potted, stepped spout, the surface covered in a light-green alkaline glaze with a second, heavier application of glaze cascading from the shoulder. Shoulder incised with the date, "April 18th 1831", surrounded by numerous incised punctates. Base impressed with a large serifed letter, "I". This jug survives as one of the earliest dated vessels attributed to Edgefield's famous enslaved African-American potter, Dave. Adding to its importance is the fact that it is one of a few extant pieces of Dave stoneware bearing a date verifying that it was made during the four-year-period that the Pottersville Pottery belonged to Harvey Drake and his brother, Reuben, the former being Dave's sole owner for the first thirty-two years of the slave's life. At the time of the publication of the Ceramics in America 2006 article, "Beneath His Magic Touch: The Dated Vessels of the African-American Slave Potter Dave", written by Arthur Goldberg and James Witkowski, only three dated vessels attributed to Dave and bearing an earlier date are known, two dating to 1829 and a third dating to March of 1831, the year this jug was manufactured. This work utilizes a classic Dave treatment, the incised punctate, as an elaborate decorative embellishment rather than a gallonage notation, as seen on his products of a later time period. In all, over ninety punctates form a sinuous border around the date, possibly the most outstanding display of such markings found on any extant Dave vessel. The base features a rare "I" stamp found on Pottersville stoneware, and the surface displays the pottery's highly-prized two-toned glaze. Surviving in immaculate condition and combining beauty, rarity, and historical significance, this work is easily-regarded as one of the most important examples of Southern stoneware that we have ever offered. Provenance: Discovered last year in a Southeastern U.S. home, this jug is still partially-filled with molasses and retains its early corn cob stopper. Excellent, essentially as-made condition with some typical, very minor in-the-firing chips to underside at edge. This jug's remarkable state of preservation is very rare among Southern pieces of this age (nearly 190 years old). H 13 3/8".
---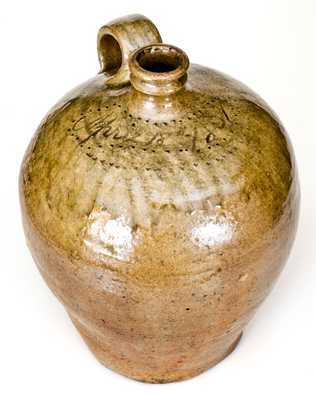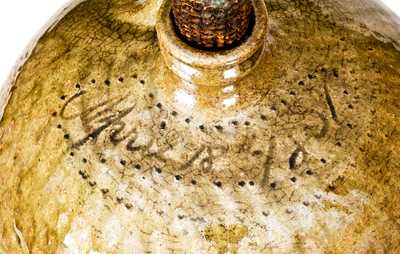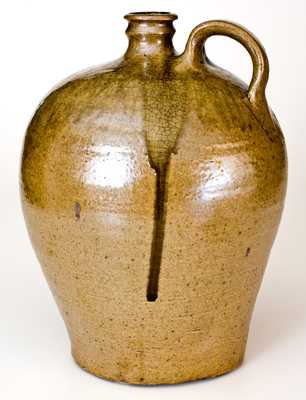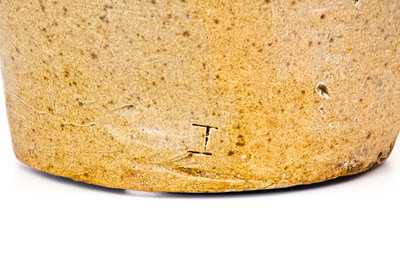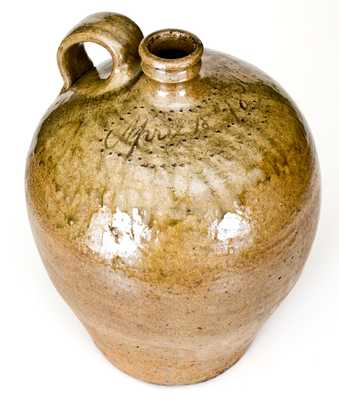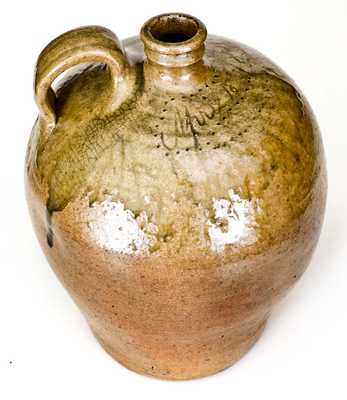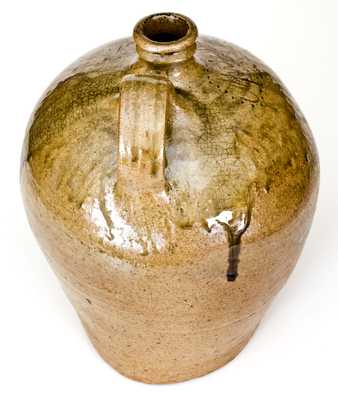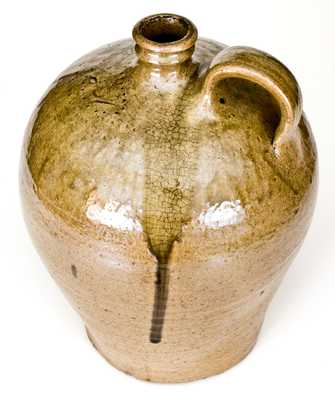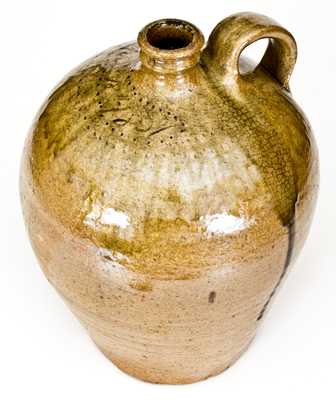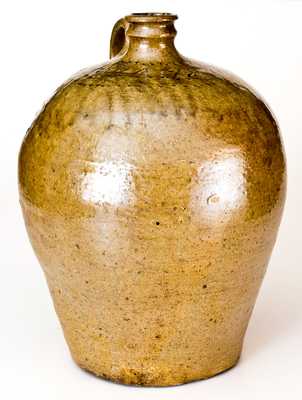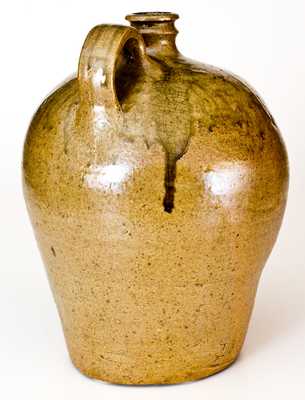 Click images to enlarge.
---
Bidding is now closed.
(Our
next auction
takes place October 26, 2019.)
---