Exceptional Anna Pottery Family Stoneware Vase
November 3, 2018 Stoneware Auction
Lot #: 68
Price Realized: $12,980.00
($11,000 hammer, plus 18% buyer's premium)
PLEASE NOTE: This result is 2 years old, and the American ceramics market frequently changes. Additionally, small nuances of color, condition, shape, etc. can mean huge differences in price. Please Contact Us for a Current, Accurate assessment of your items.
Auction Highlight: November 3, 2018 Auction | Anna Pottery
Exceptional Cobalt-Decorated Stoneware Vase with Applied Floral Motifs and Profuse Incising, Inscribed "Anna Pottery / 1884", Wallace and Cornwall Kirkpatrick, Anna, IL, 1884, stylishly-potted vase with pedestal base, ovoid body, and flared rim, the front and reverse decorated with a hand-modeled and applied design of a flower surrounded by leaves, with heavily-incised details throughout. The vase's handles are formed from sculpted and delicately-applied, openwork leaves emanating from a curved twig. Surface of vase surrounding applied decoration feature elaborate incised floral and graduated line motifs. Base of vase lavishly-decorated with incised vining. Rim of vase decorated with an incised wavy-line-and-dot motif. Exterior surface of vase covered in a light whitish slip and painstakingly-decorated throughout the applied decoration and incised motifs with cobalt slip, all under a clear salt glaze. Interior surface coated in Albany slip, which assumes a mustard coloration after reacting with salt vapors during the firing. Underside incised in large letters, "Anna Pottery / 1884". Combining thick-walled construction and traditional glazing techniques with a refined decorative aesthetic, this vase seamlessly melds the utilitarian stoneware industry with the American Art Pottery Movement. The various incised motifs on this vase can be found on a number of the Kirkpatricks' most iconic works, including temperance and fair jugs. The incised floral motifs on the body, for example, can be seen on the handle of the 1884 fair jug, sold in Crocker Farm's July 21, 2018 auction and made the same year as this vase. Among the most outstanding Kirkpatrick pieces to come to auction in recent years. Provenance: From a recently-surfaced collection of Anna Pottery, which descended in the family of Cornwall Kirkpatrick; featured on PBS's "Antiques Roadshow", Boise, Idaho, June 29, 2013. This vase survives in excellent condition, despite the delicate applied work. A small loss to tip of one applied leaf and a small chip to nearby flower petal. Some shallow, likely in-the-firing, chipping to underside/bottom edge of vase. H 7 1/2".
---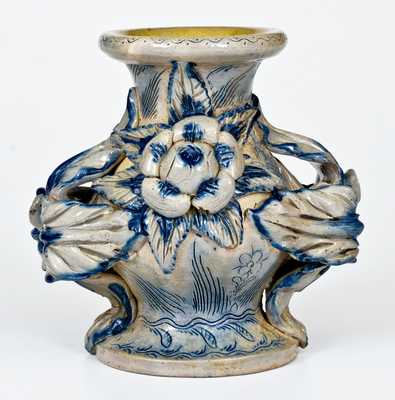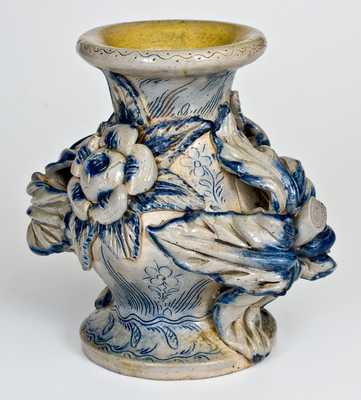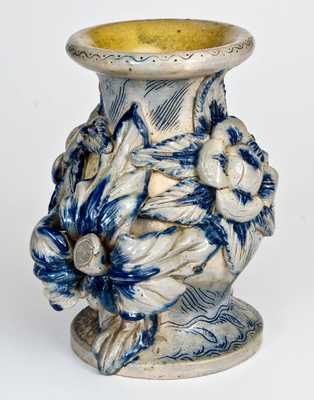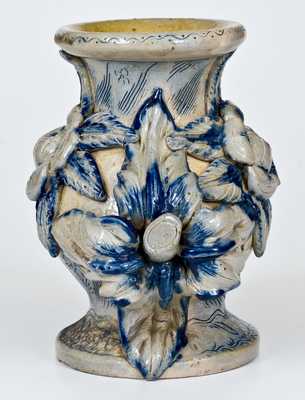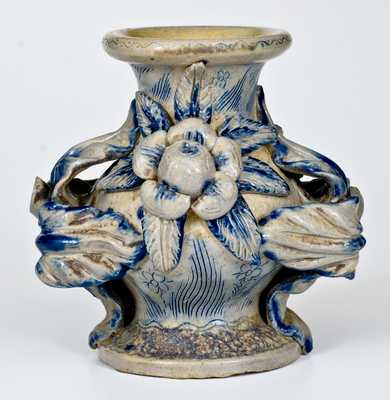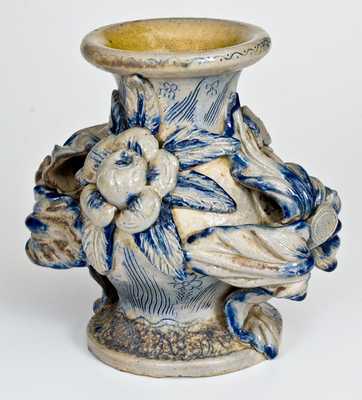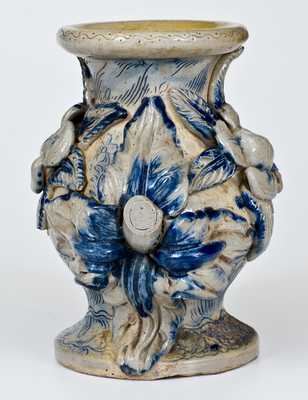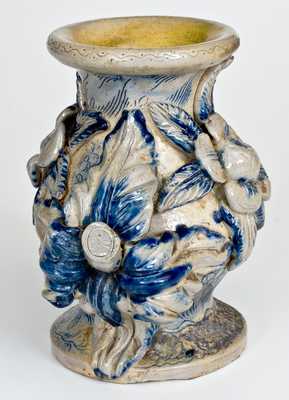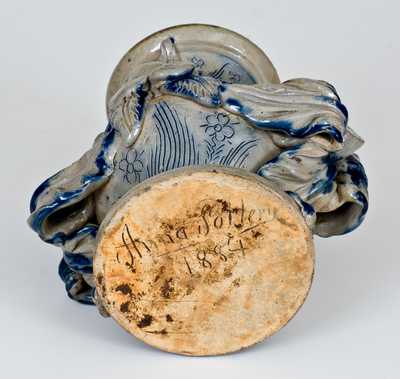 Click images to enlarge.
---
Bidding is now closed.
(Our
next auction
takes place March 21, 2020.)
---