Important George Kline, Harrisonburg, Virginia, 1826 Redware Sugar Bowl
March 24, 2018 Stoneware Auction
Lot #: 73
Price Realized: $8,260.00
($7,000 hammer, plus 18% buyer's premium)
PLEASE NOTE: This result is 2 years old, and the American ceramics market frequently changes. Additionally, small nuances of color, condition, shape, etc. can mean huge differences in price. Please Contact Us for a Current, Accurate assessment of your items.
Auction Highlight: March 24, 2018 Auction | Virginia Stoneware | Redware
Important and Probably Unique Glazed Redware Sugar Bowl with Crimped Rim with Inscribed Poem, Inscribed "George Kline / His Sugar Bowl", Harrisonburg, VA origin, circa 1826, bulbous form with footed base and flared rim, embellished with delicate crimping, incised on the front in fine script "George Kline / His Sugar Bowl". Reverse incised with the poem, "Many Men of Many / Minds Many birds of / Many kinds". Surface covered in a heavy lead glaze over a mottled orange ground. This significant recent discovery in Southern antebellum redware is the only known example of pottery made at the shop of George Kline in Harrisonburg, Rockingham County, VA. Kline's operation, along with John Zigler's pottery in Timberville, represent the earliest potteries in Rockingham County, a region, which, decades later, would be active with a number of successful stoneware and redware manufacturing sites. This sugar bowl was made prior to the production of stoneware in the county, which began at Zigler's shop, circa 1830. Kurt C. Russ's landmark article in the Winter 1995 issue of The Journal of Early Southern Decorative Arts, "Exploring Western Virginia Potteries," notes Kline's pottery as existing at Blacks Run and German Street in Harrisonburg. In his 1912 book, A History of Rockingham County, Virginia, John W. Wayland likewise remarks that "In 1826 G. Cline had a pottery in Harrisonburg." The sugar bowl form would continue in the region for decades as a specially-made stoneware item. A small number of stoneware sugar bowls and/or honey pots produced during the middle of the 19th century by John D. Heatwole and Emanuel Suter rank among the finest products known from the county; some of these were made as presentation items for family members of the potters themselves. This bowl's inscription, which reads, "Many Men of Many Minds, Many birds of Many kinds", is an excerpt from a popular poem used in 19th century penmanship classes, which concludes with the two lines "Many fishes in the sea, Many men that don't agree". This old adage about the differences between people's opinions, apparently a popular one during the 19th century, also afforded the potter the opportunity to display his own fine penmanship on Kline's personal sugar bowl. This bowl is among the very earliest, intact examples of Virginia redware known bearing the name of a pottery's owner. From a similar time period are a few iconic works by the Bell family in Winchester. (Among these are the slip-decorated Peter Bowl bowl, stamped "P. BELL", in the collection of the Museum of Early Southern Decorative Arts in Winston-Salem, NC and the tin-glazed John Bell inkstand, stamped "J. BELL" and dated "Winchester / March 12th 1825", made at his father's shop and in the collection of the Museum of the Shenandoah Valley in Winchester, VA.) It is also believed to be the earliest piece of Rockingham County pottery to have surfaced with a pottery owner's signature, as well as the earliest inscribed ceramic sugar bowl produced in the entire state of Virginia. The age, origin, and form of this work make it a particularly important discovery, both from decorative and historical viewpoints, in the genre of early Southern ceramics. Provenance: Previously descended in a Virginia family. A 1 1/4" area of heavy chipping to rim. Other shallow chipping and wear to rim. Remarkably, the interior and exterior surfaces retain a lustrous glaze with no wear. Missing lid. H 4" ; Diameter (across crimped opening) 3 7/8".
---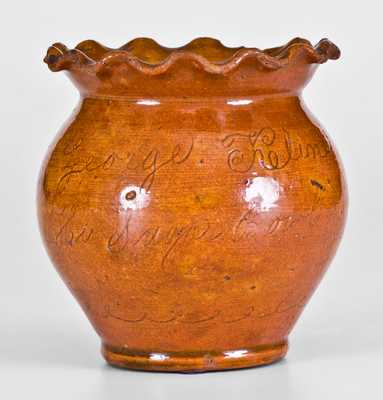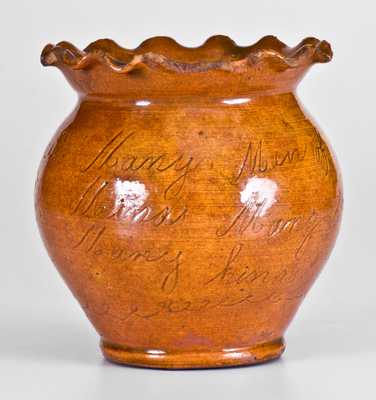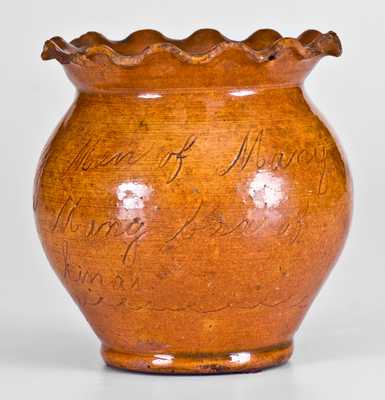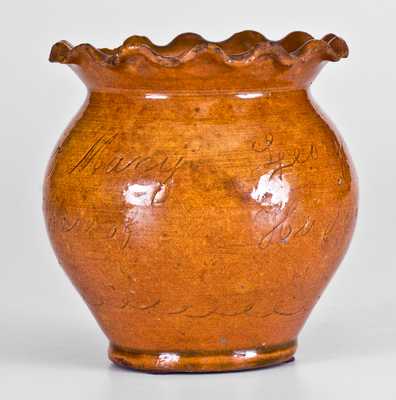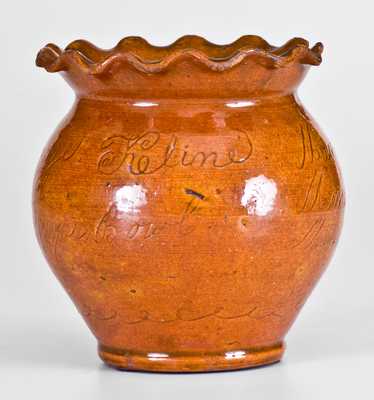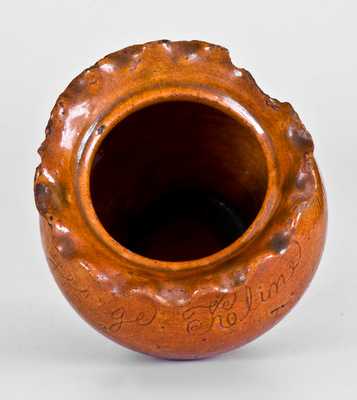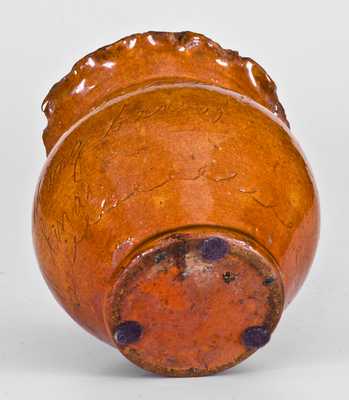 Click images to enlarge.
---
Bidding is now closed.
(Our
next auction
takes place March 21, 2020.)
---