Bidding is now closed.
(Our
next auction
takes place March 21, 2020.)
---
Extremely Rare Stoneware Squat Pot with Cobalt Inscription, attributed to J.D. Heatwole, Rockingham County, VA, circa 1850, highly ovoid jar with semi-squared rim and ribbed lug handles, decorated with the cobalt inscription "M Huston / you found / that Jar" on one side, and on the reverse with "It hurts my fingers". The "Mr Huston" mentioned on the jar probably refers to David W. Huston, who appears in the 1850 U.S. Census as a farmer living near Heatwole, or possibly another member of the same family of Rockingham Co. farmers. We believe this jar offers a rare glimpse into the life of Heatwole, that it may refer to a comical episode that occurred between Heatwole and Huston, revealing a light-hearted side to Heatwole otherwise unseen in his work. Shenandoah Valley stoneware with personalized inscriptions are considered very rare. Discovered in Texas. In-the-firing loss to one handle. Chip and small nick to opposite handle. 1/2" hole in underside with flake on interior. Three chips and small nick to molding at base of collar. Two shallow, minor base chips. H 7 1/2".
---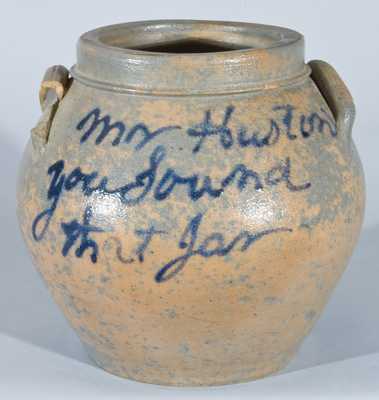 Click images to enlarge.