Bidding is now closed.
(Our
next auction
takes place March 21, 2020.)
---
Very Rare Stoneware Pitcher with Elaborate Star and Floral Decoration, att. Philip Byers, Zigler Pottery, Timberville, VA, circa 1837, semi-ovoid form decorated on the front with a slip-trailed and brush-applied tulip plant with a large central tulip and smaller tulips to the left and right. Decorated on the sides with large brush-applied stars, and on the rim with three stars on each side of the spout. Additional decoration to the spout and dashed decoration running along the handle, with deep blue dabs at the handle terminals. On this example, the cobalt was applied over a whitish slip before firing, giving the pitcher a marvelous appearance of vibrant blue against a creamy buff-colored background. Based on the clay color and cobalt motifs, this pitcher was likely made by Shenandoah Valley potter, Philip Byers. According to H.E. Comstock"s The Pottery of the Shenandoah Valley Region, Byers was an apprentice to Peter Bell in Hagerstown and Winchester from about 1820-25, and spent much of his early career until 1832 in close association with the Bell and Miller family of potters in Winchester and Strasburg. In 1832, Byers moved to Rockingham County, VA, and operate his own pottery there until 1838, when he moved to Strasburg to work with potter John Miller. As evidenced by a star-decorated stoneware crock bearing the cobalt inscription "Timberville / 1837/ Pb," (with "Pb" likely referring to Philip Byers), Byers also may have worked at the pottery of a merchant named John Zigler, in Timberville, Rockingham County, in the late 1830"s. This pitcher, which is decorated similarly to the "Pb" crock, and which bears an unusual slip wash found only on Zigler stoneware, was likely made by Byers at Zigler"s Timberville shop. Interestingly, elements of the floral design on the front of pitcher suggest the Bells" influence on Byers in Winchester; the central tulip head flanked by two smaller, stemmed tulips is a design common to early Samuel and Solomon Bell stoneware, as well as Adam Keister products of Strasburg. An exceptional pitcher, which melds the styles of two different potting areas, made by an influential valley potter. Very thin spider line on side. A few lines in rim. A few small rim chips and one spout chip. Height 11 3/8".
---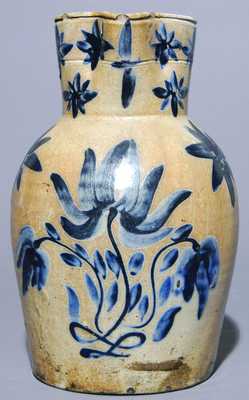 Click images to enlarge.