Rare and Important Diminutive Edgefield, South Carolina, Stoneware Face Jug
July 22, 2017 Stoneware Auction
Lot #: 112
Price Realized: $47,200.00
($40,000 hammer, plus 18% buyer's premium)
PLEASE NOTE: This result is 3 years old, and the American ceramics market frequently changes. Additionally, small nuances of color, condition, shape, etc. can mean huge differences in price. Please Contact Us for a Current, Accurate assessment of your items.
Auction Highlight: Greatest Hits | July 22, 2017 Auction | Southern Pottery | Antique Textiles | Face Jugs
Rare and Important Diminutive Alkaline-Glazed Stoneware Face Jug, Edgefield District, SC origin, circa 1845-1855, ovoid jug with semi-squared spout, decorated with an applied clay face featuring bulging eyes with pierced pupils, long arching eyebrows, a nose with recessed nostrils, large ears with tragi, and an open mouth with deeply-carved teeth. Surface covered in a dark, mottled alkaline glaze. This example features a petite size, highly-expressive face, and refined sculpting throughout, including delicately-carved teeth reminiscent of those found on the iconic Solomon Bell redware figure of a lion in the collection of the Museum of Early Southern Decorative Arts, Winston-Salem, North Carolina. This work is distinguished as one of the most well-documented Edgefield face vessels in existence, carrying an illustrious sale, exhibition, and publication history. It is one of a group of Edgefield face vessels sold as part of the John Gordon Collection of Folk Americana, conducted by Christie's in 1999 and regarded as the greatest public sale of American ceramic face vessels ever held. Gordon purchased this face jug in 1969, along with several others, from the noted early South Carolina collector, Helen Eve, granddaughter of Colonel Thomas Davies, owner of the Palmetto Fire Brick Works of Bath, South Carolina. While a number of face vessels from Eve's collection were later restored by Gordon, this example survives in remarkable, almost untouched condition. Its price at auction in 1999 of $12,650 including buyer's premium was noteworthy in its day. After the jug's acquisition from Eve, it has been exhibited twice, including at a particularly early show of American ceramics, held at the IBM Gallery in New York in 1969. The jug is additionally illustrated in John Michael Vlach's ground-breaking 1978 treatise on African-American art, entitled The Afro-American Tradition in Decorative Art. The sale of this jug offers a rare opportunity to acquire a classic Edgefield face jug, which holds an important place in American face vessel history. Provenance: Christie's, The John Gordon Collection of Folk Americana, January 15-19, 1999, Lot #1156; purchased by John Gordon from Helen Eve in 1969; acquired by Eve's son, William Raiford Eve, from an African-American community between Aiken and Langley, SC prior to World War II. Literature: Vlach, The Afro-American Tradition in Decorative Art, (Cleveland 1978), p. 84, fig. 75, pl. VII; Regenia Perry, Spirits or Satire: African-American Face Vessels of the 19th Century, (Charleston, 1985), fig. 4. Exhibited: New York, New York, IBM Gallery, "Early American Pottery", 22 September - October 25 1969; Charleston, SC, Gibbes Art Gallery, "Spirits or Satire: African-American Face Vessels of the Nineteenth-Century", 1 October - 6 November 1985. H 4 5/8". Excellent condition with a minor chip to one eyebrow. H 4 5/8".
---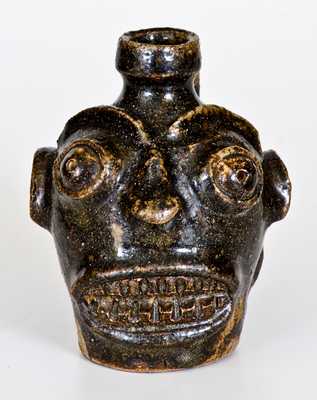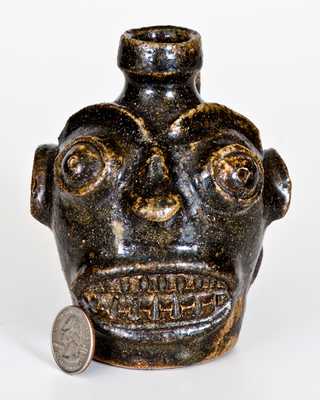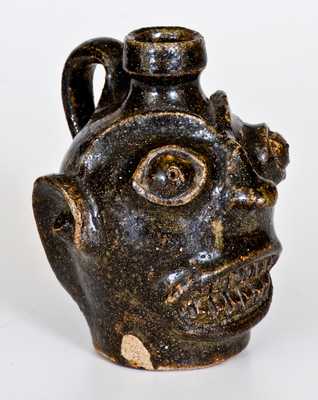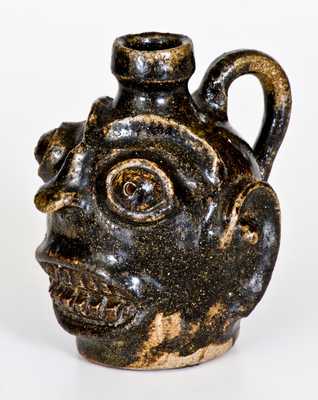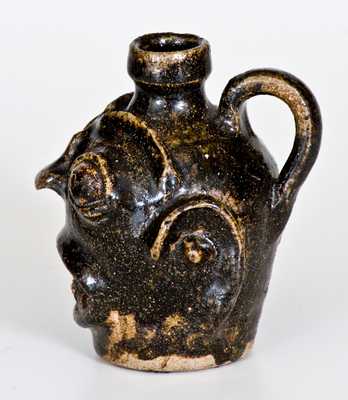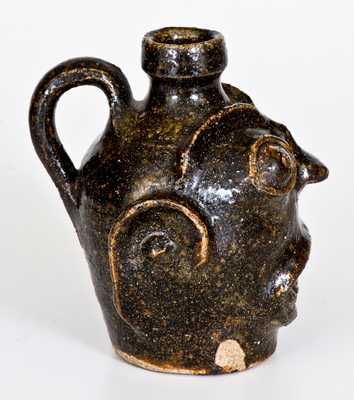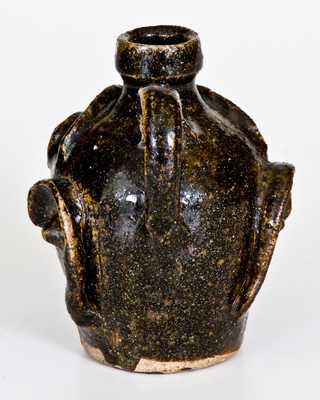 Click images to enlarge.
---
Bidding is now closed.
(Our
next auction
takes place March 21, 2020.)
---