Important Early Baltimore Five-Gallon Stoneware Pitcher w/ Lavish Slip-Trailed Decoration
March 25, 2017 Stoneware Auction
Lot #: 4
Price Realized: $31,860.00
($27,000 hammer, plus 18% buyer's premium)
PLEASE NOTE: This result is 3 years old, and the American ceramics market frequently changes. Additionally, small nuances of color, condition, shape, etc. can mean huge differences in price. Please Contact Us for a Current, Accurate assessment of your items.
Auction Highlight: Greatest Hits | March 25, 2017 Auction | Baltimore Stoneware
Important and Possibly Unique Five-Gallon Stoneware Pitcher with Lavish Slip-Trailed Cobalt Decoration, Baltimore, MD origin, possibly Henry Remmey, Sr., circa 1820, monumental, ovoid-bodied pitcher with footed base, narrow collar accented with tooled lines, and heavily-ribbed handle. Decorated around the body with an artistic slip-trailed vine design bearing graduated leaves and clusters of grapes or berries, meeting at the lower handle terminal on the reverse. Slip-trailed wavy line decoration above. Collar decorated with a slip-trailed wavy line and drape design below a second vine design bearing leaves and four-petaled flowers. Reverse decorated below the handle with a slip-trailed grape cluster motif emanating from a series of graduated leaves. Heavy cobalt highlights to handle terminals. Collar impressed "5". This stately work epitomizes the Baltimore style of the 1820s in its artistic slip-trailed decoration, bold color, and elegant form. Pieces of this quality would set the standard for Southern stoneware production during the time period, influencing potteries in Virginia and South Carolina. While its maker cannot be verified, the four-petaled floral motif at the shoulder is most often associated with the New-York-trained potter, Henry Remmey, Sr., who arrived in Baltimore by 1812. A distinctive fern-like motif emanating from two circular designs, seen on this pitcher's large vine decoration, appears to follow antecedent, incised stoneware from Manhattan, further supporting a Remmey attribution. This work is important in its artistry and large size. It is one of the largest American stoneware pitchers known, only outsized by a few iconic works; these include the Harrington & Burger hound-handled eagle pitcher in the Weitsman Collection at the New York State Museum in Albany, NY and the "Adam Wipfield" Baltimore pitcher at the Maryland Historical Society in Baltimore, MD. Both are considered storefront display pieces. This earlier five-gallon example may have also served as a display piece in a shop window, given its weight when full. Other than its grand size and beautifully-executed decoration, of particular note is its raised, enamel-like cobalt, which retains a brilliant luster. The cobalt application and its firing are truly remarkable. Despite the thickness of the application, no dryness or bubbling to the cobalt slip was created during the firing. The decoration remains glossy and highly appealing, perhaps the finest execution of slip-trailing we have seen on a piece of Baltimore stoneware. Provenance: Ex-Robert Hunter, Yorktown, VA. Tight lines throughout body and handle. A glazed-over spout chip. A pre-firing chip to base, which was brushed over with cobalt by the decorator. H 18".
---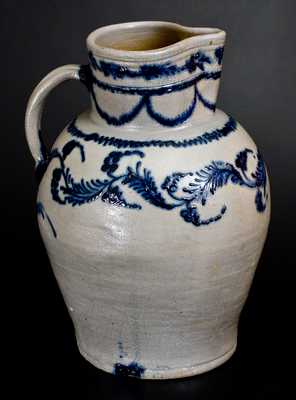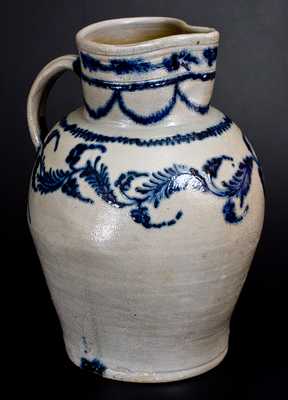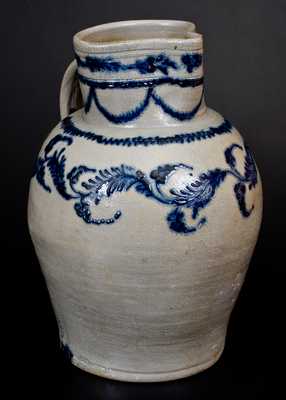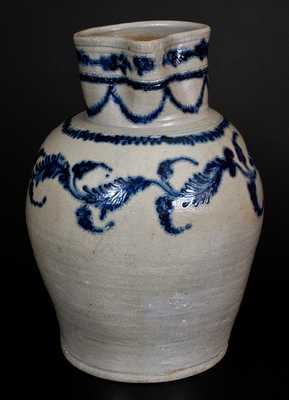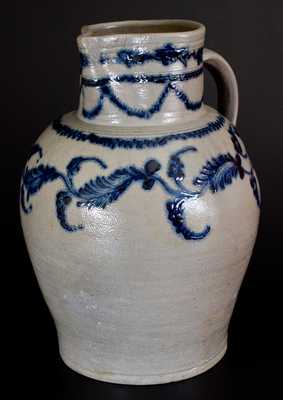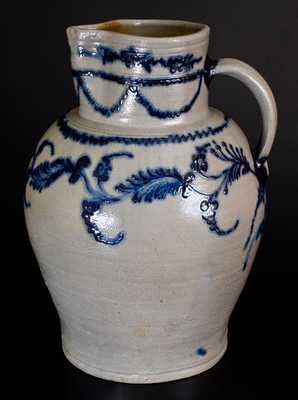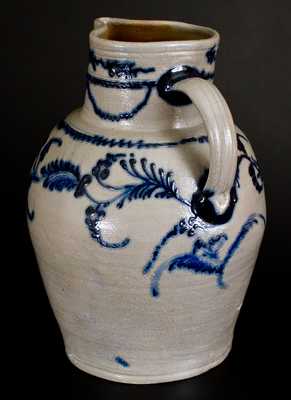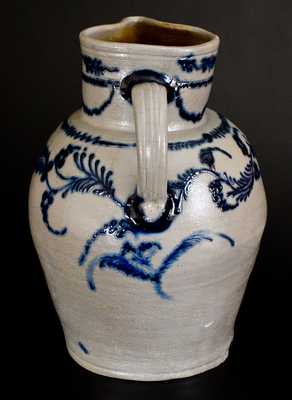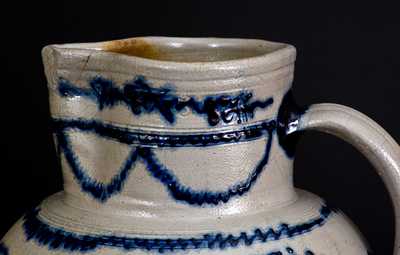 Click images to enlarge.
---
Bidding is now closed.
(Our
next auction
takes place March 21, 2020.)
---