Very Important Stoneware Water Cooler w/ Profuse Incised Federal Eagle Motif, att. Henry Remmey, Baltimore, 1812-29
THE WORLD AUCTION RECORD for AMERICAN STONEWARE!
October 17, 2015 Stoneware Auction
Lot #: 1
Price Realized: $483,000.00
($420,000 hammer, plus 15% buyer's premium)
PLEASE NOTE: This result is 5 years old, and the American ceramics market frequently changes. Additionally, small nuances of color, condition, shape, etc. can mean huge differences in price. Please Contact Us for a Current, Accurate assessment of your items.
Auction Highlight: Greatest Hits | October 17, 2015 Auction | Baltimore Stoneware | Remmey Pottery | Incised Stoneware
Important and Probably Unique Seven-Gallon Stoneware Water Cooler with Incised Federal Eagle Decoration, attributed to Henry Remmey, Sr. or Jr., Baltimore, MD, circa 1812-1829, large-sized, ovoid cooler with stepped bunghole and open handles featuring added supports, the surface lavishly-decorated with an incised and cobalt-highlighted Federal eagle design. The eagle closely follows the Federal style with a spread-winged stance and shield across its chest, its talons clutching olive branches and arrows. The body includes profuse, deep incising to the feathers on the bird's head, wings, and tail, a decorative feature commonly associated with New-York-trained potter, Henry Remmey and his son, Henry Harrison Remmey. Spotted stars surround the eagle's head and stylized clouds ornament the shoulder of the vessel. Flowering vines, culminating in fanned blossoms, ascend from the cobalt-highlighted bung hole. Large circular cobalt brushwork decorates the terminals of each handle. With its striking figural design and outstanding cooler form, this recently-surfaced work ranks as arguably the finest American stoneware object to come to auction since the iconic William Crolius inkstand set a then-record price for the medium at Sotheby's in 1991. A number of factors, including the quality and style of the incising, the color of both the clay and cobalt slip, and the cooler's distinctive floral motifs, link this object to the New-York-trained potters, Henry Remmey, Sr. and his son, Henry Harrison Remmey, while active in Baltimore, MD, circa 1812-1829. Upon their arrival in Baltimore in 1812, the father and son virtually changed the quality and reputation of the city's stoneware craft overnight. Utilizing potting, decorating, and firing skills acquired in Manhattan, the leading style center of American stoneware production, the Remmeys began producing artistic wares unlike anything the Mid-Atlantic had seen before. The proficiency of the incised decoration and open-handled form are indicative of this training. The added clay segments at the center of each handle are a rare feature, which add structural stability and decorative flair to the form. The exceptional size, form, and decoration of the vessel are enhanced by the brilliant cobalt slip application and evenly-glazed surface, traits also linked to the Remmey's best Baltimore products. A small number of other incised Remmey pieces from Baltimore have survived; collectively, they present the case that the Remmeys' Baltimore period represents American stoneware production at its zenith. However, none of these previously-surfaced examples compare in grandeur or decorative quality to this cooler. Its eagle design, an adaptation of the Great Seal of the United States, was almost certainly copied by the decorator from the reverse of coins in circulation at the time. Engraver Charles Sims's "heraldic eagle" appeared on the reverse of most coins from nickels to five-dollar gold pieces minted during the period of 1796 to 1807. His design, like that found on this cooler, includes an eagle facing left, toward the arrows, its head encircled by stars and surmounted by stylized clouds. When considering the cooler's craftsmanship, subject matter, form, and origin, its importance as a purely-American work of ceramic art cannot be overstated. Provenance: A fresh-to-the-market example, purchased by the consignor's father at a Pennsylvania estate auction in 1974. A long, curving crack extending from rim onto midsection of reverse. Small rim chips. A 5/8" chip to bottom edge of bung hole and minor chip to top of bung hole. A long, thin horizontal line at base. A small area of surface wear near base on reverse. An in-the-firing fissure to one handle terminal, visible on reverse. Handle is entirely stable. A few very minor base chips. H 19 1/4".
---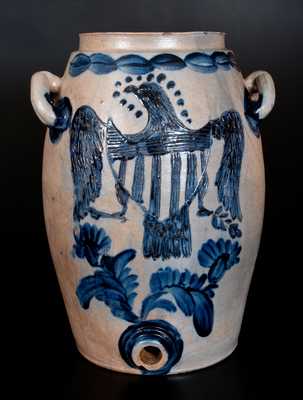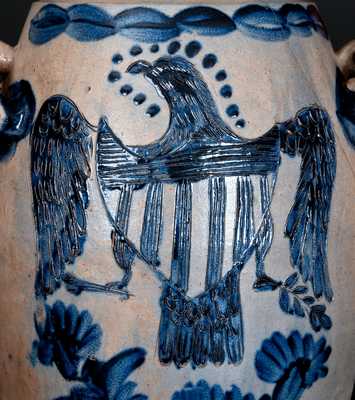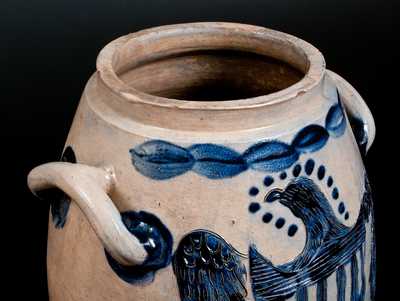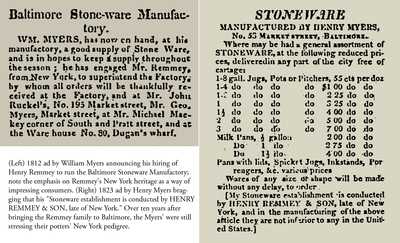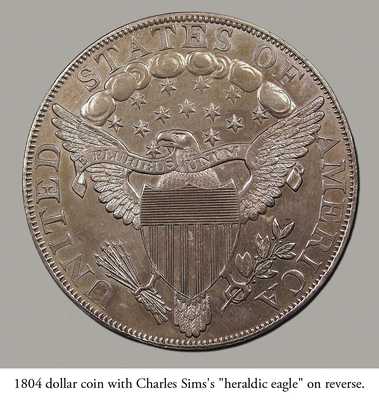 Click images to enlarge.
---
Bidding is now closed.
(Our
next auction
takes place March 21, 2020.)
---