Bidding is now closed.
(Our
next auction
takes place March 21, 2020.)
---
Exceedingly Rare and Important Three-Gallon Stoneware Pitcher with Incised Bird and Floral Decoration, attributed to Henry Remmey, Sr. or Jr., Baltimore, MD, circa 1825, large-sized, ovoid pitcher with heavily-tooled rim and unusual heavy tooling above the footed base, the front decorated with an incised and cobalt-highlighted design of a bird with turned head, perched on a flowering branch. The style and quality of design is indicative of the work of New-York-trained potters, Henry Remmey, Sr. and his son, Henry Harrison Remmey. The reverse features brushed graduated blossoms emanating from the base of the handle. A large band of brushed cobalt encompasses the rim and additional cobalt brushwork highlights the handle terminals. Typical Remmey incised treatments are visible in the fine, short-stroked feather details to the bird and the elaborate veining to the leaves. Of interesting note are the curled tips of the leaves, uncommon in the Remmeys' work, yet consistent with the level of refinement seen in their best Baltimore products. The Remmeys' oeuvre in this city includes a number of outstanding pieces with extravagant incising and beautiful color, which has led many to view their production here as the zenith of the American stoneware craft. This example includes an unusual elaboration on a classic Remmey motif in the form of a second branch extending to the bird's left. This second branch, while adding size and decorative appeal to the design, also creates a sense of life or action to the image, as the bird appears to be feeding on its blossom. The visual power of the decoration is further compounded by the brilliance of the cobalt and the size of design, measuring roughly 12" long by 8 1/4" tall. This pitcher is believed to be the largest incised bird pitcher known by any member of the Remmey family, active circa 1730 to 1900 within the cities of New York, Baltimore, and Philadelphia. While difficult to determine, it may also be the largest incised bird pitcher known in all of American stoneware production. A related work of somewhat smaller size is on display at the William C. and Susan S. Mariner Southern Ceramics Gallery at the Museum of Early Southern Decorative Arts in Winston-Salem, NC. Two tight lines on underside, connecting to a series of tight lines at base. Additionally, two lines extend off from the series of lines at the base toward to midsection of the pitcher, stopping below the right side of the decoration. A restored rim chip. Handle reattached, visible as one restored crack in lower handle terminal and near upper handle terminal. A minor, in-the-firing nick to spout, which is glazed over. A minor chip to underside at pitcher's bottom edge. H 15 3/4".
---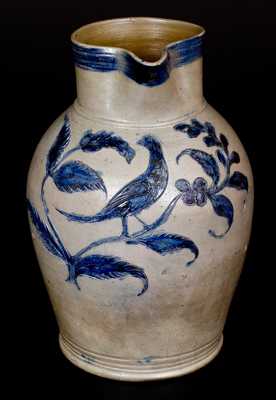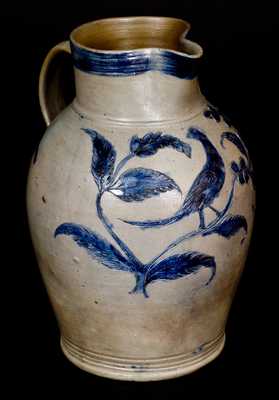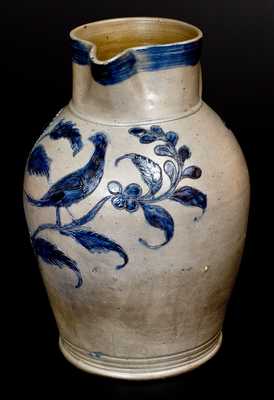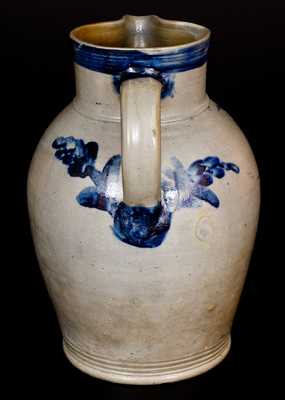 Click images to enlarge.