Bidding is now closed.
(Our
next auction
takes place March 21, 2020.)
---
Exceptional Stoneware Presentation Bank with Elaborate Stepped Finial and Cobalt Floral Decoration, Inscribed "H x S /March 8, 1828", attributed to Henry Remmey, Sr. at Henry Myers' Baltimore Stoneware Manufactory, Baltimore, MD, 1828, ovoid bank with footed base, tooled shoulder, and dramatic five-stepped finial with heavy notched and carved embellishments throughout. Horizontal slot carved into third tier of finial. Shoulder incised with the cobalt highlighted presentation inscription "H x S / March 8 1828". Body of bank heavily-decorated with a brushed horizontal stem bearing fan-shaped flowers and leaves. An alternating decorative scheme in cobalt appears on the finial. The first, third, and fifth steps feature heavy circumferential cobalt banding, while step two includes highlights to the scalloped carving, and step four features alternating cobalt-highlighted and undecorated scalloping. The bank's finial culminates in a cobalt-highlighted point with vertically-carved accents. The distinctive floral motif and color of the clay and decoration indicate this bank was made by Henry Remmey, Sr. in Baltimore, shortly before joining his son in Philadelphia in 1829. The New-York-trained Remmey, Sr., patriarch of a large family of successful potters in Maryland and Pennsylvania, is regarded as one of the most important stoneware potters in American history. Much of his work is noted for a level of ornamentation rarely seen in this medium. This bank is arguably the finest Baltimore stoneware example of the form in existence, and is also the earliest documented. As most American stoneware banks date to the 1840s or later, this example assumes a certain level of importance by its age alone. A few other banks with five-stepped finials are known, all of which are believed to be lesser in quality and ornamentation. Among them are a presentation bank, which was made for Walter Cooke, and sold at Christie's on June 3rd, 1995, lot #255. This example lacked a date, had only one notched step, and was significantly less decorated. A second bank at Winterthur has no notching, and lacks a presentation inscription. It is pictured in plate #227 of Webster's iconic book, Decorated Stoneware of North America. When taking into account the exuberance of the form, its maker, age, and strong cobalt decoration, the bank to be auctioned ranks as one of the finest American stoneware examples of the form to cross the block in years. The finial was broken off and reglued at the third tier, where the slot is located. There are also two tiny flakes along this crack line. Otherwise excellent, as-made condition. H 7".
---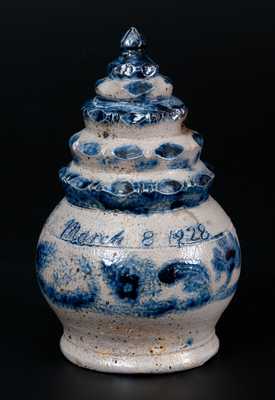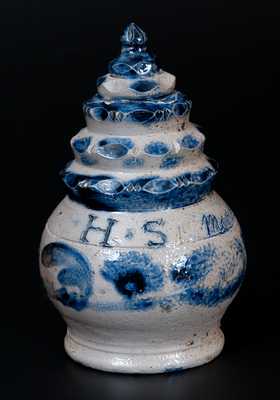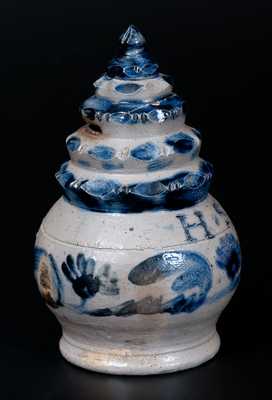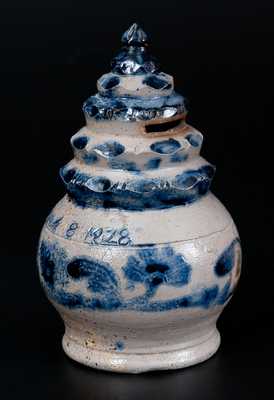 Click images to enlarge.