Bidding is now closed.
(Our
next auction
takes place March 21, 2020.)
---
Rare and Important Alkaline-Glazed Stoneware Face Jug with Kaolin Eyes and Teeth, Edgefield, SC origin, circa 1845-1860, ovoid jug with semi-squared spout, the front decorated with a hand-modeled and applied clay face including a large mouth with kaolin teeth, pronounced nose with depressed nostrils, single curving eyebrow, large ears, and pierced eyes set into wide lids, brushed with kaolin slip. Surface covered in an appealing, light-green alkaline glaze over a light, buff-colored clay ground. This recently-surfaced work is regarded as the finest among a group of four Edgefield examples collected in New York State during the 1970s, the first three having been sold through Crocker Farm in 2015 and 2016. This example features exceptional sculpting to the face, including a prominent Roman nose with narrow bridge, depressed and manipulated cheek structure, large ears, and deeply-carved teeth. The construction of the figure's eyes is likewise extraordinary. Normally, eyes are conveyed in the Edgefield school as circular pieces of kaolin girded between two lids which partially conceal the eyeball. The lids typically serve as a means of girding the eyes against the wall of the vessel. This jug, however, features large, flattened lids with smaller eyeballs set inside, produced from the same clay as the jug, and washed over with kaolin slip. This detail leads to another interesting aspect of the jug, as it utilizes two different types of kaolin application; while the teeth are applied in pure kaolin, the eyes are loosely brushed over with kaolin slip. The jug's form, light-green glaze, and quality of workmanship, suggest that it may have been made early in the Edgefield District's foray into face jug production, possibly predating the arrival of the Wanderer slaves. While many Edgefield face vessels exhibit a naive quality, the superior craftsmanship of this example indicates a true artist familiar with hand-modeling, sculpting, and the techniques involved in creating this coveted Southern folk art form. An old red crayon notation of unknown meaning on the underside reads "100", and is crossed out with black pen or pencil. Provenance: A fresh-to-the-market example, consigned from the same source as lot 209 in our October 17, 2015 auction, lot 354 in our March 19, 2016 auction, and lot 443 in our October 22, 2016 auction. This face jug survives in remarkable, excellent condition with a minor nick to one eyebrow and a shallow 1 1/8" flake to one ear, created when the jug touched another object during the firing. H 6 3/4".
---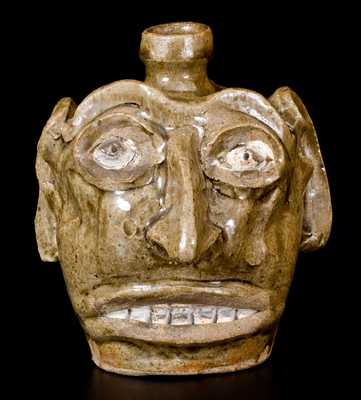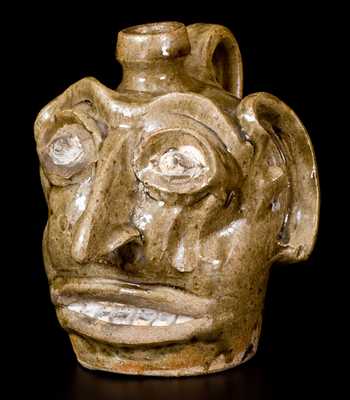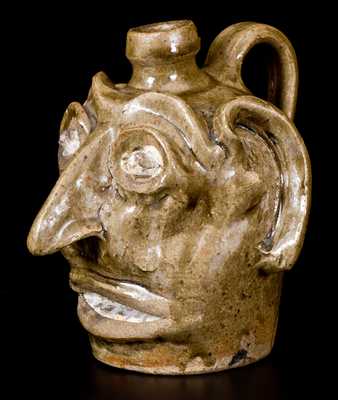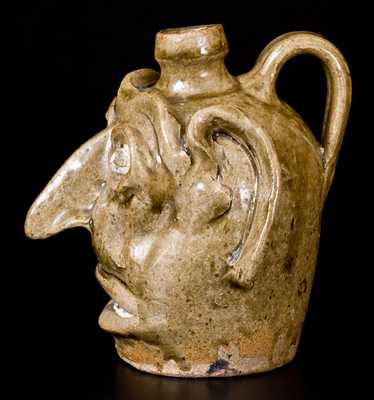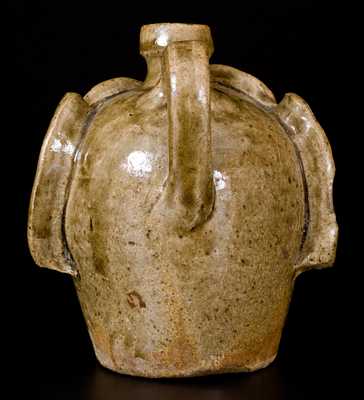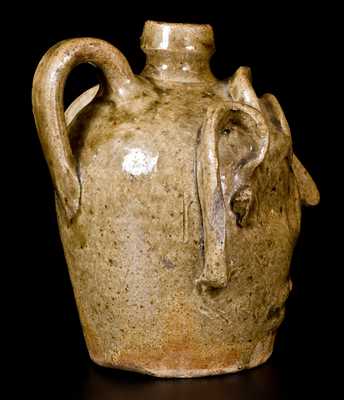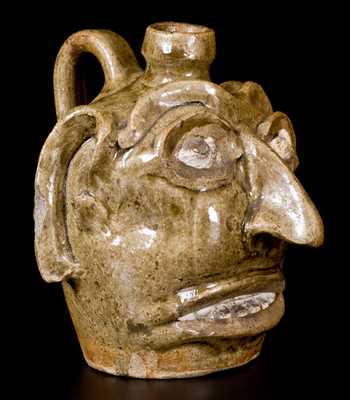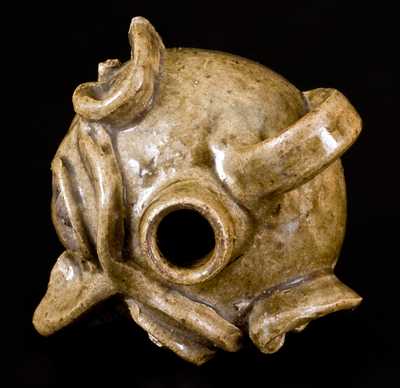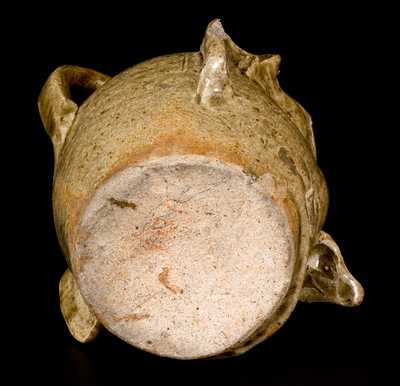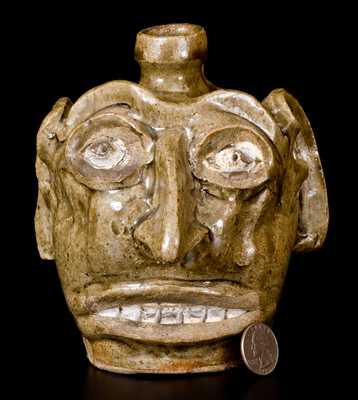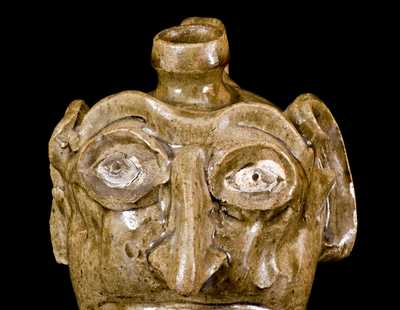 Click images to enlarge.