Exceedingly Rare Pennsylvania Redware Figure of a Lion Standing atop a Bird
March 19, 2016 Stoneware Auction
Lot #: 393
Price Realized: $5,462.50
($4,750 hammer, plus 15% buyer's premium)
PLEASE NOTE: This result is 3 years old, and the American ceramics market frequently changes. Additionally, small nuances of color, condition, shape, etc. can mean huge differences in price. Please Contact Us for a Current, Accurate assessment of your items.
Auction Highlight: March 19, 2016 Auction | Redware
Exceedingly Rare Glazed Redware Figure of a Standing Lion Atop a Bird, Pennsylvania origin, third quarter 19th century, hand-modeled figure of a standing lion with open mouth, lolling tongue, and tail spanning the length of its back, the animal's front paw raised atop a spread-winged bird. Heavily-incised fur to mane, haunches, and tip of tail. Excellent sculpted details to face and muzzle, including impressed circular eyes and incised upper and lower teeth. The figure rattles when shaken and original vent holes can be seen in the ears and rear of the animal. Bird with impressed circular eye and heavily-incised feathers to wings, breast, and tail. Base with elaborate impressed asterisk border surrounding a central impressed flower blossom flanked by leafy vines. Surface decorated with manganese highlights throughout and covered in a heavy lead glaze. Excellent, vivid pumpkin-orange color with darker highlights accentuating the details of the animals' faces and bodies. This lion is the first example we have seen assuming a dynamic stance with paw upon its prey. It ranks as the greatest redware lion sculpture we have ever offered, and arguably one of the finest to come to auction in decades. Provenance: A fresh-to-the-market example, purchased in the Philadelphia area by a relative of the consignor several decades ago. Figure reglued to base with minor coloring along crack lines. Chips to ears. A chip to tongue. L 6" ; H 5".
---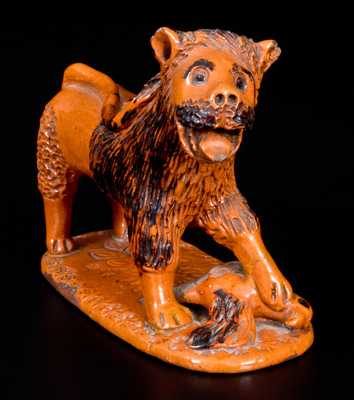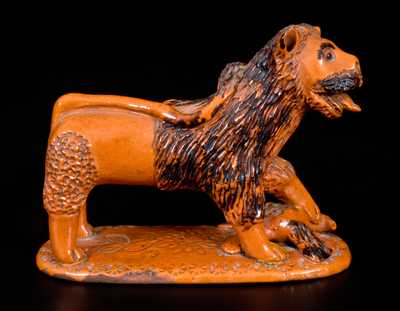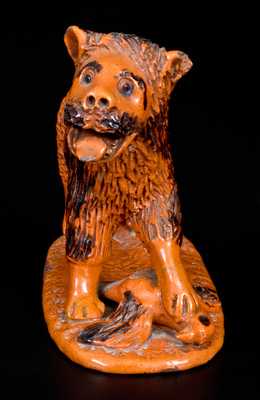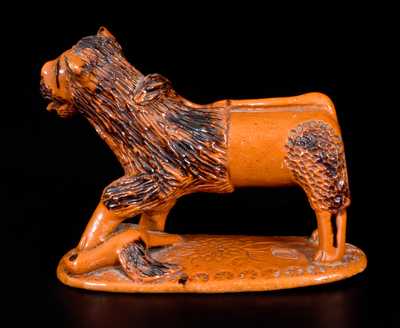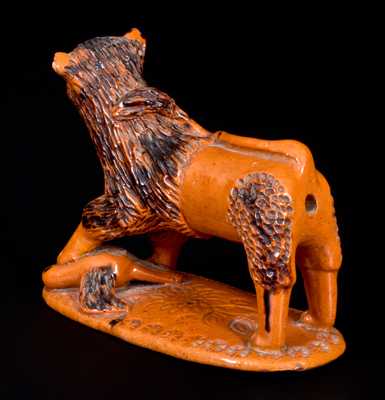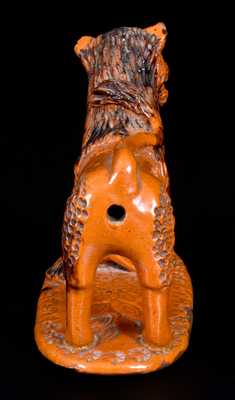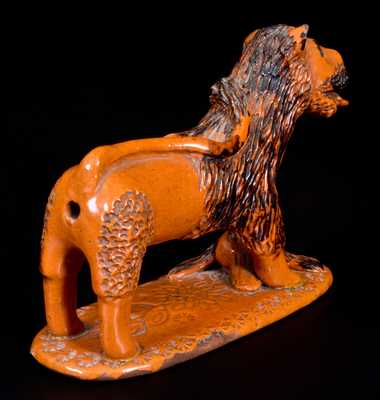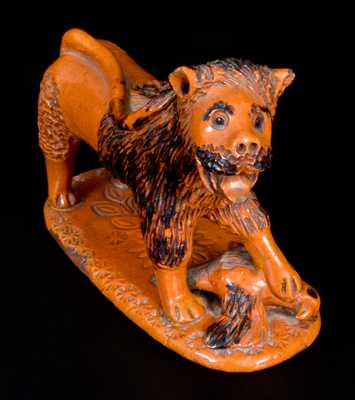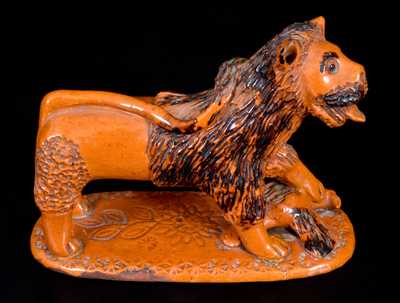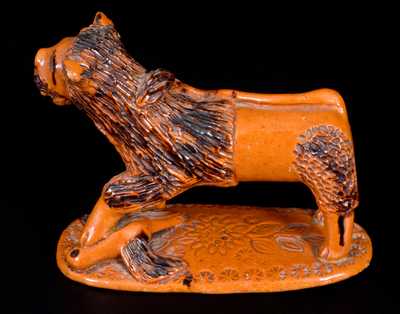 Click images to enlarge.
---
Bidding is now closed.
(Our
next auction
takes place October 26, 2019.)
---