---
Exceedingly Rare and Important Vertical-Handled Stoneware Jar with Profuse Incised Flowering Urn Decoration, New Jersey or Manhattan, NY origin, circa 1750, ovoid, thin-walled jar with rounded foot, semi-squared rim, and ribbed vertical handles. Front decorated with a large incised checkerboard-patterned sunflower plant emanating from an open-handled urn, above the initials "I S". Shoulder with cobalt heart and circle designs, and rim and base with cobalt stripes. Reverse with incised and cobalt-highlighted daisy and looping line designs surrounding an abstract labyrinthine design resembling human intestines. Reverse base with abstract incised American Indian bust, and side of jar with incised initials "I P R". This significant recent discovery is one of the finest and earliest examples of intact colonial American stoneware known. The distinctive checkerboard design relates to imported Westerwald stoneware produced during the period, as well as earlier. This use of alternating cobalt-decorated and undecorated incising can also be noted on sherds excavated at the Kemple Pottery of Ringoes, NJ, the Morgan Pottery of Cheesequake, NJ, as well as at the Remmey and Crolius potteries of Manhattan, during the mid 18th century. These sherds are pictured in Goldberg, Warwick, and Warwick, "The 18th-Century New Jersey Stoneware Potteries of Captain James Morgan and the Kemple Family" and Janowitz, "New York City Stoneware from the African Burial Ground," Ceramics in America 2008.

The front of the jar also includes an incised watchspring-like flourish, brush-decorated cobalt heart and circular designs, as well as the initials "I S" below the urn, and the initials "IPR" to its left. Whether these initials refer to members of the States or Remmey families of potters, both active in Manhattan, is speculation at this point. However, this may be the earliest example by the prolific New York City stoneware potters known. It was only after the relatively recent revelation of the stoneware sherds from New York's African Burial Ground that we now have any good understanding of the wares the Croliuses and Remmeys were making in lower Manhattan before the Revolution, and it was these sorts of pieces--previously solely attributable to New Jersey. The only signed piece recovered from the Burial Ground was, notably, one inscribed on the bottom "I S." The very unusual crossed "I" before "PR" appears on the well-known "Elizabeth States" teapot pictured in Goldberg, Warwick, and Warwick, as does the incised looping design on the right side of the reverse of this jar. States was a close associate of the Croliuses and Remmeys for a few years during the 1740's, before moving on to Cheesequake, NJ, and further destinations in his career. Whether this directly links the jar to States or merely reinforces its attribution to some of the earliest of America's stoneware potteries, also remains to be seen. Provenance: Recently found in New York State. Rim chips. U-shaped section reglued at rim, extending from rim under one handle, to rim on reverse. This damage includes a small filled 3/4" x 3/4" hole. Chips to ends of handles. H 14 1/2".
---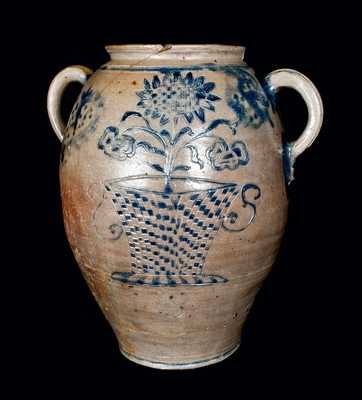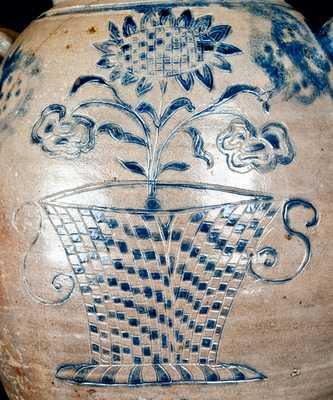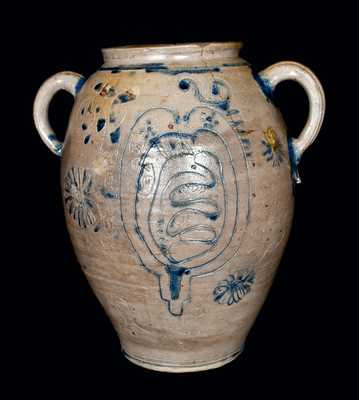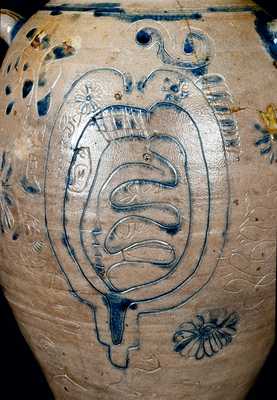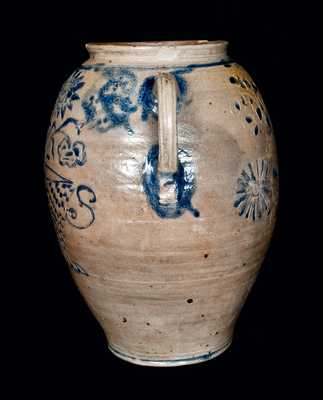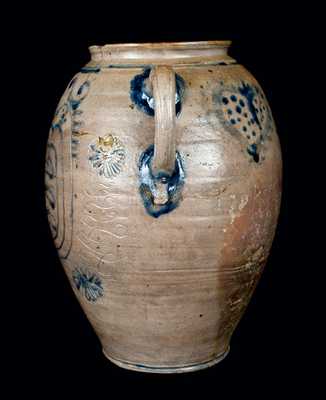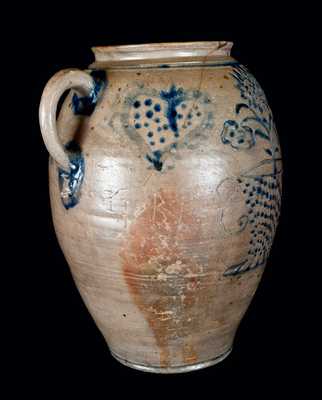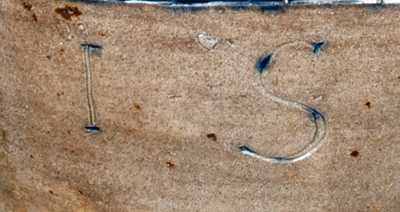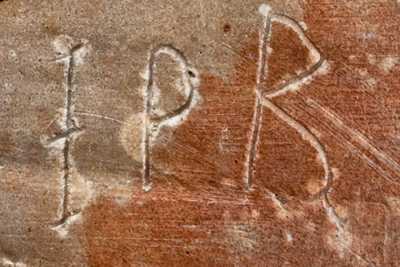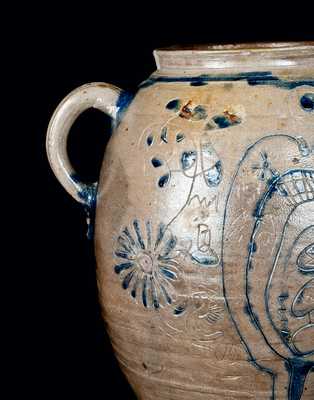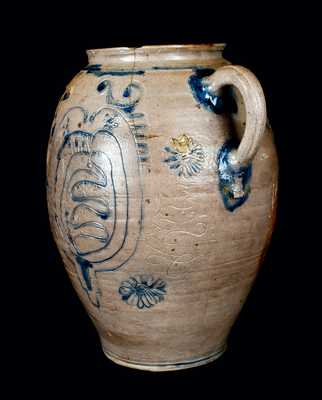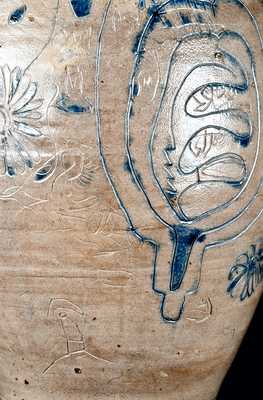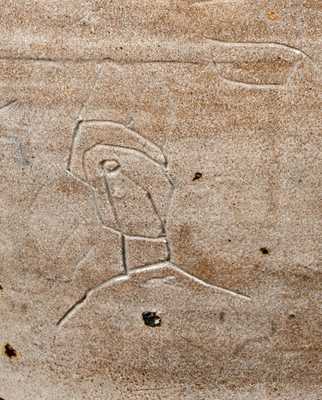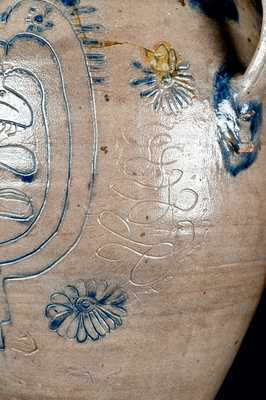 Click images to enlarge.