Anna Pottery / 1878 Stoneware Pig Flask, made by Wallace & Cornwall Kirkpatrick in Anna, Illinois
July 19, 2008 Stoneware Auction
Lot #: 76
Price Realized: $13,225.00
($11,500 hammer, plus 15% buyer's premium)
PLEASE NOTE: This result is 12 years old, and the American ceramics market frequently changes. Additionally, small nuances of color, condition, shape, etc. can mean huge differences in price. Please Contact Us for a Current, Accurate assessment of your items.
Auction Highlight: July 19, 2008 Auction | Anna Pottery
Exceptional, Early Stoneware Pig Bottle with Incised Decoration, Signed "Anna Pottery / 1878," finely-molded, Albany slip glazed pig bottle with hole at rear, incised hooves, elegantly incised face, anatomically correct underside, and unusual pierced ears. Surface covered with an incised map of the Midwest, including the following landmarks: Miss River, Grand Tunnel, Chester, Cairo & St. Louis R.R., Alton, Waterloo, Sparta, Percy, AVA, O. & M. R.R., Odin, Centralia, Tamarva, DuQuoin, Chicago Alton & St. Louis. R.R., Bloomington, Decatur, Vandalia, Springfield, Vincens, mounds, Cincinnati the Pork packing City, and Chicago the Corn City. The words "Cairo the" lead to the hole at the rear of the bottle. Covering one side of the pig is the slogan "St. Louis the future Capital in a - / Quickest, Shortest / Cheapest and / only safe and reliable / Route from the Great North west. / to the Sunny Solid South. / with a little good old Bourbon in a hog,s- / By / Anna Pottery / 1878." We believe this to be the finest Anna Pottery pig we have sold to date. It was previously sold by Harmer Rooke Galleries as part of the collection of noted American ceramics collector and scholar, Georgeanna Greer. This pig was reportedly her favorite among those that she owned, and brought the highest price out of the several pig bottles sold as part of her collection. Anna pigs found with such an early date are considered very rare. Provenance: Harmer Rooke Galleries, The Georgeanna H. Greer Collection. Mint condition. Length 7".
---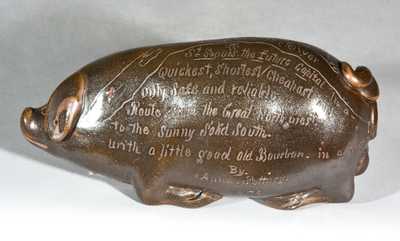 Click images to enlarge.
---
Bidding is now closed.
(Our
next auction
takes place March 21, 2020.)
---