Midwestern Stoneware Crock w/ Incised Folk Art Figure of a Man
May 20, 2006 Stoneware Auction
Lot #: 31
Price Realized: $4,620.00
($4,200 hammer, plus 10% buyer's premium)
PLEASE NOTE: This result is 14 years old, and the American ceramics market frequently changes. Additionally, small nuances of color, condition, shape, etc. can mean huge differences in price. Please Contact Us for a Current, Accurate assessment of your items.
Auction Highlight: May 20, 2006 Auction | Ohio & Midwest | Incised Stoneware
Exceptional, Two-Gallon Stoneware Crock with Incised and Cobalt-Decorated Figure of a Mustached Man, Ohio origin, circa 1860, straight-sided jar with rounded rim and incised lines at shoulder, decorated with a folky, incised decoration of a mustached man on one side, and a pointing, gloved hand with sleeve on opposite side. Incised man depicted with incredibly large head on a small body, his face with mustache, very large eye, and pronounced chin, his mouth in an exaggerated smile. Head connected by long neck to small body with dramatically tapering legs and outstretched. Incised design highlighted with cobalt, with additional brushed cobalt details added, including eyebrow, mustache, and front of coat with buttons. Reverse decorated with a brushed cobalt sleeve and incised design of a pointing, gloved hand. Between the two decorations, a brushed cobalt "2" with flourishes. (Perhaps the hand is pointing at the jar's capacity designation.) The size, boldness, and naive aspect to the man make it something truly special in American stoneware. It is reminiscent of the work of outsider artists of the 20th century. Incised decorations of this quality are indeed very rare. Three cracks on reverse, through hand decoration, one measuring 7", another measuring 4", and one extending partway onto underside. Height 9 5/8".
---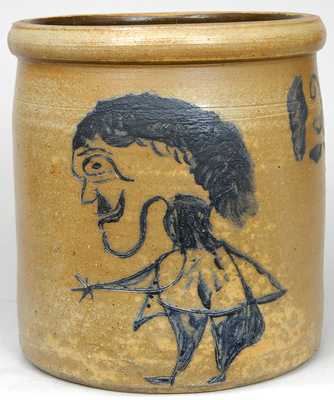 Click images to enlarge.
---
Bidding is now closed.
(Our
next auction
takes place March 21, 2020.)
---