Bidding is now closed.
(Our
next auction
takes place March 21, 2020.)
---
Extremely Rare and Important Small-Sized Stoneware Jar with Alkaline Glaze, Stamped "RICH WILLIAMS", Gowensville area, Greenville County, SC origin, late 19th or early 20th century, semi-ovoid jar with heavily-rounded shoulder and flared rim, the surface covered in a glossy, dark-olive alkaline glaze. Base impressed with the maker's mark of African-American potter, Rich Williams, composed of individual stamps for the first name, "RICH", and surname, "WILLIAMS". Williams is distinguished as one of a few African-American potters to own his own pottery or mark his ware with his own maker's mark. A picture of Williams turning a jug in his shop, illustrated on p. 89 of Cinda K. Baldwin's Great and Noble Jar, is regarded as the only period photo of an African-American potter at work. According to Baldwin, Williams is listed in the 1900 U.S. Federal Census as a farmer, age fifty, living in the Gowensville area of Greenville County, SC and owning a farm. Baldwin notes that Williams is possibly related to freed black Edgefield potter, Milage Williams, who is listed in the 1880 Census as living in Shaw's Creek Township, Aiken County, SC. A Rich Williams jar, illustrated on p. 161 of Baldwin and bearing a "WILLIAMS" mark, exhibits stamping closely related to the well-known "Landrum cross" from Edgefield, indicating a possible connection to that region's potting tradition (Baldwin, pp. 128, 160, 161). A significant recent discovery in the fields of Southern ceramics and African-American art. Provenance: A fresh-to-the-market example, which surfaced in Missouri. Very nice condition with minor rim and base chips and some light surface wear. H 7 3/4".
---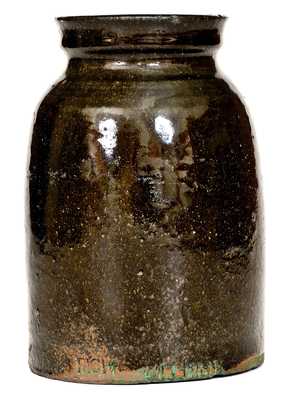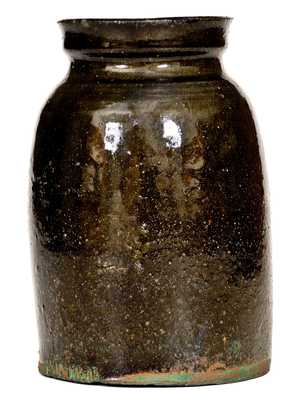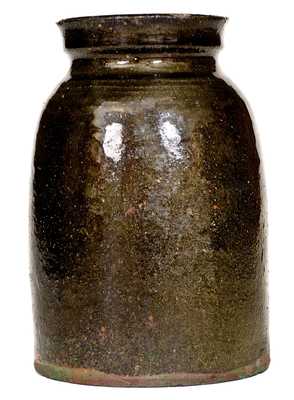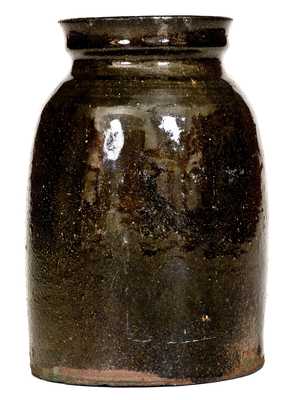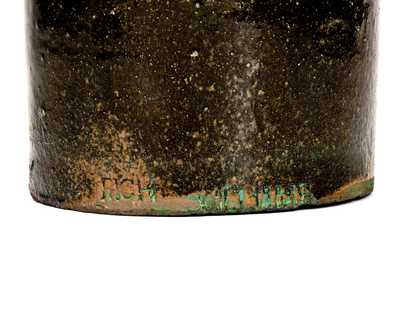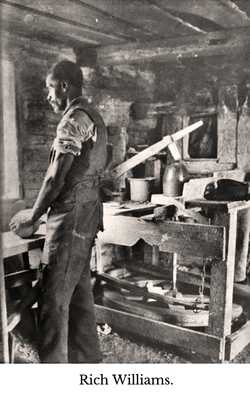 Click images to enlarge.