Extremely Rare and Important "Dave / Jan 13 - 1862 / Lm" Edgefield District, SC Stoneware Jar
July 16, 2016 Stoneware Auction
Lot #: 74
Price Realized: $40,250.00
($35,000 hammer, plus 15% buyer's premium)
PLEASE NOTE: This result is 4 years old, and the American ceramics market frequently changes. Additionally, small nuances of color, condition, shape, etc. can mean huge differences in price. Please Contact Us for a Current, Accurate assessment of your items.
Auction Highlight: Greatest Hits | July 16, 2016 Auction | Southern Pottery | Antique Textiles
Extremely Rare and Important Four-Gallon Alkaline-Glazed Stoneware Jar, Inscribed "Dave / Jan 13 - 1862 / Lm", Dave at Lewis Miles' Stoney Bluff Manufactory, Edgefield District, SC, 1862, rotund jar with rounded rim and crescent-shaped handles, the surface covered in a streaky, light-olive alkaline glaze. A two-tone effect with heavy runs, most clearly visible on the reverse, indicate this jar was glazed twice, either by dipping the upper portion of the jar in the glaze again or pouring extra glaze around the shoulder. The front of jar is deeply-incised with the large vertical inscription, "Dave / Jan 13 - 1862 / Lm". The vertical signature, found on other primarily late-period Dave pieces, reveals the potter most-likely inscribed the jar while holding it on its side. An incised "X", a distinctive marking used by Dave on a number of his pots, appears to the right of the inscription. This jar is significant on a number of levels. Its light-colored glaze is exceptional, particularly for a time period when much of Dave's work utilized a darker alkaline coating. The jar was also produced during the Civil War, a critical time for America as a nation and an enslaved man as an individual. According to Goldberg and Witkowski's article in Ceramics in America 2006, "Beneath his Magic Touch: The Dated Vessels of the African-American Slave Potter Dave", only one other Dave vessel is known bearing an 1862 date. The exact reason for this paucity of dated 1862 pieces is unknown, although one can speculate it may have been born out of hostilities relational to the Civil War. Furthermore, the jar's late date, indicating it was made only two years before Dave's last known dated work, serves to document to the potter's final years of producing vessels as an enslaved man. Its bold incising follows a general rule noted in Goldberg and Witkowski, that Dave's signatures generally became larger as years progressed. This jar features one of the most prominent inscriptions we have observed on a Dave vessel. Not only are the characters large, the incising is exceptionally deep and crisp. The date on this jar, in comparison to the piece itself, is possibly the largest known in Dave's work, measuring 9 1/4" of the jar's 14" height. Dave is regarded as one of America's most celebrated African-American artisans and his notoriety outside of ceramic and American historical circles is expanding. A testament to this growing recognition is evidenced by his induction into the South Carolina Hall of Fame on April 27th of this year. When considering the quality of the glaze, size of the inscription, and rarity of the date, this jar can easily be regarded as one of the most significant discoveries in Dave stoneware of the past several years. Provenance: A previously-undocumented example, purchased by the consignor in the Mid-Atlantic region over ten years ago. Excellent condition with typical minor base nicks and typical wear to top of rim. H 14".
---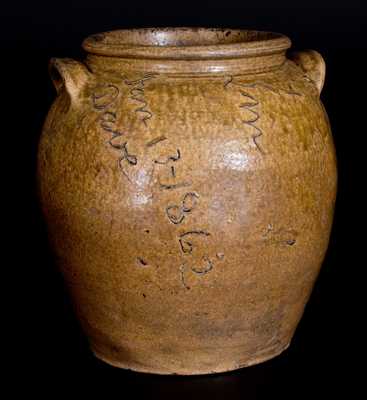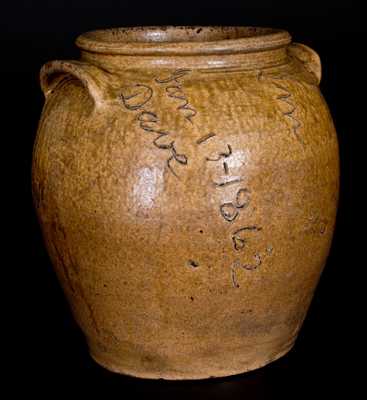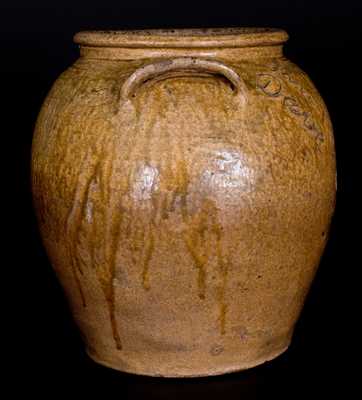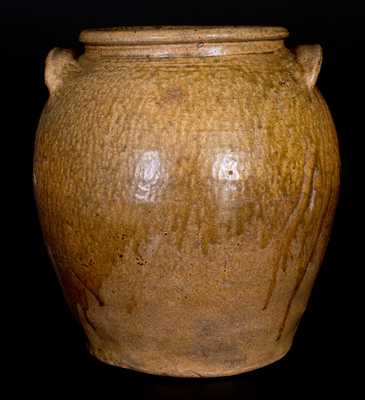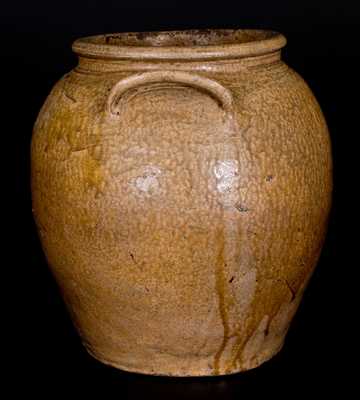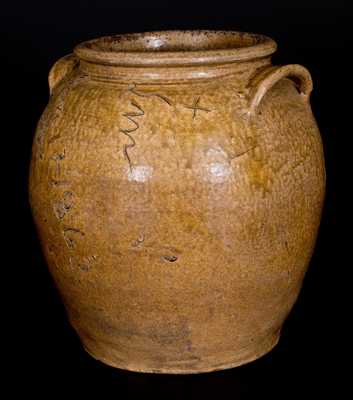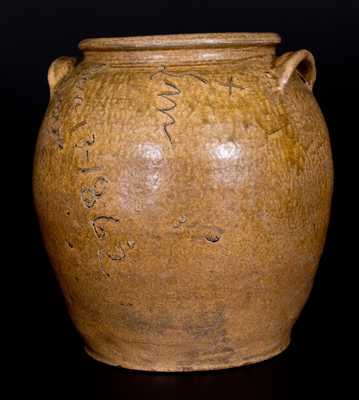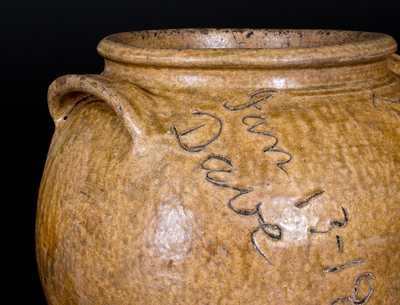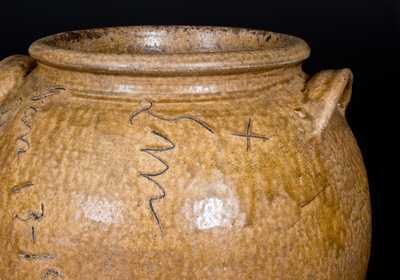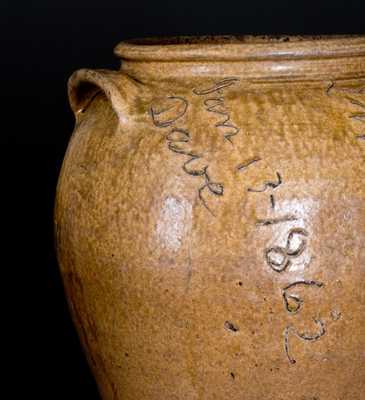 Click images to enlarge.
---
Bidding is now closed.
(Our
next auction
takes place March 21, 2020.)
---