Rare and Important Large-Sized Edgefield, SC Stoneware Pottery Face Jug
October 26, 2019 Stoneware Auction
Lot #: 1
Price Realized: $28,320.00
($24,000 hammer, plus 18% buyer's premium)
PLEASE NOTE: The American ceramics market frequently changes, often dramatically. Additionally, small nuances of color, condition, shape, etc. can mean huge differences in price. Please do not hesitate to Contact Us for a Current, Accurate assessment of your items.
Auction Highlight: Greatest Hits | October 26, 2019 Auction | Southern Pottery | Face Jugs
Important and Probably Unique Oversized Stoneware Face Harvest Jug with Two-Color Glaze, Edgefield District, SC, circa 1840-1875, wheel-thrown, domed form with applied tubular pouring spout and arched handle across the top, decorated with a hand-modeled and applied clay face including bulging kaolin eyes with pierced pupils set within open lids, raised eyebrows, a well-sculpted nose with carved nostrils, large ears with tragi, and wide mouth bearing deeply-carved kaolin teeth. The surface of the vessel has depressions formed prior to the firing to create a realistic structure to the face, delineating the cheek bones, temples, and jaw line. The surface is decorated with a light-green alkaline glaze streaked with a reddish-brown, iron-rich slip. This same slip decoration accents the face's pupils. This important new discovery is distinguished from the surviving body of Edgefield face jugs by two significant attributes: its size and glaze. It is among the largest Edgefield face jugs known, measuring one gallon or more in capacity, and is comparable in size to the iconic signed Thomas Chandler face jug, recognized as the largest known. Secondly, this work is among the few examples that we have seen among the roughly two-hundred known Edgefield face vessels that is decorated with iron slip along with its alkaline glaze. This treatment, while commonly seen in the decorative motifs of Phoenix Factory, Thomas Chandler, and Collin Rhodes pottery, is extremely rare in Edgefield face vessel production, typically indicative of early-period works. An early face jug and face sherd, both attributed to Thomas Chandler at Phoenix Factory, circa 1840, exhibit iron slip highlights to the eyes, eyebrows, and/or face. A third, attributed to Chandler at the Trapp and Chandler site, circa 1845-1848, reveals iron slip highlights to the handle and eyes. In the case of this recently-discovered example an Albany-type slip has been poured over the surface and brushed onto the kaolin eyes to accent the incised pupils. The eye decoration, noted in early Chandler-attributed face vessels, treatment can also be seen on his signed face jug. Additionally, this jug's maker has wax resist around the lips and sporadically applied across the surface in a splashed manner, revealing the vessel's distinctive local clay. Imposing in size and expressive in its sculpting and glaze treatment, this work is regarded as one of the most outstanding Edgefield face vessels in existence. Provenance: A fresh-to-the-market example, which recently surfaced in New York State. A note card found with the jug from the consignor's grandmother, an avid collector, states: "Purchased from Vern House Antiques, Croton-on-Hudson, 1964. Two at Ford Museum, three at Ohio State Museum. Excellent. Paid $87.50". Literature: For related use of iron slip on an Edgefield face vessel, see Wingard, "From Baltimore to South Carolina: Thomas Chandler's Influence on 19th-Century Stoneware", Ceramics in America 2013, figs. 52, 54-56. Excellent condition with a shallow flake to one ear, and minor chip to other ear, the bottom edge of the jug with some in-the-firing flakes and adhered kiln residue. H 10 3/4" ; W (from ear to ear) 10 1/2".
---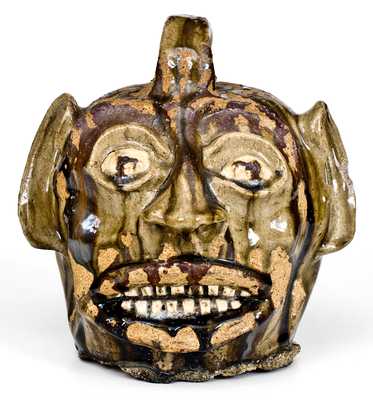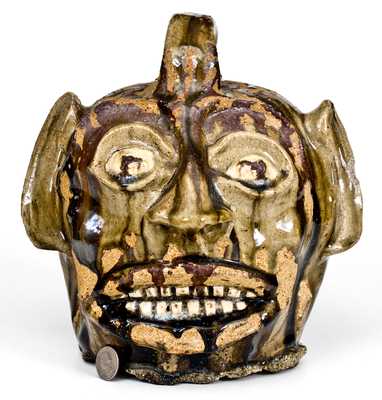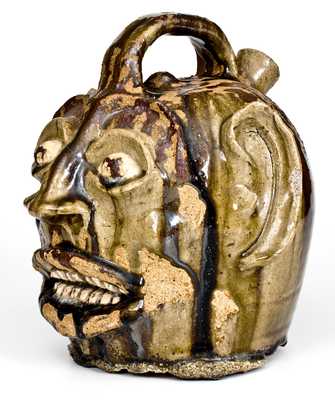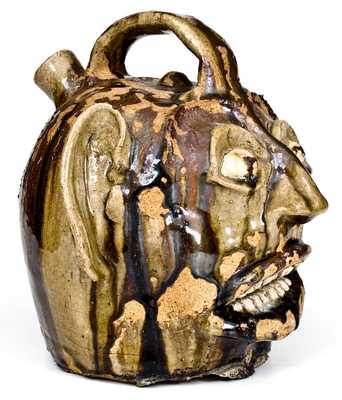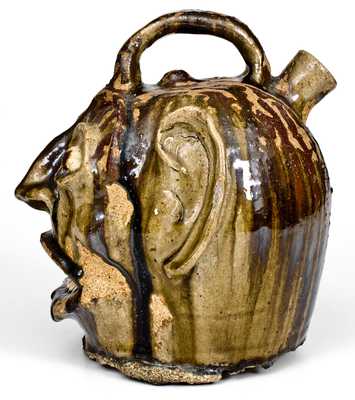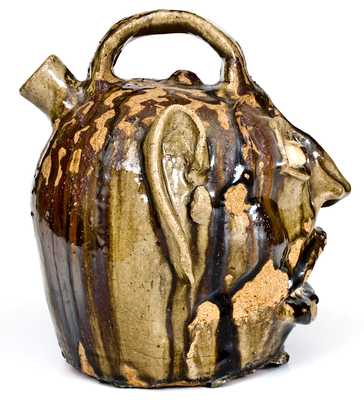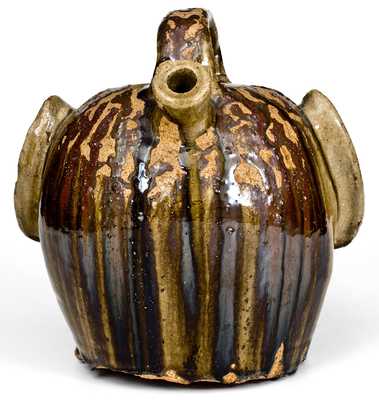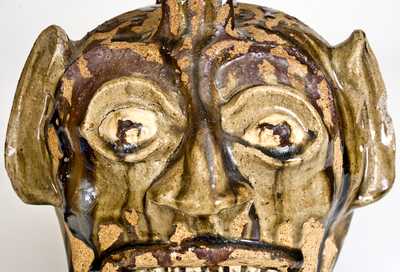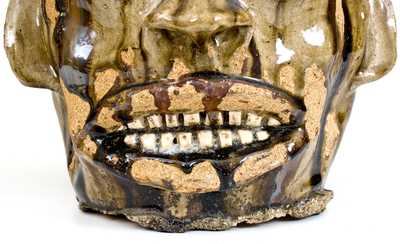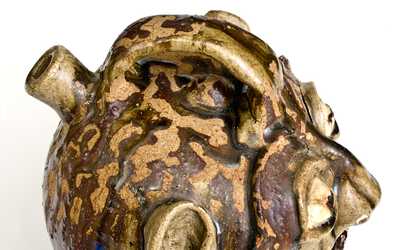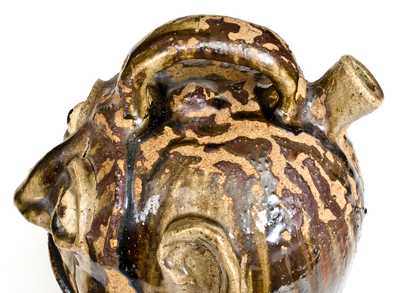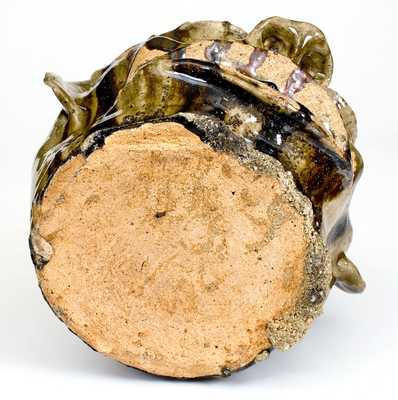 Click images to enlarge.
---
Bidding is now closed.
(Our
next auction
takes place March 21, 2020.)
---