Exceedingly Rare and Important South Amboy, NJ "Liberty Forever" Jug w/ Elaborate Federal Eagle Motif
July 20, 2019 Stoneware Auction
Lot #: 65
Price Realized: $44,250.00
($37,500 hammer, plus 18% buyer's premium)
PLEASE NOTE: The American ceramics market frequently changes, often dramatically. Additionally, small nuances of color, condition, shape, etc. can mean huge differences in price. Please do not hesitate to Contact Us for a Current, Accurate assessment of your items.
Auction Highlight: Greatest Hits | July 20, 2019 Auction | New Jersey Stoneware | Incised Stoneware
Important and Probably Unique Stoneware Presentation Jug with Incised Federal Eagle Decoration, Inscribed "Liberty for / Ever" and "L. Riggs / May the 5th 1819", South Amboy, NJ origin, 1819, ovoid jug with footed base, tooled shoulder and stylishly-potted spout, decorated with a large incised and cobalt-highlighted design of a spread-winged Federal eagle clutching an American flag and arrows, displaying a shield across its chest, inscribed "Liberty for / ever". Ascending from the eagle's head is curving stem bearing large scalloped leaves, culminating in a four-petaled flower blossom, emanating with leafy vines. The reverse features the elaborate incised and cobalt-highlighted presentation inscription, "L Riggs / May the 5th 1819", with incised crosshatching and diagonal slashes to the interior of the lettering of the name. The jug's date indicates it recently became a two-hundred-year-old object. Among the finest eagle-decorated examples of American stoneware to ever come to auction, this jug carries an impeccable provenance and publication history. Its age, style, and superior level of craftsmanship, draw to mind the type of pieces gathered up by visionary collectors, such as John Paul Remensnyder and Elie Nadelman, whose collections have resided at the Smithsonian, Yale University, and the New York Historical Society for several decades. The emergence of a stoneware object of this quality is a true rarity in this day and age. Considering several factors, this jug is easily regarded as one of the greatest stoneware objects produced in the New Jersey potting tradition. Provenance: Originally discovered in the 1930s, in a second-floor closet of the Charles Rue house near Plainfield, NJ by a teenager, who was helping his mother hang wallpaper there. He offered the owners, relatives of the "L. Riggs" on the reverse on the jug, $25 at the time, but was turned down. He later purchased the jug at the Charles Rue estate auction in 1956, ultimately selling it to the consignor's father in 1973. This jug has been off the market since that time. Included with this lot is a notarized letter from the man who owned the jug between 1956-1973, discussing the piece's history. A second letter included with this lot was written in 1984 by New Jersey stoneware authority, M. Lelyn Branin, discussing the jug's possible manufacture by the Warne family of potters of South Amboy, NJ. Exhibited: Regional Aspects of American Folk Pottery, May 12 to October 12, 1974, The Historical Society of York County, York, PA. Literature: Illustrated on the cover and figure 116 of the hardbound exhibit catalog for Regional Aspects of American Folk Pottery, May 12 to October 12, 1974, The Historical Society of York County, York, PA. Discussed and illustrated in Branin, The Early Makers of Handcrafted Earthenware and Stoneware in Central and Southern New Jersey, pp. 74, 82. Branin describes this jug in his book as "one of the most incised pieces of New Jersey stoneware on record". Branin goes on to draw a connection between the person for whom the jug was made, Lewis Riggs, and the Warne family of potters of South Amboy, NJ. According to Branin, "about two weeks before the date on the jug, one 21 April 1819, Lewis Riggs bought from Hannah (Warne) DeWitt, a daughter of William Warne, brother of (potter) Thomas Warne, all of her rights and interest in the estate of her father and grandfather, which gave him and his wife Ida a share in both of those estates. Riggs seems to have been related in some way to the Warne family, possibly through his wife Ida, who might have been either a daughter or granddaughter of William Warne. Lewis Riggs was an executor, with David Hall, of William Warne's estate. David Hall was a brother of Joshua Warne's second wife, Patience Hall Clark" (Branin, p. 74). Excellent condition with some shallow base chips and a few spout chips. H 13".
---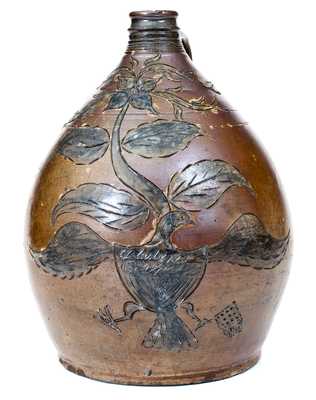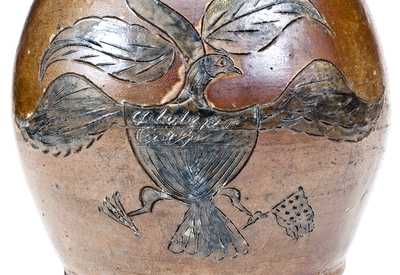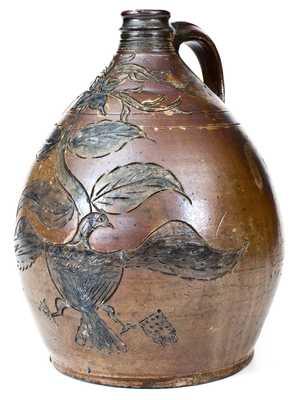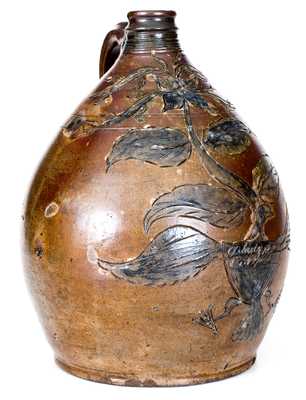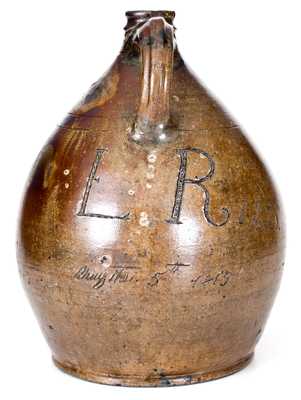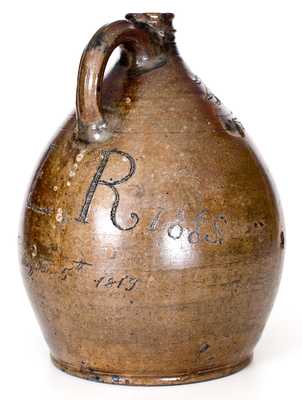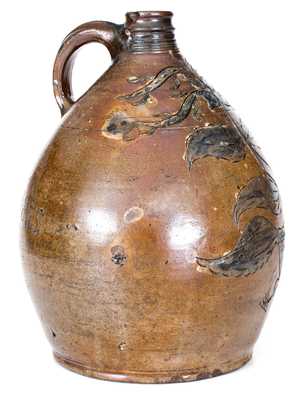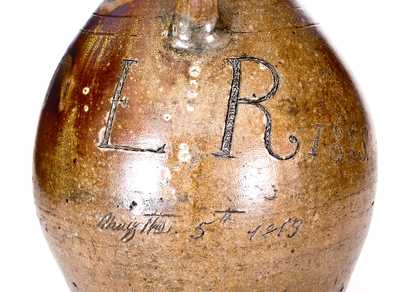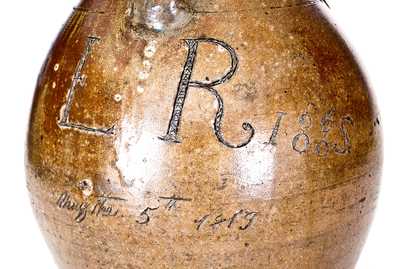 Click images to enlarge.
---
Bidding is now closed.
(Our
next auction
takes place March 21, 2020.)
---